Choosing the perfect small meeting rooms in London can be a difficult task. After all, there are so many factors to bear in mind.
Whether you're looking for small meeting rooms for a client meeting, or in which to hold a workshop, a staff appraisal or presentation, it's vitally important to choose one which can meet all of your needs.
Choosing the wrong venue can really hamper the vibe you're attempting to create, and potentially give out the wrong impression about you and your company.
As always, Venueseeker are on hand to help you find the perfect meeting room for any last minute booking. Check out this list of our favourite spaces, and don't hesitate to get in touch and book one today!
If you're looking for iconic central London meeting rooms that are sure to impress your clients and partners, then look no further than OXO2. Situated in the instantly recognizable OXO Tower on London's vibrant South Bank, this unique venue is adept at fulfilling the needs and wishes of all its patrons.
London venues such as this one excel at blending historic charm with forward-thinking levels of service. With breath-taking views, absolute versatility and the ability to become whatever you need it to be, there's no wonder OXO2 is a firm favourite for those seeking high quality venue space in the capital.
Capacities: Up to 400
Best For: Business meetings, presentations and workshops
What makes it unique: This is a historic and genuinely iconic feature of the Thames skyline, and is the ultimate blank canvas on which to project ideal meetings overlooking unbeatable views.
Nestled in the heart of the beautiful and historic Covent Garden, Icetank is a piece of Nordic charm which once encountered, is never forgotten.
The juxtaposition between the historic setting and the deeply modern, effortlessly stylish interior of Icetank is all part of its appeal, but this venue isn't merely style over substance. It features meeting rooms packed with modern conveniences, a state of the art PA system, and endless blank canvas opportunities for creative business managers to make their mark.
Capacities: 5 – 120
Best for: Media and press meetings, presentations
What makes it unique: With its incredible central location and awe-inspiring architecture, this truly is an unforgettable meeting space. Beautiful use of natural light throughout, and boasting the largest infinity cove in London!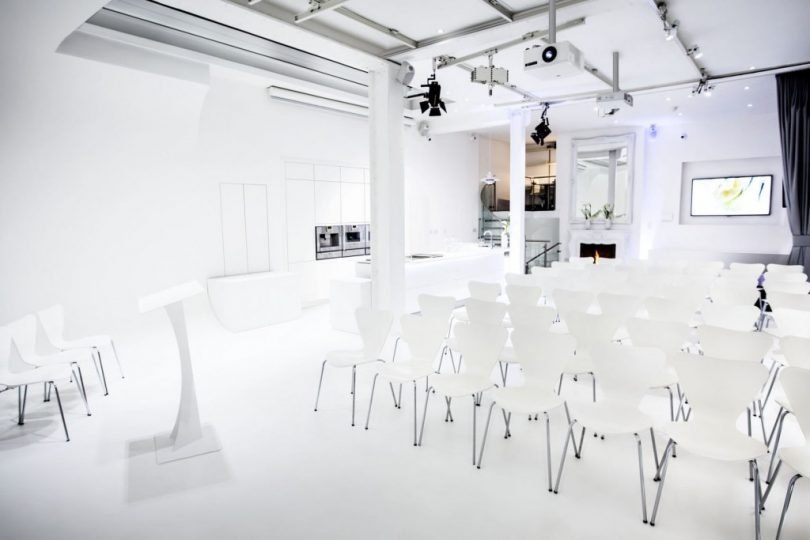 In London, we're lucky to have access to so many grand and beautiful venues for meeting rooms. Without doubt, one of the grandest and most opulent is the ever-popular Plaisterers' Hall, one of the historic guild halls that the capital is famed for. While this venue is often used for larger scale events, it's phenomenally flexible, and features plenty of small, intimate rooms, too.
Despite being decorated in original 18th century designs, this is a venue which is capable of handling all modern event requirements, meaning your meeting will not only be deeply impressive, but will also be as fitted with everything you might require.
Capacities: highly flexible
Best for: Intimate meetings which need to make a grand and powerful impression
What makes it unique: Few venues in London can top the Plaisterers' Hall when it comes to sheer scale and elegance. With a history which stretches back to the 16th century, these meeting rooms are sure to deeply impress everyone who comes across them.
A stunningly picturesque and highly versatile venue for meetings and more, The Conservatory at Painshill has a history which stretches back to the early 18th century. Perfect for hosting elegant and sophisticated meetings, with the perfect blend of airiness and serious business capabilities, this venue is truly one which can do it all.
The main space of this meetings venue is renowned for its flexibility – the dedicated team at the conservatory can adapt the space to make highly intimate and effective meeting rooms. With the rolling countryside reaching away as a beautiful backdrop and hi-tech audio-visual capabilities within, this venue is the perfect blend of the classic and the contemporary.
Capacities: 5 – 400
Best for: elegant and sophisticated business meetings, workshops and conferences
What makes it unique: The versatility of this historic venue means that despite its scale, it is capable of providing intimate meeting rooms for all of your needs.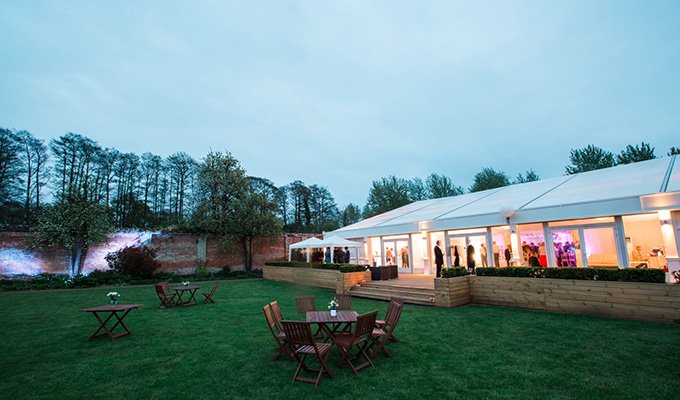 If you're looking for a small meeting room in London which has a touch of magic and sparkle about it, then The Hellenic Centre (also known as The Marylebone Townhouse) is the perfect choice for you.
This elegant Portland stone building looks every inch the classic London venue, and offers a wealth of different sized rooms – each with its own unique design points – ideal for meetings, presentations, parties and more.
Capacities: 5 – 250
Best for: Meetings which require you to show off the best that classic London has to offer
What makes it unique: Not only can you hold intimate business meetings at this venue, but it also has an elegant licensed bar, meaning you can entertain your clients once business has been dealt with.
Aveqia
If you want to give your clients or guests the full 5 star treatment as part of your meeting, then Aveqia is the perfect choice. This is a Michelin starred restaurant and venue, offering a niche experience and which really ramps up the luxury while also offering everything you need from a small meeting room, too.
Just imagine finishing up your meeting, then being taken by the impeccably presented waiting staff into the main room of the venue for a business lunch like no other! World class cuisine and rare wine flights meet the efficiency and class only a Michelin starred venue can provide – something which is sure to deeply impress any potential clients or investors!
Capacities: 8 – 40
Best for: intimate meetings and business lunches / dinners
What makes it unique: With its relaxed and sophisticated atmosphere, Aveqia is the ideal venue for making a powerful impression. An amazing array of dishes and drinks adds to the luxury vibe, and no expense has been spared in making this not only an unforgettable restaurant, but also a high class and efficient business meeting venue too.
The Magic Circle
What meeting couldn't be livened up by a bit of magic? The headquarters of the most illustrious magical society in the world is a truly unique and unforgettable venue for business meetings, and provides plenty of unique and quirky intimate spaces for all of your meeting rooms needs.
Your clients will not believe their eyes when they step through the door of this unassuming London venue – a floating staircase awaits them, and the walls are covered with curios and wonderments, making this a genuine marvel of the venue scene in London. Not only this, but the uniquely decorated rooms have proven time and again to be the perfect spaces for all manner of meetings, meaning you'll be able to get business done in impeccable style.
Capacities: 5 – 80
Best for: Making a big impression and demonstrating your out-of-the-box approach
What makes it unique: Well, what doesn't make this venue unique? A fascinating array of interior design themes, a series of equally beautiful and bizarre rooms and all mod cons come together to provide a venue unlike any other.
Meeting Rooms in London Need Not Be Dull!
We know how important it is for you to have a meeting room which not only serves its purpose, but which goes the extra mile in impressing clients and associates. That's why at Venueseeker we source the very best London has to offer for all your meeting rooms needs.
We hope you've enjoyed our selection of meeting rooms in London for last minute booking. If you'd like to see any more venues from our portfolio, don't hesitate to get in touch! Venueseeker takes great pride in offering a second-to-none service for those seeking their perfect event spaces.
If you've been to any of these meeting rooms, or know of other places you feel should have been on this list, then we'd love to hear from you! Get in touch via the comments below!