Planning a conference and looking for a luxury venue where you can make the best impact? Then here are 10 of the best conference venues in London and the surrounding area.
Some of our favourite conference venues in and around London:
1 – Plaisterers' Hall
One of London's great Livery Halls, Plaisterers' Hall in the City is renowned for its chic Neo-Classical interior, which is fit for a royal. With a spectacular Great Hall and gold chandeliers, it's perfect for prestigious occasions, and can house between 40 and 400 guests for conferences.
2 – Glaziers Hall
With five superb rooms, and a capacity of 40-300 for conferences, Glaziers Hall near London Bridge is well suited to smaller events. This early-19th-century former warehouse is known for its attractive oak panelling, and has excellent views of the Thames.
3 – Austin Friars
Right near the heart of the City, Austin Friars is a stunning former Augustinian monastery that dates to the Middle Ages. This Grade II-Listed landmark is one of the most exclusive events spaces in the City, with space for between 50 and 180 guests.
4 – Winchester House
Overlooking the Thames in leafy Putney, west London, Winchester House is an attractive Georgian building with half-acre private gardens. Accommodating up to 120 guests, it's one of the best London conference venues for smaller events.
5 – The Conservatory at Painshill
For a quieter setting in the picturesque Surrey countryside, consider the Conservatory at Painshill, which can accommodate between 80 and 400 guests. Overlooking beautiful Georgian gardens and 160 acres of grounds, this purpose-built events venue is about 2.5 miles from Cobham & Stoke d'Abernon station, which has direct trains to Waterloo.
6 – London Bridge Conference and Meeting Venue
Seconds from London Bridge and Borough Market, this smart purpose-built conference and meeting venue has two excellent restaurants and 18 well-equipped rooms with a flexible capacity of 10 to 550.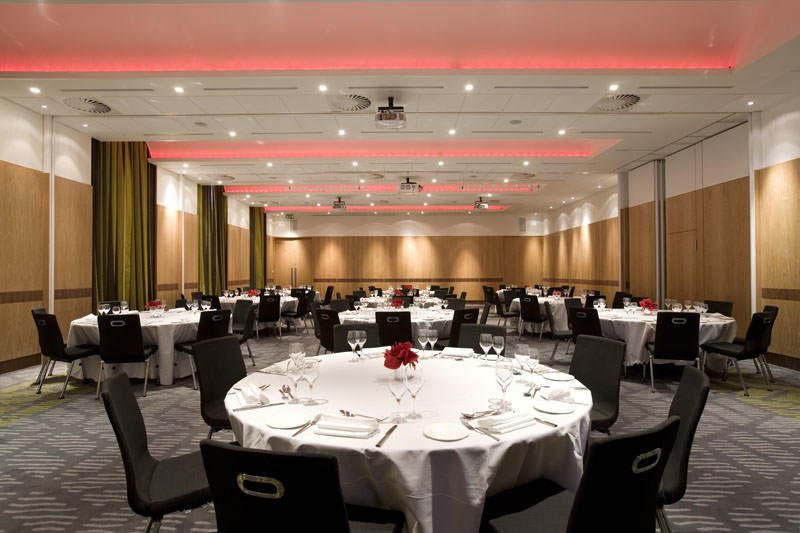 7 – The Royal Horseguards
An opulent five-star hotel, and one of central London's most glamorous buildings, the Royal Horseguards is moments from the London Eye and several underground stations. Once the home of Britain's first chief of the MI6, Sir Mansfield Cumming, it has enough space for 400 guests for receptions, and is decorated with beautiful chandeliers and tiled floors.
8 – The Tate Modern
One of Europe's leading contemporary art galleries, the Tate Modern on the Southbank has seven stunning events spaces, some of which have panoramic views of the Thames and the City skyline. With a capacity of up to 1,500, it ranks among the best conference venues in London for larger gatherings.
9 – One Mayfair
A former church, this majestic Neo-Classical building and Grade I-Listed venue has long been popular with the rich and famous. Dating to the 1820s, it has beautiful stained-glass windows and striking arches, and can house between 50 and 500 guests for conferences.
10 – Westminster Boating Base
With fantastic views of the Thames and Battersea Power Station, this luxury riverside venue has a covered balcony with special lighting effects and speakers. It has enough space for up to 350 guests for receptions.
Want to find out more about these luxury London conference venues? Then don't hesitate to call or e-mail Venueseeker today and tell us what you need. If you'd like to visit a venue to see if it's the right fit for your requirements, let us know so we can schedule a viewing.