When it comes to truly memorable cocktail parties, it's hard to think of a better city on earth than London. Cocktail party events in London are genuinely special and exciting affairs; you've got the buzz of the big city all around you, a wealth of amazing venues to choose from, and some of the best mixologists, movers and shakers, and cocktail wizards in the world at your disposal.
Whether you're planning an elegant and sophisticated evening of cocktail party fun, or fancy something a bit wilder and more on the cutting edge of fashion, Venueseeker has the perfect London cocktail party venue for you.
We simply adore looking for events spaces which are perfect for drinks nights, and not least because London's nightlife scene right now is in fantastic health, with new venues popping up all the time, each of which are maintaining the dynamic vibe our capital is famed for across the globe.
As always, we've put in the hard work so you don't have to, and have sourced some utterly brilliant cocktail party London venues for you to check out. We've gone for the unusual, the outlandish, the decadent, and the grandiose… because when it comes to cocktail evenings, too much is rarely enough!
Check out this list of awe-inspiring events spaces, and find something totally memorable and unique for your next big night!
Capacity: up to 60 guests
Best for: Truly unusual and theatrical cocktail parties
What makes it unique: They don't come much more unusual than Alcotraz. This prison-themed cocktail bar puts you in an immersive theatrical experience, which is quite unlike anything you will have come across before!
Inspired by Hollywood movies and the world-famous island prison in San Francisco Bay, Alcotraz is the latest example of a genuinely exciting new trend in London nightlife and events venues: a theatrical experience which doubles as a cocktail bar and events space.
Entering Alcotraz is to leave the ordinary world behind, and walk into an immersive realm where anything seems possible! From orange jumpsuits to themed 'cells', this bar really takes its theme to new and epic heights, and there's little doubt that an evening spent in this weird-and-wonderful place is sure to stay in your guests' memories forever!
Archer Street
Capacity: up to 220 guests
Best for: Elegant, decadent cocktail parties with an Alpine, apres-ski twist
What makes it unique: Archer Street is one of the coolest new venues in Soho, which combines Alpine chic with a decidedly decadent vibe. Perfect for cocktail parties which combine the retro with the contemporary, and the vintage with the avant-garde.
There's little doubt that Archer Street has been one of the success stories of the past couple of years in Soho. The work which the proprietors put into their project has more than paid off, and it's clear that with its blend of seductive, modern nightclub style, and cosy après-ski vibes, it offers something truly unique and special for central London.
As for cocktail parties, any evening spent in Archer Street is sure to be filled with fun and wonder, as it treads the ideal line between sophistication and silliness, and brings a real sense of retro charm to any event.

Capacity: n/a
Best for: Large scale parties with a breathtaking view
What makes it unique: If you're looking for cocktail party venues in London which are bound to leave your guests breathless with wonder, then the stunning views from Savage Garden tick that box very nicely indeed. At twelve storeys above street level, you really feel on top of the world as you settle down among dazzlingly modern furnishings!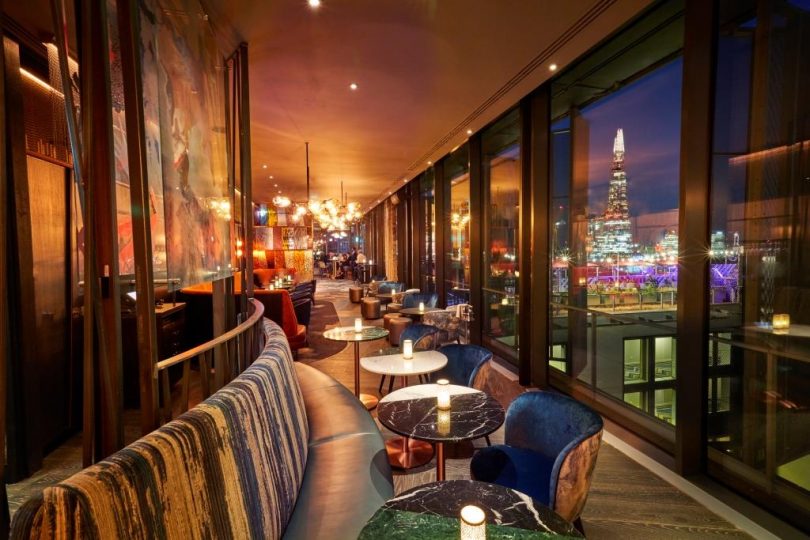 This venue has quickly become one of the most sought-after in London when it comes to quality cocktail parties, and it isn't difficult to see why. With its panoramic views of the iconic London skyline, and 360° vistas which take in the Tower of London, The Shard, The Gherkin, and St. Pauls, this venue is the perfect spot from which to watch the sun set over London, and take in the majesty of the capital.
It's not all about the view, though – Savage Garden boasts a pair of beautiful terraces, private dining areas, and even a retractable roof in case the weather's not on your side. Perfect!
Capacity: up to 130 guests
Best for: Unusual, avant-garde cocktail parties with a steampunk vibe
What makes it unique: Mr. Fogg's tavern is a truly bizarre yet wonderful addition to the London cocktail bar scene, and one which certainly won't be forgotten in a hurry. With its 'upstairs, downstairs' theme, and long list of strange and fantastical details, it's a real delight to explore. 
This Victorian-inspired bar and events space is a joy to wander around, as it's absolutely packed with curiosa and period details. Tapping into the highly trendy 'steampunk' vibe, it's a cabinet of wonders which offers plenty of surprises and sensory delights.
With a vintage tavern on the ground floor, and a decadent gin parlour upstairs, it's a venue of two distinct halves, meaning your cocktail party can opt for either elegant slumming, old school sophistication… or a brilliantly contradictory combination of the two.

Capacity: up to 300 guests
Best for: Stylish and bohemian central London cocktail parties
What makes it unique: Colourful, elegant, and more than a little bohemian, your guests will be wowed by this stunning townhouse setting. Featuring incredible furnishings and a atmosphere that's perfect for laid-back, impressive, and unforgettable cocktail events.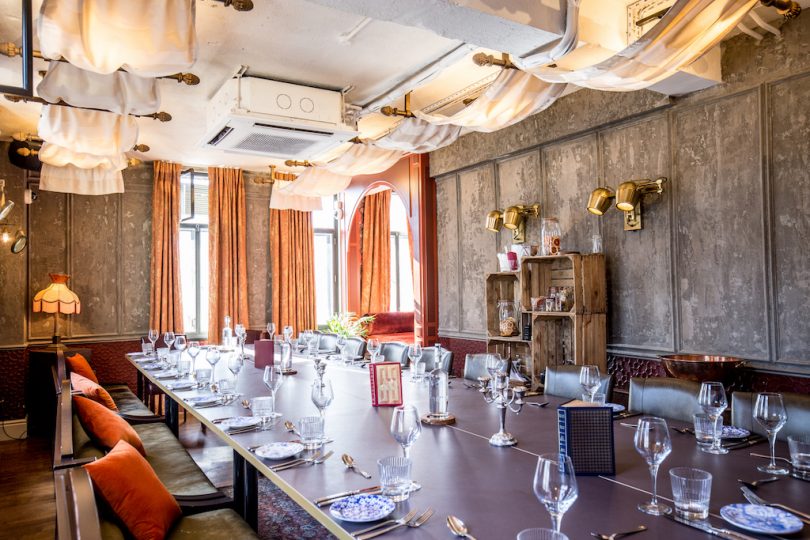 With its dandyish charm and air of utter sophistication, it's hard to think of a better London venue for drinking some classic English cocktails than Six Storeys. Based in the beating heart of Soho Square, this gorgeously laid out six-storey London townhouse is sure to make a massive impact.
Featuring interiors designed by the prestigious Russell Sage Studios, every inch of this venue is a treat for all the senses, and it's a gem of a location for all your cocktail party needs.
Capacity: up to 130 guests
Best for: Laid back, relaxed, and US-themed cocktail parties
What makes it unique: Ever tried bowling while at a cocktail party? All Star Lanes makes this possible, and much, much more besides. With its Hollywood-inspired sense of glamour, and cool, retro, laid back vibe, it's one of the capital's most unique and enjoyable venues for a chilled cocktail party. 
All Star Lanes Brick Lane is the perfect venue for anyone who wants to add a bit of a twist to their cocktail parties. There's something gloriously retro and Americana about bowling – it puts us in mind of everything from Elvis movies to The Big Lebowski – and having the option to score a few strikes while sipping a perfectly mixed White Russian is more than we can resist.
Be transported to decades gone by with the amazing decor of this unique venue, and enjoy yourself in a venue which offers a truly fun, light-hearted, rock 'n' roll, immersive experience.

The Dead Doll's House
Capacity: up to 250 guests
Best for: Quirky, elegant, vintage cocktail parties
What makes it unique: Situated in the heart of Islington, the Dead Doll's House is a quirky, fun, yet elegant venue perfect for vintage-style cocktail parties.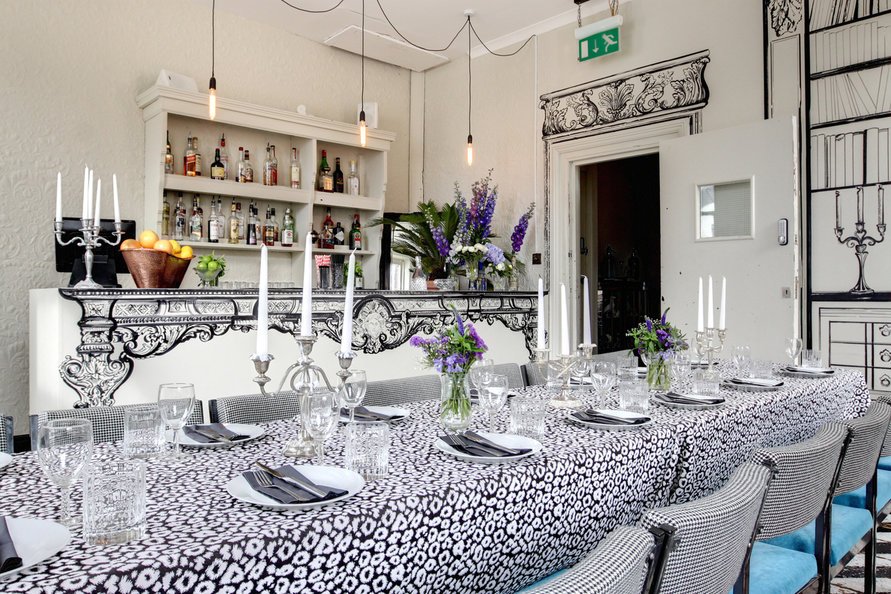 With its gothic-inspired furnishings and vintage sense of style, this venue sits somewhere between classic London chic and a Tim Burton movie. That's by no means a criticism – this gorgeous three-storey Victorian townhouse is an absolute joy to explore, and makes for a fantastically unique venue in which to hold a truly memorable cocktail party.

Cocktail Parties London: The Perfect Venues for Truly Special Evenings
As we've seen, there's no shortage of brilliantly inventive and unusual venues in London at which to hold a memorable cocktail evening, and plenty of classically sophisticated ones to choose from, too. At Venueseeker, we're never less than impressed by the imagination and creative design of London's events spaces, and each year seems to bring new treats to explore and enjoy.
 With a massive range of beautiful, stylish, and unique venues to choose from, we take great pride in helping our clients finding absolute perfection when it comes to event spaces. If you're seeking something special for your next big night, why not give us a call? We're confident we can find you your perfect match!