Planning an awards ceremony can be an immense undertaking. The purpose is to recognise the achievements of people on your team that went above and beyond their duty.
You want to make it a moment of grandeur for the recipients but also make it fun and worthwhile for the rest of the spectators that may otherwise get bored listening to speech after speech.
We have a few awards ceremony ideas in mind that will turn the affair into a fun-filled evening while paying homage to those being honoured.
1. Choose a Suitable Venue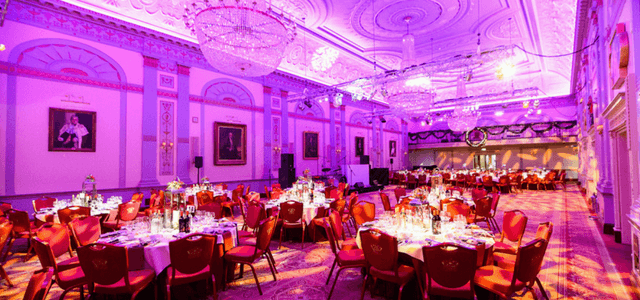 A makeshift award ceremony at the office or some lecture hall at a college campus probably isn't going to feel all that magnificent. Consider a venue that has some historical significance or is renowned for numerous celebrity-hosted parties. Now that will really make a statement.
We know of some amazing venues for hosting award ceremonies. These have just the right facility layout and stage and podium for a speaker. They are also perfect for seated dinners that can precede or come after the awards presentations.
Some of the more lavish and upscale London venues ideal for corporate award shows include:
2. Theme
An award ceremony can be a formal black tie event or it can be more casual. Either way, awards ceremony ideas should include a theme. It just makes the event so much more fun and memorable. We have contributed to various themed ceremony events and some were really impressive and quite imaginative.
Some of the themes we have observed included:
Christmas (if held at the end of the year)
Arabian Nights
The roaring 1920s with a speakeasy backdrop
Futuristic
Wild wild west
James Bond
1950s Hollywood
The theme also shapes many aspects of the event. If using a medieval theme, for example, then awards may take the shape of a coat of arms. If using a Christmas theme, then the award may be a crystal ornament ball.
3. Entertainment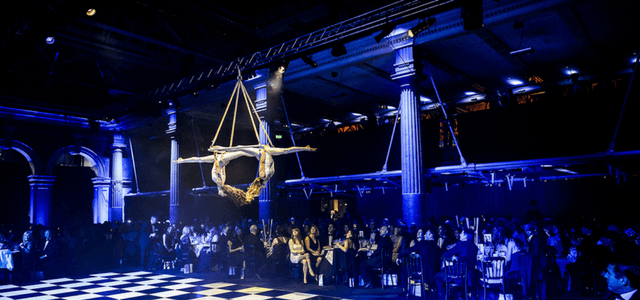 Ideas for awards ceremonies have to include entertainment in one form or another. The majority of the guests are not award recipients, and a good number probably don't even know any of the people being honoured. These people are going to lose interest really quickly; don't expect them to talk about what a blast they're having on Twitter.
The formal ceremony and speeches precedes the entertainment. The latter is what many of the guests will be looking forward to. Here are some entertainment ideas that our clients have come up with:
Live music, including solo and group performers
Standup comedians
Stage illusionists
Dance with a DJ, can be classical or modern like electric funk
Casino games
We notice guests tend to have a better time when entertainment includes activities they can be directly involved in. In other words, activities like dancing or karaoke may be preferable over a stage act where the guests are just a passive audience.
4. Speakers/Host
Who will be presenting the awards? In many cases, it's the CEO/manager or some other company higher-up. However, we recommend a professional speaker that can speak with charisma.
Whoever you designate as the host, keep in mind that this person is going to be doing much more than just announcing a few names. This person has to be able to eloquently highlight the award recipient's professional background, his contribution to the company, and list other accomplishments like the recipient's number of years in service and his role in the business.
When sharing ideas for awards ceremonies, we always emphasise the need for a speaker that has a natural stage presence. If you look up a random TED Talks video on YouTube, you'll find a number of speakers on a diverse array of topics. The subject they're speaking about is irrelevant. It's their orating skills that matter. This is the type of confident speaker you want for your event.
5. Food and Drinks
Many people eat as a form of entertainment without even realising it. This was discussed at length in a psychology paper. Even though the ceremony is supposed to be all about honouring the recipients, the event as a whole may be perceived less positively if attendees are not satisfied with the food, both in terms of quality and quantity.
When sharing awards ceremony ideas, we always place a heavy emphasis on food. We also don't recommend that food be limited to light refreshments especially if the event lasts a good part of the evening. At the minimum, include a dinner, preferably a buffet to keep guests satisfactorily satiated.
As a bonus, you should also include a bar where guests can grab a few cocktails. This will really heighten the event especially as attendees treat the recipients to a congratulatory drink.
6. Marketing
Since it's an award ceremony, people with zero connections to your company obviously aren't going to be interested. However, a good number of attendees will have an indirect connection, such as relatives of a coworker of an award recipient. You will need to market to them.
A marketing scheme for an award show should include several components. There should be a social media aspect. Perhaps you can directly reach out to the friends of the recipients on Facebook. Even if they can't attend, at least they'll be notified and send out a quick congrats to the recipient; that always accounts for something.
You can also do some outreach offline. Since this is a formal event, consider sending out traditional invitations in the form of a greeting card. It can even come with a separate piece in the form of a ticket stub containing registration information.
7. Setting the Budget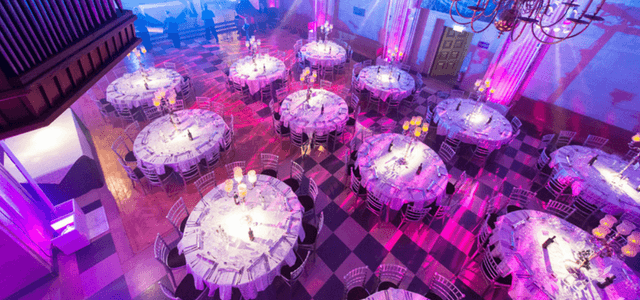 Ideas for awards ceremonies has to take the budget into consideration. We can't tell you the number of times our clients had to make last minute changes due to calculated costs exceeding what was previously anticipated.
Every component from venue to food needs to have its own budget plan. Also, be sure to set aside a reserve budget to account for unforeseen costs.
Since you're handing out awards, that's another part that needs to be factored in. Customised trophies and/or plaques vary in price. Cost varies from double to four digit ranges depending on how lavish it is. Also, how many trophies are being presented?
Our advice? If budget is a huge concern, consider paper awards placed inside a fancy frame. This is often cheaper than a customised trophy.
8. Add Value
Let's be real here: if you're, say, the friend of an employee whose coworker you never met is receiving an award, you're probably not going to care. You have to add value to these people who really don't care too much for the award aspect.
To add value, you can spend a bit more on the food and entertainment, which were discussed earlier. The event can also be doubled as a networking conference where attendees meet new friends, business partners, and even possibly romantic interests. This can be accompanied by a group icebreaker of some sorts that puts strangers in a teamwork environment.
Other ways of adding value that we have observed included a sweepstakes or raffle towards the end of the event. We have also seen informative lectures or seminars take place before the award ceremony commenced.
Venueseeker holds various events besides award shows. We also hold private birthday parties, Christmas celebrations, and corporate conferences among others.
We certainly hope you found these awards ceremony ideas useful. We believe they're important for creating a memorable time for all guests and not just the people being honoured.
If you have held your own award show, please share some of the ideas you implemented by tweeting to @Venueseeker.