There are all sorts of subtle factors that go into the success of a reception, as anyone who has ever organised one will be quick to tell you. Sometimes, it can feel like something of a juggling act, keeping all the plates spinning to ensure your guests and attendees are having an informative, memorable or generally positive experience.
While you may have agonised for hours of the choice of canapes on offer, and spent sleepless nights choosing between lighting designs and background music tracks, unless you've also spent time considering event room layouts, you're in danger of not seeing your event reach its full potential.
Every organiser should think carefully when planning event room layouts. It's the kind of factor which – despite being easy to overlook – can really make or break a reception, presentation or networking event, and as such, it's vital to consider which options are best for you.
We've seen too many events fall flat simply because engagement between speakers and attendees, as well as between the attendees themselves, hasn't been maximised by the choice of event room layout.
Because we care about the finer details (and because we're a lovely, caring bunch of venue experts and event organisers), we've decided to show you four of the most effective, most engaging event room layouts for you to think about for your next gathering.
With these plans, you can guarantee that your guests will really make the most of everything you've planned.
Event Room Layouts
Before we look in depth at some specific room layouts, it's worth pausing for a moment to think about the overall comfort of your guests.
We all like to sell as many tickets as possible for our events, just as we all like looking out over a busy, dynamic and relatively full events space.
However, it's important to remember that if your guests find themselves crammed into a space, elbow to elbow, with the room at maximum capacity, it's likely their level of enjoyment will be hampered somewhat.
Take our advice: keep your numbers at least 10% lower than the maximum capacity of the venue, and if you are adding big lighting rigs, catwalks or stages to your layout, do make sure you consider this when calculating your numbers.
Nobody likes to be bumped into, or have cocktails spilt down their dress in the crush!
Event Room Layout 1: The Cabaret Layout
● Good For: More chilled out gatherings, workshops and lectures
The Cabaret Layout involves attendees sitting around tables – yet not all the way around, thus allowing for a clear line of sight towards the front of the venue.
This layout allows your guests to not only comfortably follow whatever presentation, speech, lecture or workshop is being carried out without having the turn in their seats or crane their necks, but it also leaves a space open for chat and discussion between themselves.
As such, this layout is ideal for promoting an open, laid-back sort of vibe; one which makes room for informality and fun.
Bear in mind, though, that the Cabaret Layout isn't the best one when it comes to making full use of the space. By leaving 30% of each table empty, you aren't going to fit as many people into your venue as you might like.
Event Room Layout 2: The Classroom Layout
● Good For: In depth presentations, training sessions, lectures and more formal workshops
The classroom layout is one which we all recognise from our school days – rows of individuals, each with their own table space on which they can make notes, position a laptop or tablet, or read along with a presenter.
While there is something a little stiff and restrictive about this kind of layout, it does automatically encourage a professionalism and sense of focus in the room, and is perfect if you really need your attendees to give you their full attention and focus.
While many events organisers would be tempted to leave their rows of tables in straight lines, studies show that a 'herringbone' shape – where the tables are set at thirty-degree angles to each other – promotes a more social atmosphere.
Event Room Layout 3: The Theatre Layout
● Good For: Conferences, presentations, fashion shows and events with multiple speakers
The theatre layout involves rows of attendees, each with a space in front of them where they can get a clear view of the front of the room. This is a comfortable layout, designed for more passive enjoyment or involvement in an event – it will turn your attendees into observers, rather than active participants.
As such, it's ideal for events requirement a large number of people, and in which your guests have to listen to several presentations, but it isn't the one if you're looking for your guests to interact with each other or network.
While it may sound like a fairly rigid layout, there's actually plenty of room for experimentation when it comes to this one.
A curved row of chairs, for example, will open the room a little for interaction, and you could even have the rows facing one another, with the 'stage' set in between them – something which actually encourages even more attentiveness, as the attendees will not just be observing the presentation, but also each other!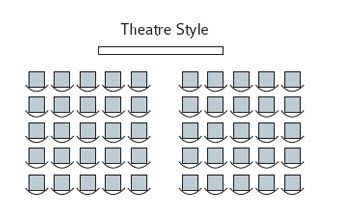 Event Room Layout 4: The Cocktail Reception
● Good For: Encouraging networking, social interaction and movement of guests
If you really want to get people moving from place to place, and interacting with each other in a proactive sort of way, a cocktail reception layout might work best for you. This involves essentially scattering a few high tables throughout your venue space, and putting chairs or bar stools around some of them, while leaving others empty.
The effect is that people will congregate around certain tables, but move on once they've achieved their individual objectives. Should they wish to get into a deeper discussion, the presence of certain tables with chairs will encourage that to happen.
Plan It Right
When you're planning an event, room layouts are just one of those factors it would be a real issue to overlook. The positioning of chairs and tables is something which can help you encourage interaction between your guests, and as we all know, that can be absolutely key to an event's success.
Here at Venueseeker, we take great pride not only in our knowledge of ensuring every event's success, but also in covering all of those extra details which are often missed by busy event organisers. If you'd like to speak to us about anything in connection with events management or venues, we'd be more than happy to lend an ear and some advice.
We hope you've enjoyed reading our thoughts on these event room layouts. As always, we'd love to hear your thoughts about the article, or if you've ever come across any particularly effective layouts – just let us know in the comments below!