Not only are meetings are a big part part of corporate life; they can also be a great way to generate new ideas. So, in order to make sure your next meeting is a success, you'll want to pick the location carefully.
The productivity of any meeting can be dependent on the atmosphere, so make sure you choose the right venue. If you're looking for a small meeting room, for a quick meeting, take a look at the list of the best small meeting rooms.
People are increasingly bored of the same old venues, so next time you have an important meeting, get out of the office and consider using one of these great spaces.
1. Landing Forty-Two at The Leadenhall Building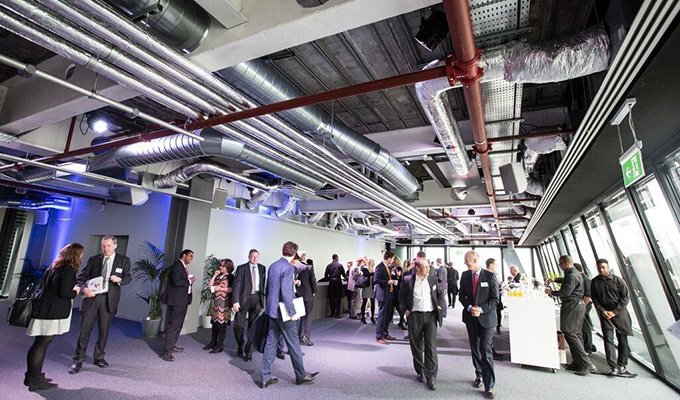 What type of events?  Meetings, Conferences, Product Launches
Located on floor 42 of the Leadnehall building, this is London's highest dedicated event space. Whilst this is certainly what it makes it a unique meeting room, it also boasts panoramic views of London. You can easily spot London landmarks like the Gherkin and the Walkie Talkie Building whilst you entertain your attendees.
In addition to impressive meeting space, Landing Forty-Two also has fully equipped kitchens that are purpose built for catering events.
If you are looking for something for a bigger presentation, this venue has fully integrated lighting and sound systems for your use.
2. One Marylebone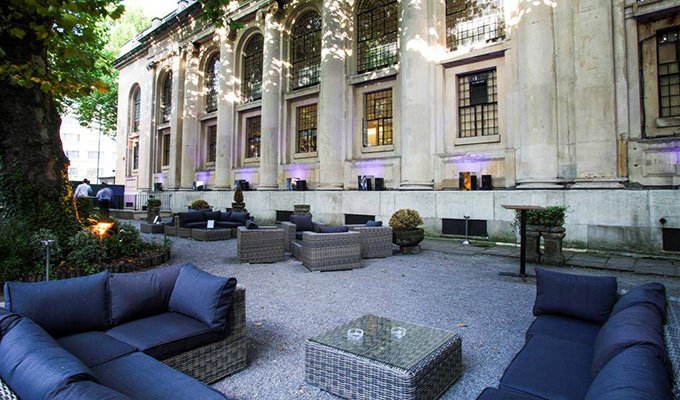 What type of events?  Meetings, Conferences, Receptions
One Marylebone is one of the coolest meeting rooms in London. It's a grand neo-classic building right next to Regent's park, giving it an ideal location that is close to public transport links.

This flexible and elegant venue has three spaces that can combine to host a total of 1000 guests, ideal for meetings both big and small.

If you are looking for something a little smaller then the east and west galleries are ideal for small to medium sized conferences or meetings.

The truly unique feature of this venue is the basement space, which is ideal for holding a post event dinner or celebration.
3. Blue Fin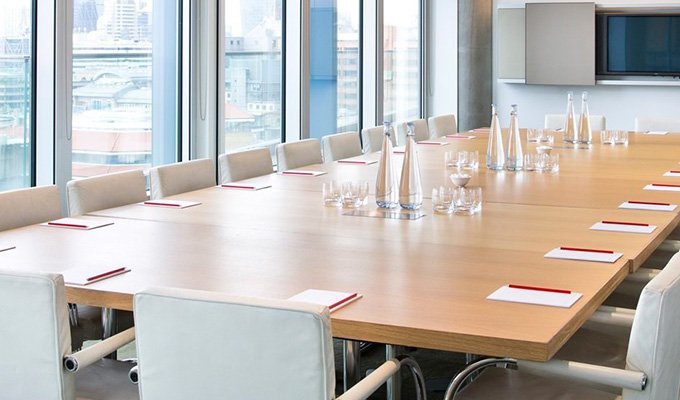 What type of events?  Meetings, Dinners, Receptions
This fantastic venue on London's south bank is truly a highly flexible and accessible venue. This venue is ideal for anyone looking for a contemporary event space that offers lots of options to perfectly tailor your event.
This venue is also great for outdoor events as well with a great outdoor space that can be used for breakout sessions or a drinks reception after a successful day of meetings.
The Blue Fin also has great tube links, Southwark station is closest with Blackfriars and London Bridge close by.
4. London Bridge Conference and Meeting Venue
What type of events?  Conferences, Meetings, Training
This venue is a purpose built event space that makes a great choice for those that are looking to do something a bit different for their next meeting.
There are a wide range of spaces available at this venue, meaning that you are sure to find a space that works for you and your company.
This venue boasts a cool South Bank location, making it one of the unique meeting room locations in London. There are a range of packages available for this meeting venue, as well as air conditioning and Wi-Fi throughout the building.
5. Paddington Meeting and Training Venue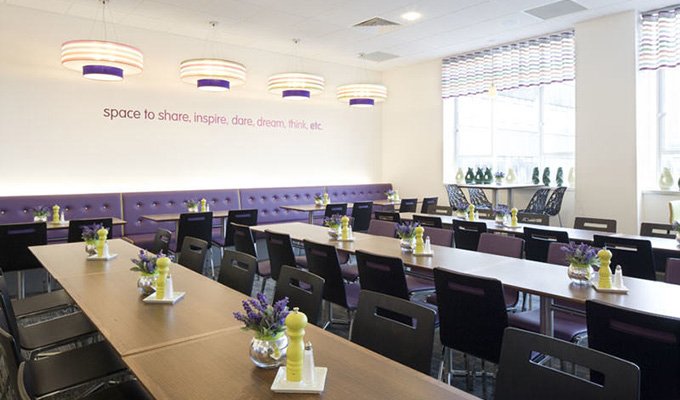 What type of events?  Conferences/Meeting/Training
If you are looking for the coolest meeting rooms in London, then this could be a perfect choice.
With two floors of dedicated event space, designed with training and meetings in mind, it's the perfect place to conduct that all-important meeting.
This venue offers the perfect distraction free environment. The smart and modern venue is filled with natural daylight and is the perfect place to train, meet or network.
6. Stationer's Hall
What type of events?  Meetings, Receptions, Ceremonies
This historical venue in one of the only remaining livery halls in London includes a unique meeting room. As a venue that is rich with history, it has retained its 17th century oak panelling which is sure to impress at any meeting.
Not only that, but the venue also has impressive oak flooring throughout and is decorated in Rococo style.
The Court Room is a city favourite for meetings, seminars and receptions and could be the ideal space for your next corporate event.
7. IWM London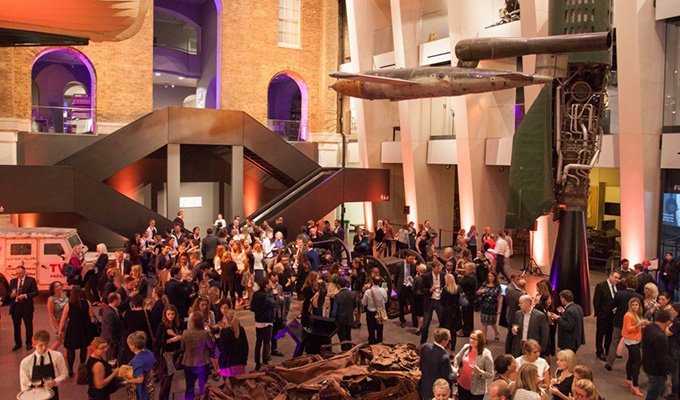 What type of events?  Conferences, meetings, product launches
There are not many meeting rooms in the UK with views of such an iconic building and two naval guns, so if you are looking for one of the coolest meeting rooms in the UK, you must consider the IWM London.
It's ideal if you're looking for interesting settings, with the option for breakout sessions, and has the great advantage of a roof terrace that can function as another event space.
8. Westminster Boating Base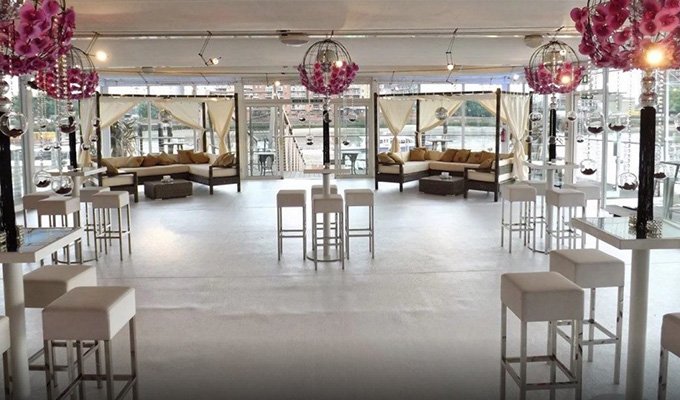 What type of events?  Meetings, Conferences, Functions
This venue is a unique meeting room that is slightly more hidden away than most. Its attractive park setting is away from main roads, making it a great escape for anyone looking for meeting venues that are more unusual, and a far cry from the usual office setting.
This truly unique venue also offers great views of Battersea power station, one of London's most iconic buildings. In addition to this, the pavilion extends over the River Thames, with floor to ceiling windows providing stunning views of the river.
9. Anomalous Space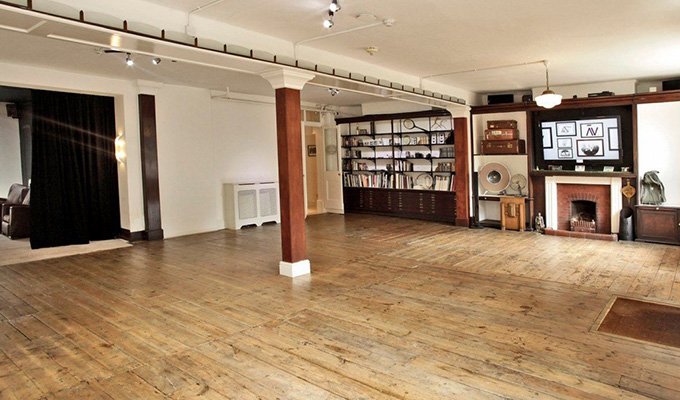 What type of events?  Meetings, Conferences, Product Launches
The Anomalous Space is truly one of the coolest meeting rooms in the UK. This original art deco studio is available for a wide range of meetings and events. It is also a highly flexible venue, perfect for anyone looking to hold a really unique meeting.
It's unlikely you have ever been to a meeting at a venue as unique as this, so impress your guests and make a lasting impression with the Anomalous Space.
In addition to being a unique venue, it also has great public transport links, minutes' from Angel station.
We all know that choosing the right venue can make or break an event, so choose wisely and consider one of these cool and unique meeting rooms, that are sure to make a lasting impression on your guests.
If you are looking for assistance with planning your next meeting or catering a dinner or lunch, get in touch. Let us know your thoughts in the comments below.