Rooftop venues have long been a popular choice when planning a summer party in London. However, venue hire which includes a courtyard can also be a great choice for summer entertaining. When planning your summer party venue hire in London, take a look at some of our top summer party venues and hire a space with everything you need for your next summer event.
Rooftop Advantages
If you're considering rooftop venue hire for your next summer party, there are some clear advantages. Firstly, many rooftop venues benefit from fantastic views over the capital. What better way to enjoy the glorious sunshine with a glass of Pimm's?
Courtyard Advantages
If rooftop venues aren't your thing, a courtyard is a wonderful choice for summer celebrations in London. We have a selection of summer party venues with courtyards, in great London locations for you choose from. Just get in touch to find out your options.
Popular Summer Party Venue Hire London
The Artillery Garden at The HAC
The Artillery Garden at The HAC venue hire is exclusively available for summer parties. Offering an oasis of calm in the heart of the City, The Artillery Garden at The HAC is the perfect space for private and corporate summer events.  The venue also benefits from prime position in the heart of the City, making it easily accessible for your guests. And the best bit? As well as fantastic outside space in the heart of London, The Artillery Garden at The HAC benefits from an in-built fun fair and side stalls, to give your summer party the real wow factor.
The Pavilion at the Tower of London
This iconic London venue is located beside a famous London landmark, with private gardens offering fantastic views of the famous Tower of London. Purpose-built to host events, two separate reception and dining areas enable your guests to move freely around the venue. The Pavilion is equipped with lighting and sound equipment plus HD projectors and screens. For the warmer months, the private garden space surrounding the Pavilion at the Tower of London offers superb opportunities for venue hire London, whether it is al fresco dining or a summer drinks reception.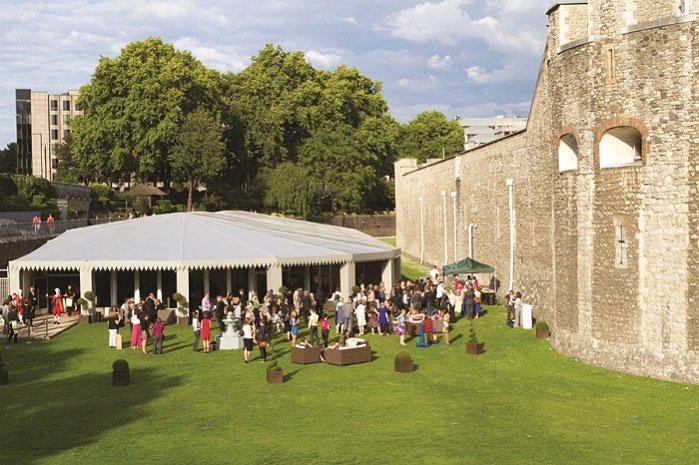 Located on Level Two of the iconic OXO Tower, OXO2 is a breathtaking contemporary space offering panoramic views across the River Thames. The venue is one of our most popular summer party venues in London. OXO2 benefits from a blank canvas design, allowing you to put your own stamp on the summer venue.
Are you trying to decide between a courtyard venue or rooftop venue hire for your next summer party? Why not make an enquiry form submission with the requirements of your event and let us do the hard work for you. We'll select the summer venue hire which best suits your event, giving you a selection to pick from – absolutely free. Just get in touch to start the search for your perfect summer party venue.