Make no mistake: the gin renaissance is well and truly here, and it doesn't look as though it's going to fade anytime soon. In fact, it's probably not since the days of Hogarth's Gin Lane back in the 18th century that this particularly English spirit has been so widely adored, although the 'mother's ruin' you get nowadays is considerably more refined and delicious than it was in those somewhat more chaotic times!
Here in London, there's no shortage of vintage-themed bars, kooky speakeasies, and trendy cocktail joints to visit, and right now, they're all celebrating the grand return of gin in real style.
This delicious spirit has always had a fairly retro vibe about itself, and this anachronistic approach has inspired plenty of truly fascinating pubs and bars to up their game when it comes to ambience, decor, and generally seeking to impress. For fans of gin, there's simply never been a better time to go looking for a top tipple in the capital!
At Venueseeker, we love a gin-based cocktail as much as anyone. That's why we've decided to put together this unique blog, which is not only going to introduce some of our favourite gin haunts in London to our readers, but which is also going to lay out some simple, classic, and timeless gin cocktail recipes for you to try out at home. What could possibly be better?
Elderflower Collins
Everyone loves the classic Tom Collins cocktail – it's one of the fundamental building blocks in any gin fan's repertoire! This cocktail uses the uniquely British flavour of elderflower to provide a gorgeously summery and floral twist… and we absolutely adore it.
50ml gin

20ml lemon juice

10ml simple sugar syrup

10ml elderflower cordial

Soda to finish
In a cocktail shaker, shake up your gin, lemon juice, sugar syrup, and cordial, with plenty of ice. Pour into a glass (over more ice), and top up with sparkling water. Decorate with a sprig of thyme. If you feel like being fancy, you can replace the soda with a sparkling wine… which really adds to the decadence of this top cocktail!
If you're a fan of high quality gin cocktails, and love revelling in the unique and quirky retro vibe which surrounds this particular spirit, you're going to be utterly enamoured by Mr. Fogg's Tavern.
With its gorgeous and sumptuous decor, Jules Verne-inspired victoriana and somewhat steampunk aesthetic, it's the kind of gin palace that, once visited, is simply never forgotten.
A treat for all the senses, and staffed by mixologists who know how to whip up a perfect gin cocktail, it's sure to become a new favourite for all your small-scale events and meetings!
Sloe Gin Fizz
For most of our British readers, sloe gin is the quintessential taste of cold winter evenings, and something we look forward to all year long. This brilliant twist on an absolute classic brings a real sense of the festive to proceedings, and this is definitely a cocktail to impress your friends and family with!
50ml sloe gin

20ml lemon juice

15ml simple sugar syrup

20ml beaten egg whites

A rosemary sprig
In a cocktail mixer loaded with ice, shake together the sloe gin, the sugar syrup, the lemon, a rosemary sprig, and the egg whites. Shake really vigorously – you want that egg white to be really nice and frothy. Pour straight into a wine glass, and use the rosemary as a garnish.
Gin has always had a sense of the bohemian about it, and Six Storeys is a beautiful Georgian venue which positively drips in bohemian glamour and laid-back chic.
Beautifully furnished, opulently decorated, and undeniably sophisticated, this is one central London venue which really captures the unique spirit of its Soho location.
For medium-sized events and receptions, this Soho Square venue is utterly superb. With entire floors for hire and capable of housing up to eighty guests, it's the kind of place that is sure to impress your guests and make a big impact on business partners at meetings, after parties, and launches alike. The well-stocked bars are definitely an added bonus, too!
Negroni
Nothing tastes as much like a summer holiday in Italy as a Negroni does. This cocktail demonstrates a masterful use of flavours and ingredients, and despite its simplicity, it really does pack a punch. Gorgeously refreshing, devilishly sophisticated, and a classic which grows more popular year on year.
25ml gin

25ml sweet vermouth

25ml Campari

1 orange
Pour the vermouth, the gin, and the campari into a glass over some ice. Stir well to chill, and then add some orange peel or zest to the glass. Enjoy!
If you're looking for something truly special and unique for your next event, then few venues in London have a vibe, ambience, or make an impact quite like the Victorian Bath House.
This is a venue which glitters like a historic jewel in London's crown, and offers a true sense of escapism from the hustle and bustle of modern life. It is, quite simply, stunning; original decor and architectural features transport you to the heights of Victorian fashion, and allow you to revel in a state of sheer splendour from bygone years.
For gin fans, it also offers another major draw: this venue actually houses a gin distillery, which makes small batches of superb quality gin according to original Victorian recipes! It really doesn't get much better than that!
Classic Martini
Every year, there seems to be some reimagining of the Martini featured on the cocktail menus of trendy bars up and down the country.
We're actually quite partial to some of these interpretations of the classic… but sometimes, you really cannot beat the refreshing, delicious bite of the original. The last word in louche elegance, great taste, and sheer sophistication!
60ml gin

Vermouth to taste (we reckon 40ml is about right)

Orange peel to garnish
The trick to making a great Martini is to make sure everything is as cold as possible. The bottles of spirits should be chilled, and the glass should be frozen. Mix together the spirits with plenty of ice, and strain into a Martini glass, before garnishing.
Your choice of garnish should depend on the gin you've used… but we think an orange peel twist is the way to go for most mainstream gin brands.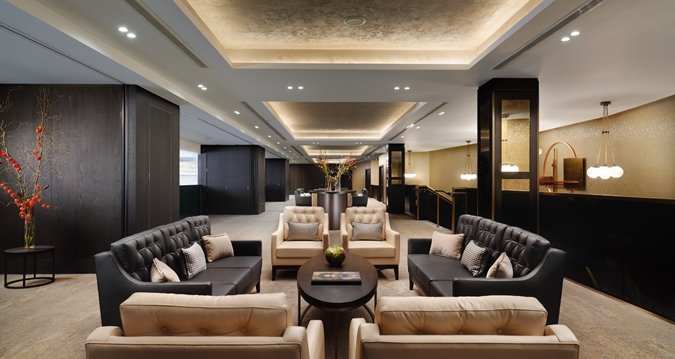 When it comes to contemporary glamour and sleekness, it doesn't get much better than the beautiful gin bar of the Hilton Bankside. This stunning bar sits in the heart of the design-led hotel, situated in one of London's most beautiful locations.
If you're looking for somewhere stylish to hold an intimate meeting, or just enjoy  well-mixed gin cocktails with your colleagues, it's hard to think of a more fitting venue!
French 75
If gin is hot news right now, that must make the French 75 – a delicious fizzy cocktail using this spirit as its rocket fuel – absolutely on fire! Despite the name, this drink was dreamed up at the legendary Harry's Bar in New York.
However, it's currently a favourite in all trendy bars around the world. Here's how you make it:
10ml gin

10ml orange bitters

10ml lemon juice

5ml sugar syrup

Sparkling wine to top up
Mix together the gin, orange bitters, lemon juice, and sugar syrup in a Champagne flute. Top up with bubbly, stir once with a cocktail stirrer, and enjoy!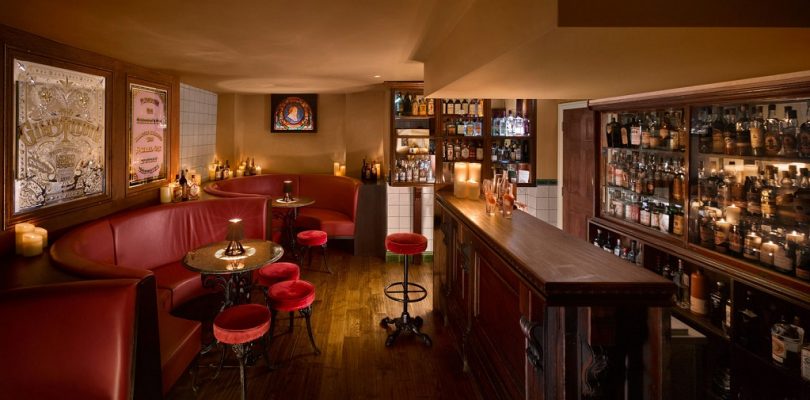 If you're looking to get truly up-close-and-personal with your favourite spirit, then where better than an award-winning distillery? The Distillery has made waves in the gin world, thanks to its unique Portobello Road Gin, made right here in this stunning location.
However, The Distillery isn't just a central London gin producer, it's also home to a strikingly beautiful and sophisticated bar and dining room, perfect for meetings, receptions, or small and intimate events which require a truly stunning backdrop.
As if that wasn't enough, The Distillery also offers guests a tour of the working side of the venue, and a tasting experience which will provide you with greater insight and knowledge of the history of this drink and the subtleties within. It's a gin-lover's dream come true!
---
Gin Bars and Cocktails: A Recipe for Events Success!
There you have it: our top five gin cocktails, and the five hip and happening London bars which are mixing these drinks with real flair and panache. Here at Venueseeker, we absolutely love seeking out the hottest new bars and venues for our clients… and if they serve these kinds of cocktails, well, let's just say it makes our jobs all the more pleasurable!
If you're on the lookout for a fantastic venue for your next event, we've got the contacts, the know-how, and the skills you need to get it booked and properly decked out for any occasion. Want to find out more? Get in touch with a member of our team today!