Phew – it's been a long, hot summer, and if the weatherman can be trusted, there is plenty more warm weather on its way. While most of us have been making the most of the heat (especially here in London where any break from grey skies is taken full advantage of) those looking to hold business meetings, small corporate events, and other such gatherings have been heading underground to the cool, calm, and on-trend world of London's basement bars.
It's hard not to love a great basement bar in London. These quirky, eccentric, subterranean drinking holes have more than a hint of prohibition-era cool about them; they put us in mind of speakeasies, of private clubs, and of dens where those in the know gather to talk about the important affairs of the day.
They're also refreshingly unique; while above ground, you'll find chain pubs and franchises aplenty, beneath the surface each and every one of the capital's basement bars has its own identity, its own message, and its own specific vibe.
Here at Venueseeker, we like to think we're on top of all the latest trends in London, especially when it comes to finding the hottest new places to hold your next event. Basement bars are the kind of venues which really get us excited; they're brilliantly creative, have a real visual impact, and show off the ever-changing landscape of London's venue scene.
We've gathered a handful of our current favourites for you to browse through… and they're all available for you to hire next time you need to take a client somewhere they'll simply never forget!
Capacity: up to 150 guests
Best for: Quirky, eccentric meetings and small parties
What makes it unique: Cahoots isn't just an underground bar, it's a bar in The London Underground. Set in an abandoned tube station, it's packed full of period details and a decidedly kooky, post-war vibe that is sure to make a massive impact on your guests!
Cahoots is a brilliant example of something London does so very well: taking forgotten, abandoned spaces, and transforming them into something truly memorable and wonderful. With its quaint 1940s vibe, seats fashioned from a train carriage, and mountains of charm, Cahoots is a time capsule from an age of tea dances and blitz spirit, and is guaranteed to steal your heart.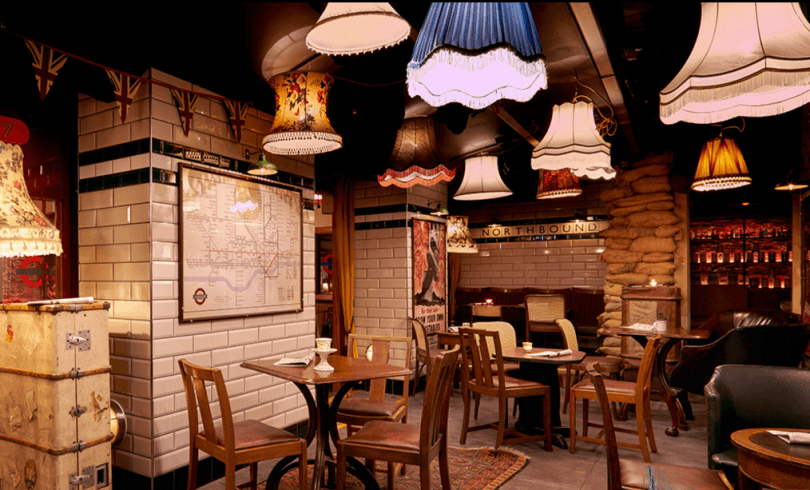 Capacity: up to 40 guests
Best for: intimate meetings
What makes it unique: A better question would be 'what

doesn't

make WC Clapham unique?' – this converted public convenience dates back a hundred years, and is surely one of the capital's quirkiest basement bars imaginable.
Imagine walking down the elegantly tiled staircase of Clapham Common tube station, to a subterranean former water closet… only to find one of the most exciting, exclusive, and wonderfully eccentric basement bars in London below!
This converted toilet made national headlines upon its opening, and it continues to wow visitors with the incredible use of intimate space and period features today.
Capacity: up to 400 guests
Best for: launches, parties
What makes it unique: arty, funky, and indescribably cool, Bunga Bunga is what happens when wild abandon, a sense of hedonistic delight, and effortless London sophistication combine in a basement bar. Secretive, stylish, and a whole lot of fun, it really does need to be seen to be believed!
The term most commonly used to describe the latest incarnation of Bunga Bunga is 'jaw-dropping'. It's no overstatement – it really is quite difficult not to gasp in amazement upon entering this secretive establishment, hidden away beneath the ever-popular Meat Locker.
The space is hugely impressive; it boasts a number of nooks and crannies in which to gossip and from where you can enjoy the notorious variety performances, and the food and drink on offer is simply to die for. Not to be missed!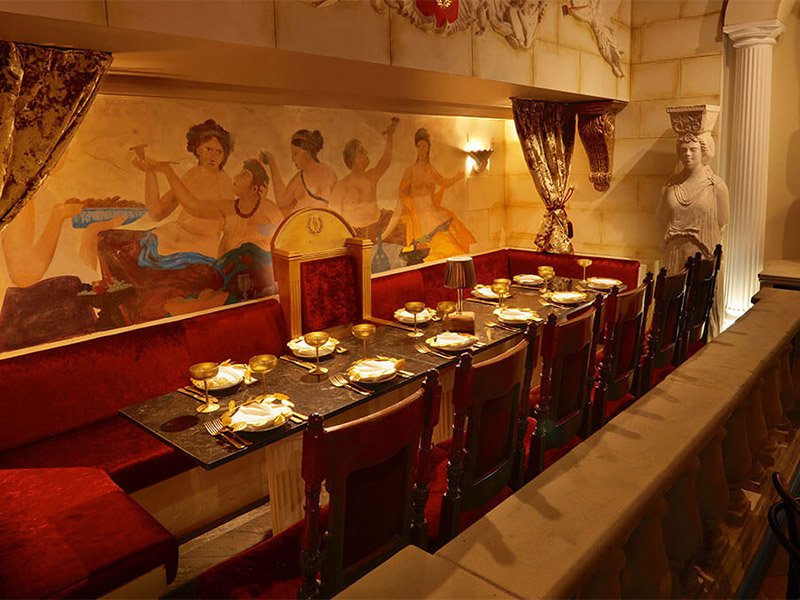 Capacity: n/a
Best for: Parties, staff nights out, meetings
What makes it unique: Sitting beneath the cool and trendy Ace Hotel in ever-fashionable Shoreditch, this brilliant basement bar has exactly the atmosphere you need should you wish to show off the urban glamour of East London.
Miranda at Ace Hotel is a hidden treasure, situated beneath the gorgeously towering Ace Hotel in Shoreditch. Since opening, it has gained a powerful reputation as a hotspot for London's best underground entertainment; from live music to comedy, and from games nights to cabaret.
Now available for private functions, holding an event in this fantastically ambient basement space is sure to capture a bit of the magic and dynamism of the streets above.
Capacity: up to 400 guests
Best for: meetings, receptions, team-building evenings, parties
What makes it unique: the design team behind St. Paul's cocktail bar, Patch, have really outdone themselves when it comes to producing a truly fascinating, elegant, and exclusive bar in which to spend time. Beautiful, sophisticated, and in the very heart of London's most attractive location, it's a gem of a venue and one which must be seen to be believed.
Patch prides itself on its versatility and functionality, and with its wide array of function rooms and spaces, there's not a lot you couldn't achieve should you decide to hire this venue.
It's an uber-cool basement-style bar, modelled on the kind of pop-up establishments for which Shoreditch has become such a cultural hub. However, it dials the elegance up a notch, and offers its visitors a gorgeously exclusive experience based around striking designs, superb cocktails, and a truly winning location.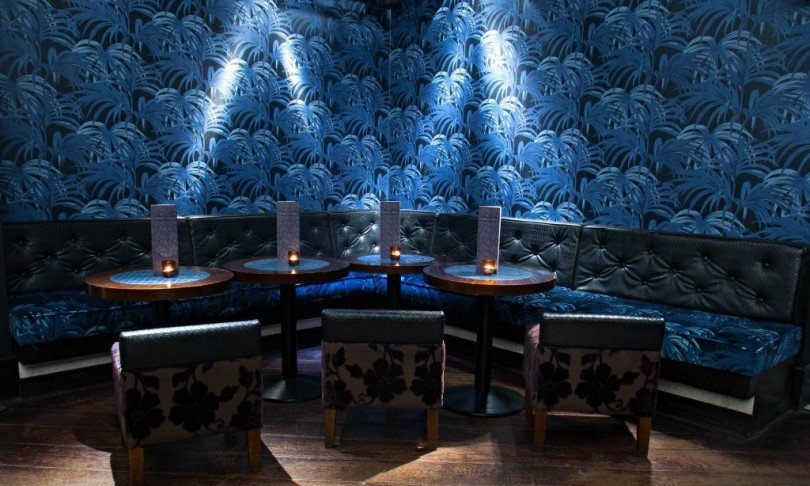 Capacity: up to 150 guests
Best for: extravagant parties and receptions
What makes it unique: The Victorian Bath House is a jewel of a venue, bedecked in sheer opulence and demonstrating some of the most impressive interior design in the city. If you're looking for a versatile London venue which will leave your guests open-mouthed, this is surely the one to opt for.
With its imperial and oriental splendour, it's impossible not to be utterly impressed by the sheer beauty and wonder on show at the Victorian Bath House. It's a venue of many facets – on the one hand, it's a stunning party space, tucked away from the winding streets and capable of filling your nights with fun and frolics.
On the other, it's almost something of a sanctuary; tranquil, decadent, and perfect for those events which require the 'wow factor' in abundance. Utterly captivating, highly customisable, and featuring everything you could need for an event to never forget, this venue is sure to set your imagination alight!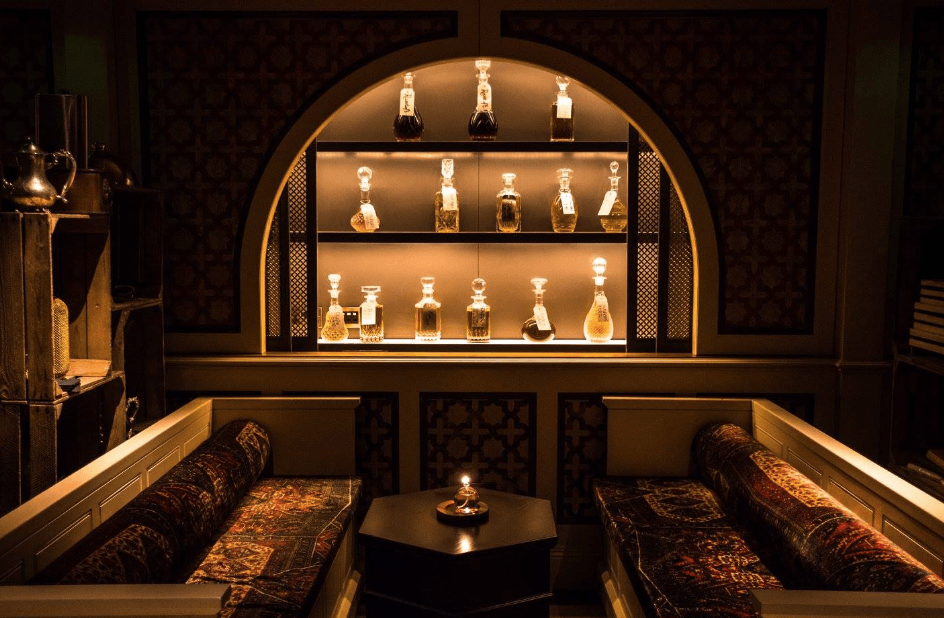 The Cuckoo Club
Capacity: up to 450 guests
Best for: product launches, impactful meetings, parties
What makes it unique: The Cuckoo Club is surely one of London's hottest underground venues right now. Bespoke, boutique, and utterly chic in every sense, this venue is absolutely stunning from the very first moment through to the last.
If you're on the lookout for a London party venue quite unlike any other, then the ultra-elegant basement bar vibe offered by the Cuckoo Club simply cannot be missed.
The designers of this venue clearly left no stone unturned when it came to making the Cuckoo Club utterly unique, as every single inch of the space offers something to look at, and demonstrates the vision of those behind it all. With DJ booths, dancefloors, private rooms, AV equipment and much, much more, this venue really does tick every box… and then some!
Basement Bars London: The Best of the Capital's Underground Scene
We all know London is a truly cool and energetic city, where new trends emerge before taking on the rest of the world. The basement bars of the capital are a great example of this – often using old spaces to create something really new, exciting, and unique. This spirit of reinvention and imagination is something we here at Venueseeker particularly love, and we absolutely adore checking out the latest basement bars for our long list of satisfied clients.

If you'd like to find out more about the types of London venues that might be perfect for your next event, or want to discover more about what we do at Venueseeker, we'd love to hear from you soon!