How are you going to make your corporate event stand out?
Whether you're launching a new product, hosting a conference, or planning a team-building event, it's very important to find a venue that brings something fresh and new to the table.
You don't want to go with the 'same old' and risk your event going unnoticed.
You need to choose a venue that makes your event different from all the other corporate events taking place. You're in luck! We've done the hard work of finding the best alternative venues for you. These aren't your humdrum, run-of-the-mill venues; they're as quirky and unique as you could ask for.
Thanks to these unusual alternative venues, you can make your corporate event truly stand out from the rest.
1.

The Cuckoo Club
Venue Capacity: 450 people
Best for: Cocktail events and mixers
What makes it unique: A boutique venue that offers customized décor, superior service, and peerless catering.
Located on Regent Street, in the heart of London, this is the stylish venue you've been looking for. It makes for the ultimate evening experience, with soft lighting, great drinks, and delicious food catered by the venue itself. With 5,000 square feet of space to work with, you have more than enough room for all the guests you want.
The furniture can be shifted or removed as desired and both of the venue's floors offer DJ booths, a top-notch sound system, and audio-visual equipment. With its state-of-the-art LED lighting, you have everything you need to make your event one heck of a party!
If you're looking for a bit of fun after dark, choose the Cuckoo Club and make your corporate evening event stand out.
2.
Generator London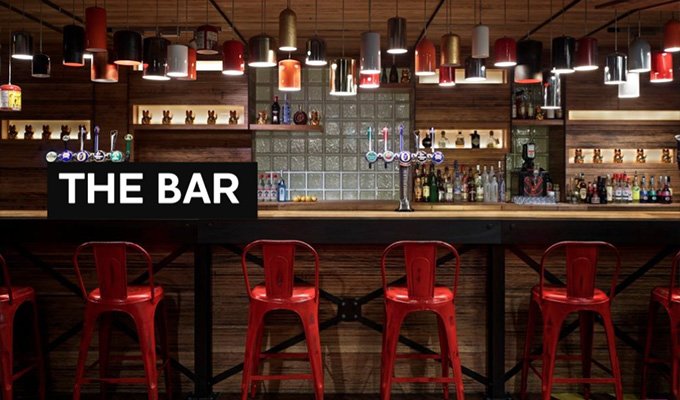 Venue Capacity: 25 people Cinema-style seating, 200 Standing Only
Best for: Comfortable, exclusive meetings for smaller groups (30 to 50 people)
What makes it unique: The cosy interior, chic décor and excellent catering.
If you're looking for a chic space to make your own, you've found it in Generator London. The venue is incredibly artistic, with interior décor that will wow your guests.
It's perfect for an informal gathering or a meeting of executives/department heads. It adapts to larger groups, but a smaller group (20 to 30 people) will find that it offers maximum comfort and adaptability.
Located in an out-of-commission Police training barracks, this venue comes with a 55″ projector screen, top-quality sound systems, audio-visual equipment, and a screening room with surround sound and a 1080p projector. You'll love the simple food options available here, including some of London's finest Fish and Chips!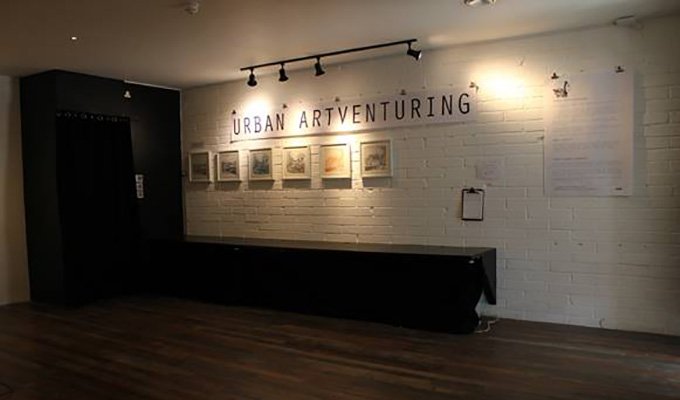 Venue Capacity: Table seating for 20 people, Standing room for 90 people
Best for: Product launches, company team-building events.
What makes it unique: Gorgeous views of Regent's Canal, excellent foot traffic.
If you've got a product to launch and show off, this is the venue you need. With the steady stream of foot traffic around the gallery, you'll have visitors streaming in and out to take a look at what you have to offer. Standing room is limited to 90 people, but your guests will be blown away by the amazing works of art on display in the gallery.
Of course, it's also a cosy, intimate venue that's perfect for team-building events. There's classroom and theatre-style seating for up to 50 people, giving you more than enough room for all of your attendees. With the large-screen plasma TV and plenty of space for art, this is the customizable venue that's just right for your company away days.
4. 

The Saw Swee Hock Centre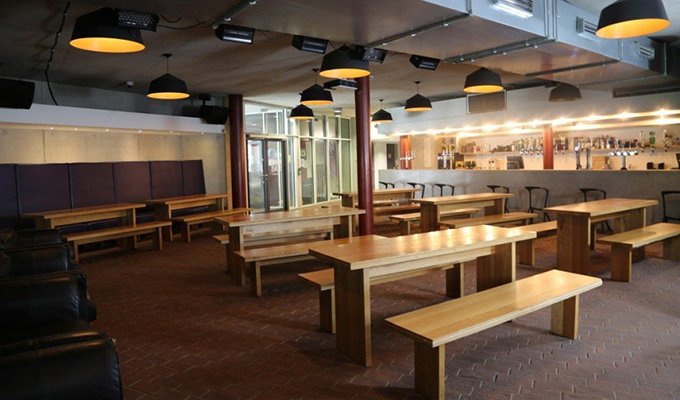 Venue Capacity: Boardroom seating for 35 people, theatre-style seating for 220 people, standing room for 800 people
Best for: Company-wide events, executive meetings, intimate canapé reception.
What makes it unique: Multiple venue spaces of differing sizes, fully customizable set-up, full services.
This venue, located just a short distance from Holborn, offers you EVERYTHING you could need for your event – from a PA system and DJ equipment to a VIP Green Room, adjustable staging and a cloakroom.
If you're planning a company-wide event, you'll love the massive space, with seating room for over 200 people and standing room for close to 1,000 people.
For special delegates or company executives, there is a wide range of special services: VIP Mezzanine Room, Complimentary Refreshments, Delegate Stationery and more. No matter what you need for your event, the Saw Swee Hock Centre can provide it.
Or, for smaller, more intimate events, the Weston Bar & Studio venue offers gorgeous rooftop views across London.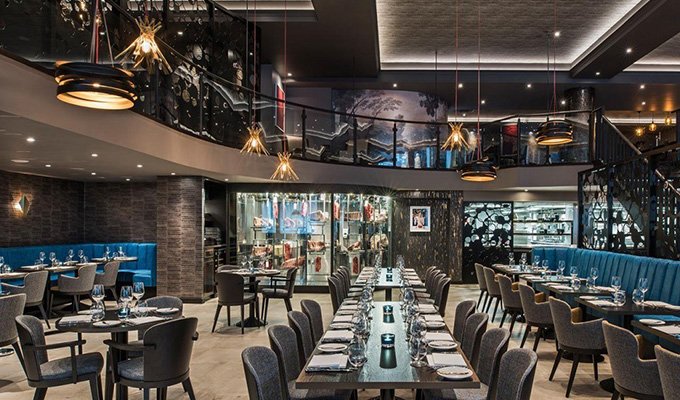 Venue Capacity: Seating for up to 180 people
Best for: Company banquets, formal dinners, dinner parties.
What makes it unique: World-class food served in a gorgeous restaurant space.
This luxurious restaurant venue offers some of the best food you'll taste in London, served in two 100-person spaces. For those want to truly make their dinner party unique, the secret den, separate wine tasting room and destination cocktail bar add that beautiful touch!
M Bar, M Grill and M Wine Store provide you with multiple options for making your event truly bespoke. No matter what type of dinner event you're hosting, you'll love what M Restaurant has to offer.
Venue Capacity: Reception for 200 people, seating for 250 people
Best for: Corporate parties, press days, product launches, team-building events.
What makes it unique: Fully customizable blank canvas space in the middle of The Strand.
Located just off Adam Street, this is the perfect venue for those who want to kick their celebrations up a notch!
The award-winning space is one of the best alternative venues to consider for a corporate Christmas party, a press day or team-building events. With dinner seating space for up to 100 people, it has all the room you need for your company event.
The venue offers more than just a reception hall, but you get a VIP Area, kitchen space, and even a private entrance. If you're looking for a venue that stands out from the rest, this is the place that will help you make your event feel truly "exclusive".
Venue Capacity: Reception for 200 people, conference/seating for 100 people
Best for: Corporate events, parties, awards ceremonies.
What makes it unique: Acoustically designed for concerts and musical performances.
Located in Camden, this venue is the perfect place to bring your employees for a private concert with their favourite rock star, or a special guest lecture with the motivational speaker of your choice.
Not only is the venue designed with acoustic perfection, but it comes with a state-of-the-art sound system, AV equipment, and a theatre-style setup.
The venue spaces can handle groups large and small. Larger events will find their home in the Main Space and the Glazed Courtyard, while more informal events with smaller groups are better in the Foundry Room. If you really need to spread out, the entire venue space can handle up to 300 guests (standing room only).
Venue Capacity: 8 to 12 people
Best for: Executive meetings, brainstorming sessions.
What makes it unique: It's compact and cosy, perfect for intimate gatherings.
If you are looking for the ultimate in private spaces, this is one of the best alternative venues for you. Located beneath the Next Stop Venice restaurant, the private dining space has just enough room for a small gathering of executives or department heads.
You get maximum privacy and luxury, along with top-quality food from the restaurant itself.
For those who want to celebrate the signing of a merger agreement, the comprehensive wine and cocktail list is just what you need. The Italian feel of the venue will provide the perfect "mainland" ambiance for your corporate event.
9.

U Block, The Old Trewman Brewery
Venue Capacity: Conference for 400 people, reception for up to 500 people
Best for: Conference for 400 people, reception for up to 500 people
What makes it unique: Ground-floor warehouse makes for easy access, fully customizable blank canvas space.
If you need A LOT of room for your event, this is the venue you'll definitely want to consider. Built in what was once a fully operational brewery, the venue is located east of the Old Trewman Brewery Estate, with Brick Lane Yard access.
For car trade shows, private screenings, fashion shows or any other event that requires wide access, U Block is just what you need.
Choosing these alternative venues will help you make your corporate events stand out, making them as memorable as possible! No matter what type of event you're planning, our Concerto Group venues will help you step up your game.
What do you think of these venues? Have you attended events at any of them? Drop a comment below and let us know…