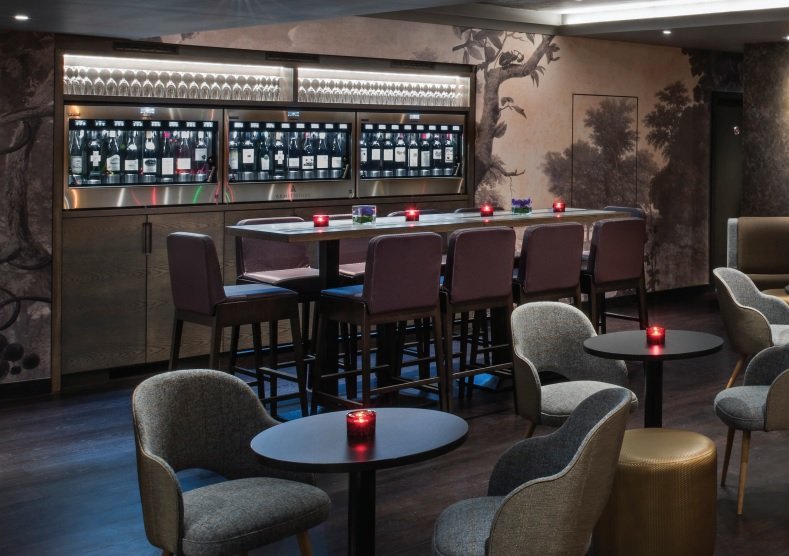 Speak to our venue team, to request more information.
0845 688 4410
M Restaurant
Victoria Street, London SW1E 6SQ, United Kingdom
The award winning, multifaceted venue.
M Threadneedle Street; the award winning, multifaceted venue, houses two 100-cover restaurants, a destination cocktail bar, a wine-tasting room and a secret den, in addition to flexible private dining and event spaces.
M Victoria Street, is the second of the M restaurants and it is now open. The Victoria site is home to a 120 oval, two-tiered, Grill Room, 60 cover Raw Bar, both Public and Private Members Bars, a wine tasting room, private dining and event spaces, all of which one enters via M Wine Store.
M Wine Store; the retail boutique from which you can purchase unusual and premium restaurant wines in person, or online.
M BAR
M Bar issituated in the basement of the venue, with views of the M RAW restaurant. Complete with DJ Booth, live arts and DJs will entertain guests, creating a high octane vibe.
The Eclectic cocktail menu which specialises in Martinis was designed by Lance Perkins, Bars and Beverage Director of the multi award winning Edition Hotel.
The Bar food Menu takes light bites from RAW alongside an informal Burgers and Bau offering, informal street food, made modern yet remaining casual.
M BAR features spaces perfect for drink and canapé parties, Group Dining and Events Coordinator are on hand to assist you create a bespoke and perfect function.
M GRILL
Entering the GRILL past a quadruple height pillar of wine, on tiles taken from the print of the wall of a French monastery, onto thick geometric sunken carpets, one will view a theatrical triple tiered perfectly oval 120 cover restaurant, with deep, discreet booths appropriate for either a quick business lunch or decadent dining.
The wine list is sourced from the same six countries and features a number of exclusive wines not seen before in the UK. Zack Charilaou our Wine Director, a finalist in the 'Best Sommelier / Front of House' category at the Harpers Awards 2015 will be on hand to offer advice and tastings.
M RAW
A ten meter marble sushi counter with seated views of the kitchen, will create a natural 'show kitchen' or chefs table and the informal vibe to enjoy in this element of the venue. Perfect for a quick protein fix, or to savour the international flavours from South America, through Europe and the Far East, all the way to Australian inspiration.
M DEN
A 'home from home' attracting an eclectic mix of socialites, businessmen and women from a variety of sectors including Media, Politics, Luxury, Fashion; M DEN offers a unique, warm, private space for both work and play from 7am to 1am.
Accessed through a secret wall, featuring personalised bottle lockers for members, a private bar, fireplace and a private six seat screening room; the décor is a blend of chocolate and burnt oranges, the ambience; understated, absolute luxury.
M WINE STORE
The launch of M WINE STORE will break down all pretention and give access to buy exclusive and unusual premium wines which have previously only been available to purchase in restaurants or through fine wine merchants and brokers.
M WINE STORE will boast a tasting room which houses six tasting machines, which offer 48 wines to sample in an informal, ultramodern environment.
| | |
| --- | --- |
| La Plume Room | 16 |
| Cappucci Lounge | 20 |
| Wine Tasting Room | 20 |
| M BAR | 60 |
| M RAW | 40 |
| M GRILL | 180 |