When planning a corporate event, what's the most important thing to you? Is it the space for all your attendees, the location of the venue itself, the services offered, or the décor/appearance of the venue?
All of these things play important roles in the selection of your corporate event venues! You have to take each of these elements into account to ensure that you are getting only the best corporate venues for your events.
We've compiled a list of some of the most exclusive outdoor venues for corporate events you'll find in London. These corporate venues combine everything into one: accessibility, luxury, full service, and exclusivity.
If you want only the best venues for your corporate event, these are some of the most outstanding in the city – definitely worth considering!

1.

The Garden Room at Syon Park
Venue Capacity: Conference up to 600 people, Buffet/Reception up to 800 people
Best for: Large-scale outdoor corporate events.
What makes it unique: 50 acres of gorgeous parkland, 10 miles from Central London, full services.
If you're looking for outdoor corporate venues with all the space you need for large-scale event, The Garden Room at Syon Park is the one you want. This multi-purpose venue can be used for events of any size, with room for as many as 600 to 800 people.
Your guests will love the private gardens surrounding the gorgeous neoclassical Syon House, and you'll find both indoor and outdoor venue spaces that can be tailored to your event. The venue provides all the services you need – everything from audio-visual to sound equipment to catering to private parking to dance floors.
It's the perfect venue for your outdoor summer event, as it's only available between May and September.
Venue Capacity: Conference up to 7,000, reception up to 10,000
Best for: Massive corporate/whole-company events, summer parties, award ceremonies.
What makes it unique: Its sheer size and impressive space, Grade II-listed building, gorgeous views of the London skyline.
For corporate venues that can accommodate thousands of people, you won't find better than Alexandra Palace! This venue is designed for banquets, receptions, and conferences, with space for up to 10,000 people on its 10,000 square meters of space. The nine venue spaces can be customized and adapted to suit your event, giving you plenty of options to consider.
Your guests will have no trouble reaching the venue via public transportation and the private parking lot is able to hold up to 1,500 vehicles. The venue has the exclusive feel you want, but with all the space you need for a massive-scale event.
The lush greenery, bright natural light, and elegant settings will transport your guests to a magical wonderland, making your event the talk of the town!
Venue Capacity: Seated up to 400, Reception up to 300
Best for: Product launch, corporate dinner, formal ceremonies, retreats.
What makes it unique: Maximum privacy, gorgeous parkland and gardens, one-of-a-kind heart-shaped lake.
This venue is often booked for weddings and civil ceremonies, but it's the perfect place to host your large-scale product launch, your company-wide retreat, or your training seminars. With dining space for up to 150 people and seating for as many as 400, you've got all the space you need for any corporate event.
You will love the Court House itself, with its 18th century design and luxurious interior. But the real magic happens in the gardens, which span seven acres and provide you with all the space you need for outdoor workshops, team building exercises, and recreation.
The conservatory will provide you with a gorgeous indoor space for presentations and conferences, but the great outdoors makes a fantastic backdrop to summer events.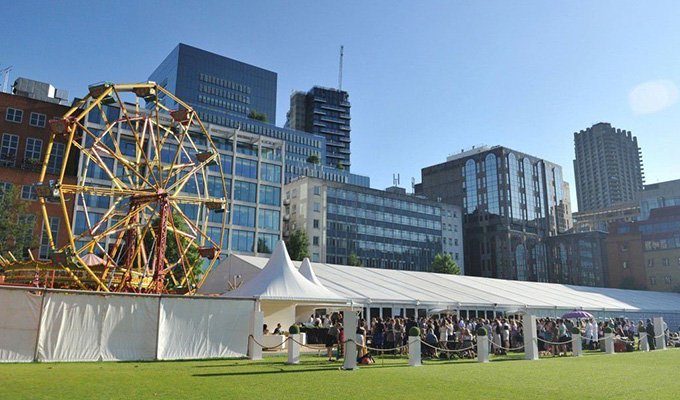 Venue Capacity: Dinner up to 1,000, conference up to 1,500
Best for: Corporate fundraisers, company-wide conferences, formal receptions.
What makes it unique: Location in the heart of London, limited availability, gorgeous venue.
This is one of the most exclusive corporate venues in London. Its location in the heart of the City makes it ideally situated, as it will be easy for your guests from both in and out of London to arrive. Yet the moment you step through the doors, you'll be transported into a world of elegance and luxury.
The Artillery Garden at The HAC offers private outside space in the middle of the City, complete with a purpose-built venue and fun fair for summer and Christmas events.
Be warned: the venue is only available during the summer and winter months and it books up quickly.
It's one of the most sought-after venues in the city, making it one of the most exclusive. It's the ideal space for your corporate and company events, so book it while it's still available.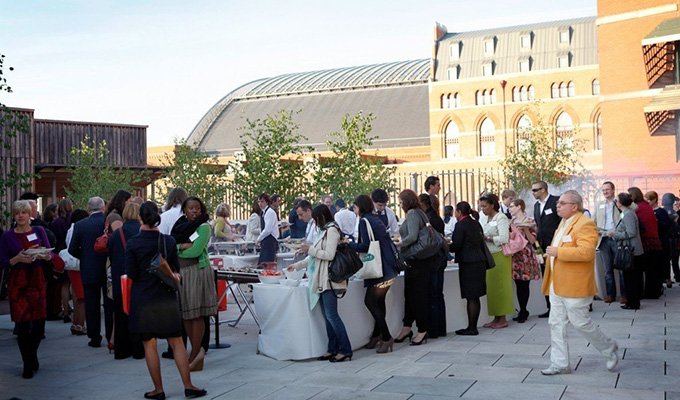 Best for: Any and all outdoor events.
What makes it unique: Quality food, world-class facilities, iconic surroundings.
If you're looking for a completely unique space for your outdoor event, look no further than this gorgeous venue. Located in one of the most important buildings in the country (the famed British Library), the venue offers a sense of gravitas and dignity that will make for the perfect corporate ambience.
For indoor spaces, there is the King's Gallery, a wide-open space bordered by glass-encased bookshelves that stretch from the floor to the ceiling. The private foyers and terraces will be ideal for smaller events, but your large-scale events can all be held at the Terrace Restaurant. The food is all locally sourced and prepared by a renowned chef, ensuring that you serve your guests only the best lunches, dinners, and banquets possible.
The building has been fully modernized, and it provides state-of-the-art audio-visual facilities, sound equipment, and presentation equipment. It has everything you need to make your corporate event a roaring success.
6.

Inn the Park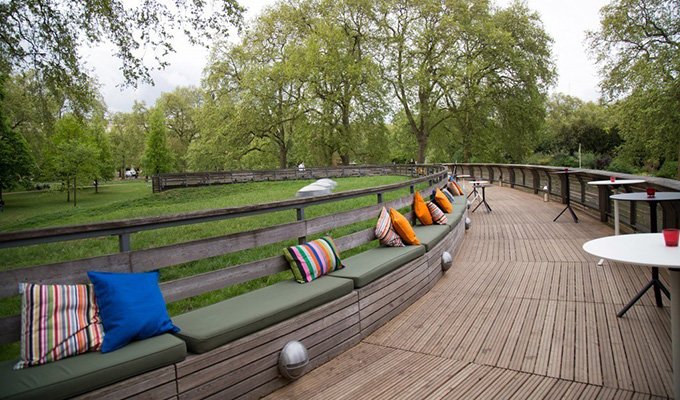 Best for: Team building events, corporate retreats, conferences.
What makes it unique: Location in the heart of St. James's Park, Central London; gorgeous outdoor spaces.
If you are planning a summer retreat, this is the venue for you. The breathtaking greenery of the lakeside venue will come alive during the summer months, providing a gorgeous backdrop or your event. You have space for up to 250 guests, with a roof terrace that offers amazing views of the park and the surrounding city.
The trees around the venue will block out much of the noise of the city around you, giving you an exclusive, calm venue amidst the heart of London.
These are some of the best exclusive outdoor corporate venues to consider for your upcoming event. Not only are they stunningly beautiful, but they provide full services and everything you could need to make your event a success.
What do you think of these venues? Which one would you choose for your corporate event? Leave a comment below and let us know…