Are you looking for an event for your company to enjoy over the summer, that makes the best of the British sunshine?
Take advantage of stunning venues across London by holding a BBQ, a party with a fun fair or a number of other events that your colleagues are sure to love. 
Here at Venueseeker, we know how hard it can be to come up with fun original ideals for events, so we have put together a list of great ideas for company summer event ideas and some great options for venues to host them.
BBQ Party
Get the BBQ going and grill up some delicious food with this British summer staple.
An ideal event for any company, it provides a break from the office and gets your colleagues socialising away from the hustle and bustle of the corporate world.
Picnic Party
What better way to enjoy the Great British summertime than with a picnic? The picnic party is an ideal option for anyone looking for company summer event ideas that could involve families or children of the people you work with.
We love a picnic party because it gets everyone involved. So ask people to bring food and game and make it an interactive day with lots of things to do.
Enjoy some food and sunshine in the grounds of Alexandra Palace, a classic London venue with stunning views of the city. Ideal for a summertime picnic, you can take your pick from secluded and private outdoor areas in which you can enjoy your delicious food.
Urban Summer Parties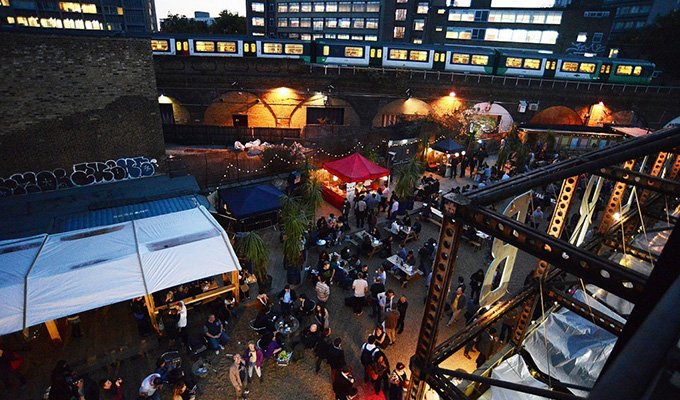 If you want to make the most of the British summertime in the form of a company party, we think that you should consider throwing an outdoor party in an urban setting.
A great choice for summer event ideas that are a little less traditional, this type of party suits many types of companies.
Cocktail party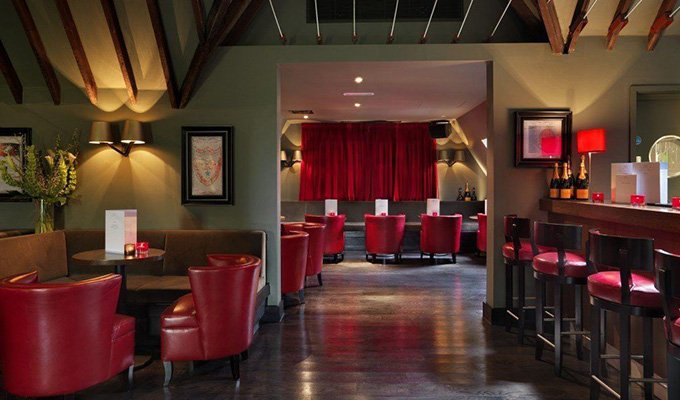 Looking for classic summer event ideas? You simply can't go wrong with a cocktail party; it's a simple yet elegant choice for a glamorous evening in London. There are lots of choices for cocktail party venues in London, so it's important to think about what exactly you are looking for when you start considering venues.
If you wanted to take your event beyond a simple drinks reception, go a step further and get involved with the making of the cocktails yourself, and at venue like Beaufort House, this a great option that we would highly recommend.
Located in the heart of Chelsea, it's an exclusive space that can cater to parties ranging from 8-40 people.
Street Food Event
Does your company enjoy getting out into the sunshine and eating delicious food? Who doesn't! A day of tucking into delicious cuisine from all around the world could be just what your company needs.
Outdoor Drinks Reception
Enjoy the great outdoors and sip on delicious drinks at your outdoor drinks reception. An ideal event for those looking for more relaxed summer event ideas, an outdoor drinks reception could be the perfect fit for your company.
Add a bit of grandeur to your drinks reception by hosting it at a historical venue like Hampton Court House. A stunning venue set in seven acres of 18th century gardens, it's an ideal venue for drinks with a difference. Take advantage of the stunning conservatory which leads onto a beautiful terrace that can be hired exclusively for your event.
Fun Fair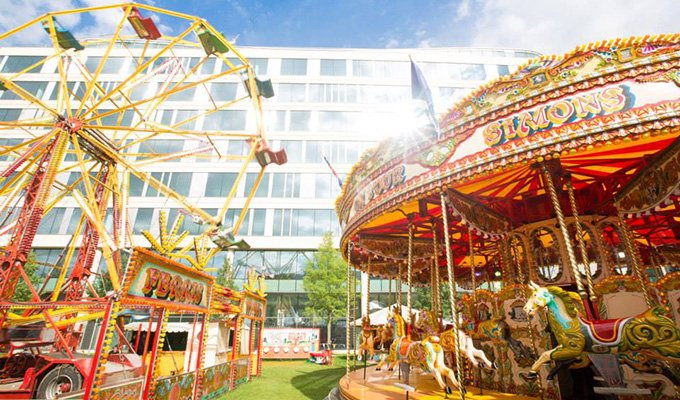 Take a ride on a Ferris wheel or drive around on some dodgems and enjoy some time in the British sunshine. This is a great choice for anyone looking for summer event ideas that are perfect for larger companies.
The Artillery Garden at the HAC is our recommendation for a funfair venue in London. Boasting the Armoury House as its backdrop, the Artillery Gardens are a fantastic choice for anyone looking for an event space that can accommodate a funfair. With options for wet and dry weather events, it's a flexible venue that can host anywhere from 400 to 2,000 guests.
Champagne Breakfast
Take in a beautiful summer's morning at a champagne breakfast. Ideal for those that like to be up and about early, an event that takes place in the morning is great choice.
We would recommend this event idea for those that are looking for ideas for company summer events that offer something a little bit different, and a champagne breakfast certainly makes a change from the more common evening events.
Mix your champagne breakfast with a spot of culture by hosting it at the Serpentine Sackler Gallery. It's a unique location in the heart of London and an impressive setting for any summer event. There is also the added bonus of being able to combine your hire of the gallery with the hire of the popular Magazine restaurant located at the gallery.
There are so many great venues in London for a wide range of events, so take advantage of the sometimes fleeting British summer time and plan a fun and entertaining event for your company.
If you are looking to host an event, pick one of our great venues and enjoy yourself in the sunshine.