Events are just so much more creative and engaging when there is a theme. Themes can be be seasonal, taken from a current trend, based on a movie/show, from a specific time period and so forth.
Whatever the case, if you're planning a themed event you'll need a themed venue in London that helps set the stage.
This easily creates a backdrop, ready to really immerse guests in the mood you're trying to convey. Our top seven venues are great spaces for themed events.

Best for: corporate parties, birthday celebrations, photo shoots
What makes it unique: It has a bar and club that can be used independently or jointly. It also has a fully equipped kitchen with a wide menu selection.
As you can probably guess from its name, the Trapeze Bar is adorned with turn-of-the-century circus gear and equipment. The design and architecture takes its inspiration from the National Centre for Circus Arts, one of UK's oldest circus schools.
The venue is also available close to Christmas, making it a long-time favoured venue for corporate Christmas parties. The facility adds circus-style flavour to those annual Christmas celebrations. In fact, we recommend enquiring as early as January if you hope to secure this venue for a holiday or end-of-year event because it's almost always fully booked by late Autumn.
The venue has two levels, and entertainment often includes some of London's hottest local DJs and promoters. The interior can accommodate 20 to 500 occupants, making it ideal for both private and shared public events.
Venue Capacity: minimum – 150, maximum – 499
Best for: charity events, concerts, hospitality, fashion shows, launch events
What makes it unique: Cirque Le Soir is an extravagant nightclub frequented by top celebrities like Rihanna, Paris Hilton, and Cara Delevingne. The nightclub also has its own contracted circus performers, so entertainment is often available as optional add-ons for your event.
This themed venue in London has a carnival ambiance. The nightclub is not unique to the UK; it also has locations in Shanghai and Dubai. The general décor and surroundings change depending on the time of year.
In addition, the venue is also widely popular for its signature cocktail drinks and canapé deserts. If you want an event filled with music, late-night partying and freak-show style performances, then keep Cirque Le Soir in mind.
On a final note, Cirque Le Soir isn't just a venue. It's also an organisation that manages world tours across some of the hottest nightclubs in prominent cities like Milan, New York, Hong Kong, and Paris.
3. 

Piste Bar Archer Street
Venue Capacity: 220 standing
Best for: intimate private events, corporate parties, winter parties
What makes it unique: This luxury bar is designed to resemble a winter ski lodge. Its banquette style booths and reclaimed rafter boards give the place a vibe that is chic yet rustic.
This bar will make you believe you're on a winter ski holiday somewhere far off in the alps. Décor includes quirky mirrors and fur rugs tacked on the wall. Guests will feel like they're in a fur trapper's log cabin. Speaking of guests, the venue is ideal for large corporate parties of up to 220 people.
The Piste Bar on Archer Street is open from early November to early May, making it ideal for autumn, winter and spring events. Of course it would be a fantastic choice for Christmas parties this year.
We recommend this venue if you're planning to recreate the feel of famous slopes around the world, such as the slopes of Aspen, Colorado, or the well-known ski slopes of Switzerland.
4. 

Little Nan's Bar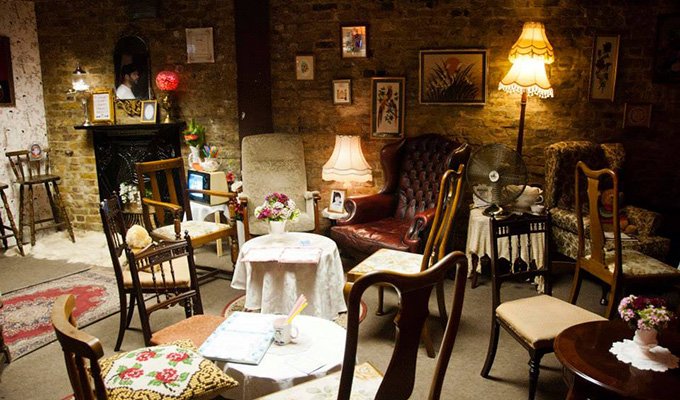 Best for: corporate functions, birthdays, bachelor/bachelorette parties, tropical-themed parties
What makes it unique: Its tropical-style lounge and specialty drinks, including an assortment of ales, spirits, and lagers.
Little Nan's Bar is located in a basement under the Golden Anchor Caribbean pub. Being that the bar is underground and somewhat hidden, guests will feel like they're VIPs, accessing a secret and hidden speakeasy where they can indulge in some of the finest cocktails and distilled drinks.
Equally notable is the venue's High Tea menu, which consists of vintage recipes that include finger foods and dessert made from the finest ingredients. With a tropical backdrop, this is the place to book for Hawaii or Thai-style luaus.
We love planning events at Little Nan's Bar. We enjoy creating the backdrop and paradise ambiance, which includes lei's and grass skirts for our staff, hosts, and guests.
5. 

Bavarian Beerhouse
Best for: team building events, retirement or going-away parties, Oktoberfest celebrations
What makes it unique: As hinted in its name, this is a German-style beerhouse and a top event location for celebrations that involve lots of liquor and toasting. It is especially known for its bierkellers.
Bavarian Beerhouse is known for hosting some of the wildest and memorable Oktoberfest fest parties in the UK. The facility is also known for its long wooden bench and tables that make up the seating. This means strangers seat in close proximity, thus providing new opportunities to make new friends or a one-time drinking buddy.
The Bavarian Beerhouse is also a restaurant, and its menu consists of famous meat-heavy German dishes, such as sausages and pork shanks, all imported from its country of origin.
This is almost always the venue we recommend when our clients tell us a good number of their guests are hardy drinkers and into late-night partying.
Venue Capacity: 40 for the carriage room, 150 for whole venue
Best for: private corporate parties, small hospitality event for investors and high-profile client
What makes it unique: The venue is designed to resemble a tube station in post-WWII London.
If you like the idea of events replicating a certain time period, then Cahoots is a top-notch themed venue in London. The venue, in fact, was originally an actual WWII air raid shelter.
You can rent the whole facility or just the carriage. The latter consists of a 1940s train car complete with furnished seats.
Guests are greeted by a host dressed as a station master. All other staff are also dressed in period costumes. At the entrance, guests are also issued a day ticket, similar to how passengers of the era received their pass to get on the train.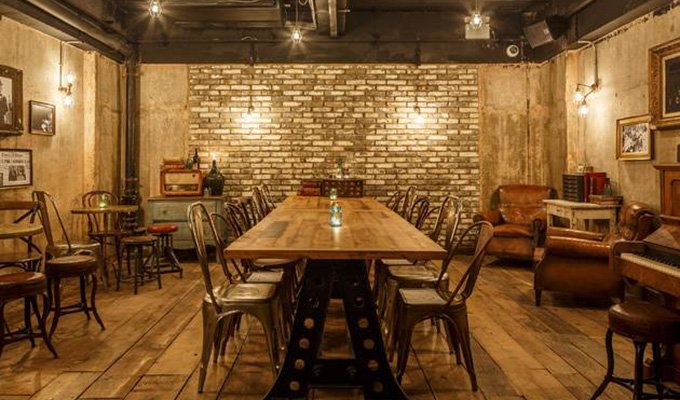 Venue Capacity: 200 standing, 70 seated
Best for: private parties, hospitality events, birthdays, bachelor/bachelorette parties, poker nights
What makes it unique: The facility resembles an actual speakeasy in 1920s London.
This is the location to book for a Great Gatsby themed event. The name says it all; the place is constructed to look identical to how a real speakeasy looked like nearly a century ago. The venue is also known for putting on entertainment that includes performances from jazz bands and Charleston acts.
Aside from offering a wide range of beers, wine, and house-special cocktails, the venue also hosts cocktail masterclasses. Invited guests can take part in a fun and interactive lesson where they learn the craft of mixology and concoct their own cocktails using newly acquired skills from the pros.
Our clients always tell us post-event that the class was one of their guests' favourite part, mainly because they get to drink their own experimented recipes.
Add Amazing Theming To Your Next Event
A themed venue in London provides that it-factor that's missing in general multi-purpose rooms. We know from experience that events with a theme are simply more awe-inspiring for guests the minute they enter the premise.
Simply put, it provides a novel perspective. On the subject of themed venues, the best place to find them is through Concerto Group and/or Ultimate Experience.
If you thought this article was insightful, then please comment and share what some of your favourite venues are in and around London.