With the Christmas countdown well and truly on, we're happily going through our festive motions. Fast forward a little to when Christmas is over, and what's next – the New Year. We're planning all year-round (for anything and everything), so we thought we'd share some of our favourite spaces for the perfect motivational January event. We'll also throw in an alternative to those unhealthy conference cookies and we'll replace them with fresh fruit so you can kick of January the way you want to. Unless you want the biscuits…
Farmers and Fletchers
This shiny new venue is large, open plan and has loads of natural light. It's also only a minute from Barbican tube, so it's easy to get to. Rooms cater for groups of 8 to 260 so it's a flexible space and they've thrown in a bar for good measure. And because it is home to the Worshipful Company of Farmers & Worshipful Company of Fletchers, their food is amazing (with a 'farm to fork' premise) and all profits go to UK agricultural charities.
Clerkenwell London
Clerkenwell London is a stylish spot and boasts a selection of rooms suitable for a variety of meetings, whether it's team building workshops or an informative planning meeting. The space oozes design and creativity, which will certainly inspire and guests inside. Clerkenwell London can be found in… Clerkenwell, just over a 5 minute walk from Farringdon. Capacities range from 8 – 70.
The Soho Collective
The Soho Collective is split across two floors for private event hire. It's bright, light and a little bit quirky. Beautiful large windows look out over Old Compton Street and the minimalist design paired with statement pieces (that light fitting) gives you a little more to look at… if people watching isn't your thing. The first floor fits up to 80 standing and has a little bar in the corner; the second floor has a huge banquet table and a kitchenette. The ground floor? That's Ed's Easy Diner – that's not part of The Soho Collective.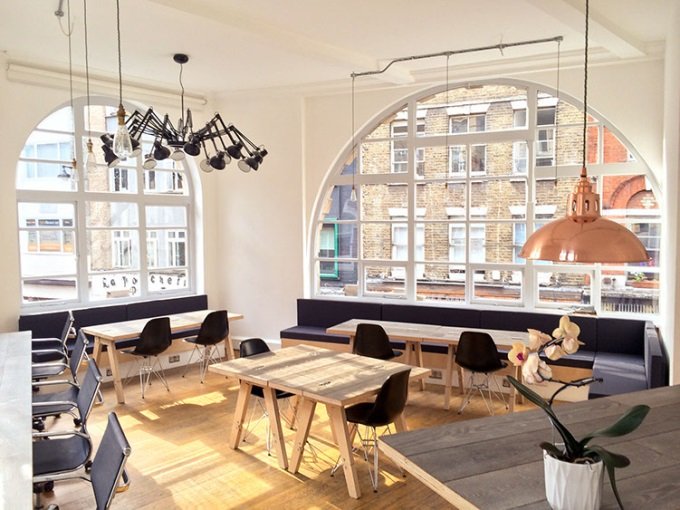 The Design Museum
There are five spaces to choose from at the new Design Museum, but our favourite is the Helene and Johannes Huth Gallery on the second floor. Floor to ceiling windows overlook Holland Park and sky lights letting even more light in. The room can be split in two and has capacity for 200 guests seated or 220 standing receptions. It's a great one for team building and you can pop across to the Designer Maker User free exhibition next door when you need to inspiration.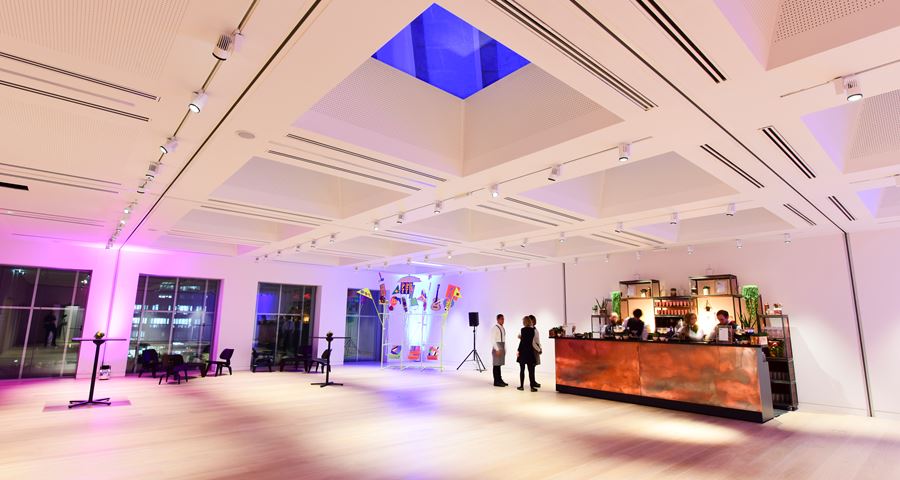 Altitude
Altitude London has a variety of spaces: The Millbank Media Centre on the ground floor is a versatile space with its own digital cinema and outdoor terrace, while SKYLOFT is a popular warehouse style venue with exposed reclaimed brickwork and wooden floor. In contrast Altitude 360 offers a modern, bright and highly original space with our famous 360° views of the capital.
OXO2
Located on Level Two of the iconic OXO Tower, OXO2 is a contemporary event space offering panoramic views across the River Thames. Two gallery-style rooms can each comfortably accommodate 100 guests theatre style. The stylish and elegant OXO2 is a clean and crisp blank canvas perfect for any event. Stunning views of the capital take centre stage, framed by vast windows which line one side of the venue.
If none of these venues are quite right, don't worry we have over 500 venues listed with us so there's plenty of options, whatever your budget, location or plans. Get in contact today.