With temperatures reaching over 35 degrees today, you can still grab your fit flops, towel and sun cream and head for the beach… in London.
Don't wait for the hottest day of the year for a shoreline sojourn; take advantage of a great British holiday at the first sign of a sun ray in central London.
Relax among friends with a drink and your feet in the sand – no one will guess that the postcard-perfect 'wish you were here' selfie at the beach was taken in London!
Camden Beach at the Roundhouse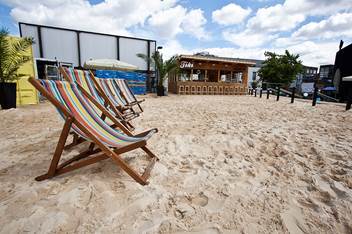 This take on the British seaside features 150 tonnes of the finest sand, a pier with arcade games, fish and chips, a swimming pool and the obligatory ping pong. Monday visitors can enjoy two-for-one cocktails. Don't fancy roughing it? Hire a private beach hut for you and your friends. At £250-£350, it's no drop in the ocean, but they do cater for up to eight people, with some food and drink included. Unfortunately for paddlers, the only water on this beach is the hot tub in the Rooftop Gardens — only accessible by private hire. Roundhouse, Chalk Farm Road, NW1. You can find more information on the Roundhouse here.
York & Albany

The courtyard at will get a seaside-style makeover this summer, with sand, deckchairs and even a beach hut. Order up beach-themed booze such as seaweed martinis, Pimm's ice lollies and rum slushies, or tuck into some mini fish and chips, pickled seafood or something more substantial from the barbecue menu. Sweet treats on offer include raspberry custard doughnuts, sticks of rock and a DIY ice cream machine.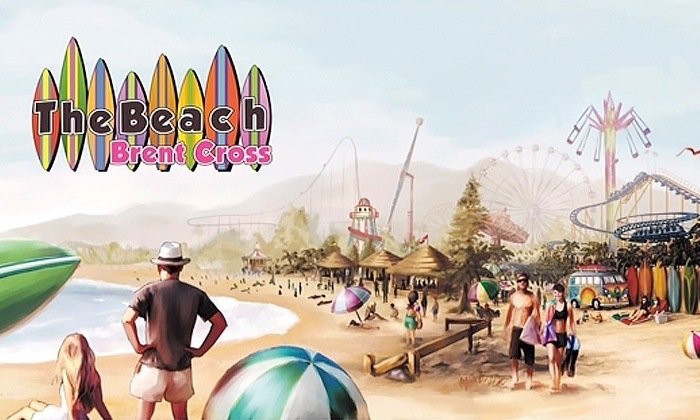 London's biggest ever urban beach, and boasting over 250,000 tonnes of sand and 100 palm trees, plus a paddling area. After all, nothing says summer like building a sandcastle while the traffic crawls past on the North Circular. There is a £3 entry charge, but for that you get the full British seaside experience, with games, Punch and Judy shows, children's fairground rides, a log flume, roller coaster, and one of the last remaining original helter skelter slides (extra charge for the rides). Food and drinks are available to buy. 
Flamingo Pier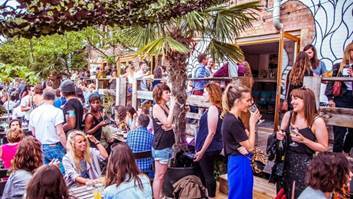 One of the finest and most fun pop-up parties of last summer, Flamingo Pier is back for summer 2015, which is great news for anyone who likes their pop-ups with a big dose of tropical indulgence.
The action takes place both inside Hackney Wick's Counter Cafe and on the venue's floating pontoon, as well as Counter's moored canal side boat. Each night the party will be themed around a different exotic location or 'postcard', with food, drink inspired by the setting and custom projections to bring the theme to life visually: Bali, the Seychelles, Phillipines and Burma are all on the list, so prepare to be treated to some wild and wonderful tastes, soundtracked by top disco, house and funk DJs.
Just remember to pack your suncream!