London's theatres offer some of the most diverse and dramatic spaces with many available to hire. Venueseeker shines a spotlight on some key venues to set the scene of your next event.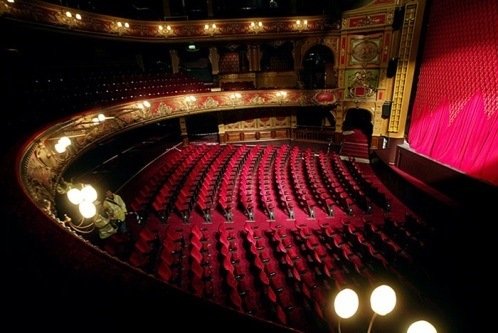 Hackney Empire, E8
The recent restoration has brought this Frank Matcham designed theatre into the 21st Century with state of the art facilities. A Grade II* listed building from 1901, the Hackney Empire has spent the last 100 years presenting the arts in all incarnations, from Charlie Chaplin, the BBC and Gilbert & Sullivan to Arcade Fire, Russell Brand and Hercule Poirot. Hugely versatile, the gilded and atmospheric main space can take up to 1635 standing for a live music gig with stunning acoustics. There's also a smaller, recently completed, fully featured rehearsal and event space holding up to 120 guests. An ideal location for filming, photoshoots and events – it is often available for 12 hour calls, over consecutive days with overnight availability – something unheard of for other venues of this size and scale.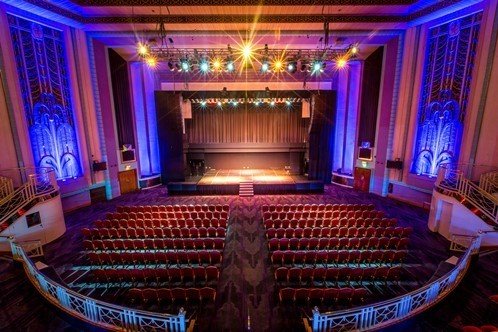 The Troxy, E1
Originally opened as a luxury cinema in 1933, Troxy is now an award winning venue hosting over 250 events a year, combining vintage charm with modern facilities and a modern approach. One of the few remaining independently owned venues in London; it hosts an impressive range of awards shows, conferences, live music, and immersive cinema. The 2-tiered Grand Hall can hold just under 2,300 standing, or up to 780 for dinner. The White Room is perfect for 150 people receptions and there are 9 back stage spaces for production or dressing rooms.
Artsdepot, N12
Opened on 2004, artsdepot is an award winning cultural hub. Our venue incorporates the 395 seat Pentland Theatre, the 148 Seat Studio theatre, gallery, café, bar, studios, and architecturally stunning public spaces. As well as presenting work, encouraging artistic innovation and supporting artist development, the charity trust engages regularly with people of all ages through their extensive participation programme. 9,000 children and young people took part in creative learning and performance opportunities at artsdepot in 2013 -14.  Set across 4 floors, with a spacious atrium interlinking all of the spaces, artsdepot is an ideal location for exclusive hire.
The Young Vic, SE1
Opened in 1970, it was a place in which younger directors, designers, actors, writers and technicians could collaborate with the world's great theatre artists to present exciting productions at the lowest possible seat prices. The Club Room is a unique private space at the heart of the Young Vic with red brick walls and an industrial atmosphere. Located off the mezzanine bar, it is an unusual backdrop for corporate meetings as well as being ideal for filming, photo shoots and auditions. The Club Room can also be used for receptions and private dining from 16 to 35 guests. The Cut Bar, part of the The Young Vic, provides a dynamic space available for hire with a lower floor with an encircling mezzanine overlooking it.
The Royal Vauxhall Tavern, SE11
The Royal Vauxhall Tavern has been an iconic venue within the LGBTQ community since WWII. It has hosted an eclectic array of well-known cabaret and comedy acts like Lily Savage and recently featured in the BAFTA winning film 'Pride'.  The decor is embracing, with a shade of deep-red permeating the stools and sofas that all point to one thing – the stage. It makes a dynamic space for receptions or awards with the bar lining one side of the main stage and a 2-tiered seating area for guests. Corporate events are also catered for with 3 private rooms available with AV facilities.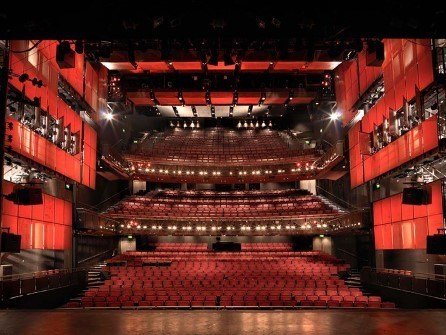 Sadlers' Wells, EC1R
Playing host to some of the world's greatest dance artists, the 1,500 seat auditorium is equipped with advanced theatre technology, making it perfect for the ultimate awards ceremony. The Lillian Baylis Studio is popular for conferences, seminars and workshops, as well as performances and film screenings. This intimate space can accommodate up to 180 theatre style. The Mezzanine level is a striking space for receptions or meetings. It features movable acoustic walls which can create 3 discrete function spaces with natural daylight and full AV facilities. The Circle Bars on the 2 top floors offer ideal additional space for your event with both bars available for up to 170 guest. Alternatively the 3 dance studios double up as unique reception spaces or training workshops for between 5-75 delegates.
St James Theatre, SW1
London's newest theatre opened 2012; St. James Theatre is a unique, award-winning arts complex in central London. With a 312 seat main house presenting plays, musicals and revues, and a 120 capacity Studio in cabaret style offering over 250 shows a year, the St. James has established itself as the vibrant cultural hub of the rapidly developing Victoria area and a major player on the wider cultural scene. St. James incorporates TV production/broadcast facilities and multimedia capability. Coupled with the first class bar and catering facilities and in an atmosphere of designer comfort, the St. James is also the ideal environment for AGM's, conferences, book and product launches, showcases, workshops and whole range of corporate and creative interaction. The main auditorium can take up to 312 guests whilst The Studio can hold 100 seated.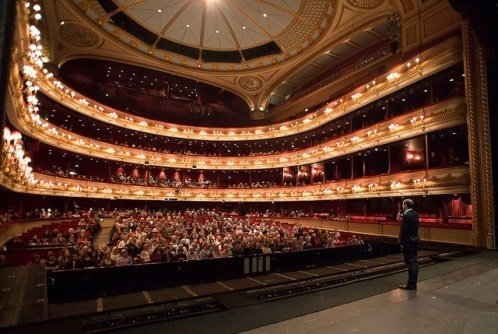 Royal Opera House, WC2E
Originally opened in 1858, the stage has played host to some of the world's greatest performers from Pavarotti to Callas, Nureyev and Fonteyn, and more recently the BAFTA Film Awards as a venue. After a major redevelopment in 1999, the Royal Opera House now combines elements of the original Victorian theatre with state-of-the-art back stage facilities. Entertain your guests with commanding views over Covent Garden from the spectacular 6th-floor terrace, experience the opulence of the Crush Room, or enjoy an unforgettable evening in the rehearsal studios of the Royal Ballet. The Paul Hamlyn Hall, dating back to 1860 and was previously an exotic flower market, offers an impressive space with a barrelled roof and stunning ironwork. It is a grand room for a 1000 guest reception or a dinner for 400 guests. The Crush Room and Conservatory showcase 17th century Flemish artworks and crystal chandeliers, adding historic splendour to smaller events.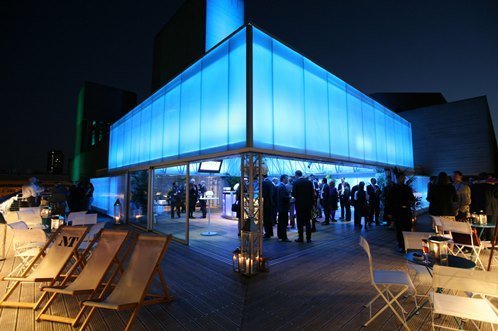 The National Theatre, The Deck, SE1
Situated on the roof of the National Theatre, The Deck is a stunning rooftop events venue offering panoramic views across London. It is a blank canvas venue that can be themed to complement any corporate branding or private event. The square 'marquee' has retractable sliding doors allowing you to have unobstructed views over St Paul's, Westminster Abbey and the rest of the City. The Deck has capacity for a standing reception of 150 with an option for a BBQ in the summer months.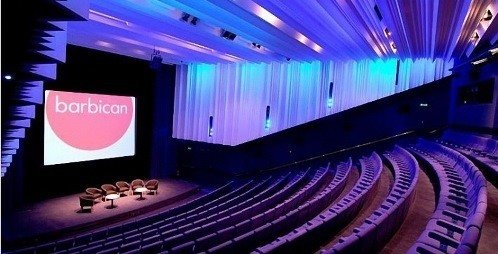 Barbican, EC2Y
This Grade II listed, architecturally renowned building opened in 1982 and is an iconic example of the Brutalist movement. The Barbican is Europe's largest multi-arts and conference venue and offers an excellent range of spaces for private hire. The Hall has a breadth of facilities and tiered seating from 500 to 1943 people, making it tailored for larger conferences. The Barbican Theatre has a maximum capacity of 1156, which is divided between the stalls, circle and gallery levels. This enables clients to use the stalls level only for smaller conferences from 300 delegates upwards. As well as other theatre spaces and auditoriums, the spectacular Conservatory is a joy to discover. It is a hidden tropical oasis in the heart of the city which is home to finches, quails, exotic fish and over 2,000 species of tropical plants and trees. Protected by its glass roof it is suitable to be used in any weather conditions and can accommodate up to 100 delegates for a standing fork buffet or 150 guests for a drinks reception.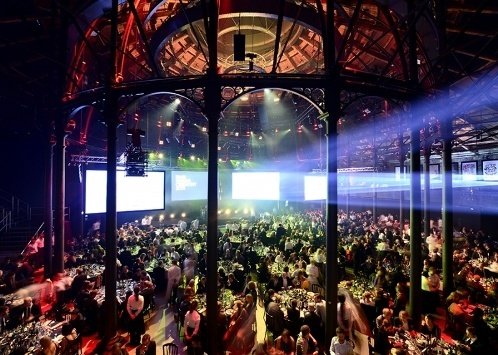 Roundhouse, NW1
Originally built in 1847 as a railway engine shed, The Roundhouse is now a Grade II listed performing arts and concert venue. One of the most architecturally astounding and unique event spaces in London, the Main Space is the beating heart of the Roundhouse. An impressive blank canvas (1,300m²), the iconic Main Space is available to hire for a variety of events: from receptions and parties for up to 1,800, to conferences for up to 1,500, and dinners for up to 1,000. The Circle Balcony frames the Main Space and delivers a fantastic vantage point overlooking the breath-taking Main Space below, perfect for drinks receptions before the main event. Main Space venue hire includes exclusive use of Torquil's Bar and Terrace and the Circle Bar as well as dressing rooms and production office.
 Venueseeker is the ultimate online resource for the best unique event spaces around town. We have a diverse selection of venues to fit any occasion – the more unusual the better! Contact us now to find out how we can help create the perfect event for you.