For the true Englishman (or woman, for that matter), there's quite simply nothing better than pub wedding venues. Packed with charm, teeming with history and interesting features, and – crucially – featuring full-stocked bars, with cask conditioned ales and a plethora of tempting treats, they're the ideal place to spend your big day.
We're lucky here in England that we have more historic and interesting pubs you could shake a stick at, and our pub wedding venues London are sure to get your imagination going while planning the most important day of your life!
Pub wedding venues have plenty of benefits going for them aside from their charm and beer cellars, too.
They're generally an affordable option (indeed, our pub wedding venues London are varied enough to suit everybody's budget), and have a more relaxed, informal, and less stuffy vibe than somewhere like a stately home or official wedding venue.
What's more, pub wedding venues tend to be highly accessible, have good parking options, and their own function rooms in which you can make the party last until the early hours!
All in all, it's fair to say that hosting your wedding in a classic British pub is an option which simply cannot be overlooked.
Here at Venueseeker, we're always on the lookout for exciting pub wedding venues London which tick all of our boxes. We've seen some amazing usage of space over the past few years, and it's always exciting to see what new trends and ideas pop up here in the capital.
As always, we've compiled some of our absolute favourites here for you to browse… who knows? Maybe one of these awesome pub venues might even host your wedding one day soon!
---
Are you on the lookout for a pub wedding venue with a difference? Tamesis Dock is surely one of the most chilled out and relaxed venues on our books, and combines the unique charm of a floating pub with the kind of views that will leave your assembled guests open-mouthed.
Moored between the Millennium Eye and the Houses of Parliament, your wedding will benefit from the kind of backdrop that's the stuff of opulent fantasies.
With its fully stocked bar, spacious seating area, professional kitchen and unique vibe, Tamesis Dock is, understandably, one of the hottest tickets in central London today.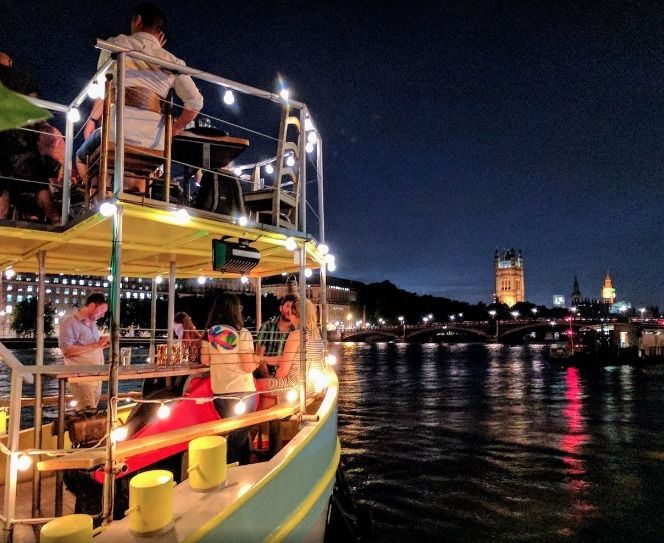 Capacity: Up to 150 guests.
Best For: Friendly, relaxed and intimate summer weddings with fantastic views of the city.
What Makes it Special? The Tamesis Dock is one of London's most unique pub wedding venues. Boasting iconic views of the Houses of Parliament, it's a chilled-out floating pub which will ensure all your guests are smiling throughout.
---
The Kings Head
Fancy hosting your wedding in a converted London pub which hits the heady heights of elegance and sophistication? If so, then The Kings Head should definitely make its way on to your list of venues to visit.
Situated in the heart of trendy East London, this hip and decadent venue manages to walk the line between modern, fashion-conscious style, and classic, timeless chic – perfect for a wedding looking to make a real impact on the guests.
This really is a venue with everything: an amazing location, a great restaurant, several comfortable function rooms, and even a secret dancefloor!
Capacity: Up to 200 guests
Best for: Chic, sophisticated weddings with an urban edge
What makes it special? A better question might be 'what doesn'tmake this London pub wedding venue special?' With its amazing interiors, great range of spaces, and unique private club vibe, it's an ideal place for a wedding which oozes class.
---
The Barrel Project
OK – so this venue isn't exactly a pub, but if you're looking for somewhere which maintains that same laid-back-yet-sophisticated vibe, then this is one wedding venue you simply cannot miss.
Your guests will be blown away by the beautiful 8 foot tall wine barrels from Burgundy and Bordeaux which line this stunning space, along with the soft, moody lighting, incredible interior design, and awesome range of unique craft beers.
Capacity: Up to 150 guests
Best for: Craft-obsessed weddings, and those looking for the best beers and ales in London.
What makes it special? The superb location (between London Bridge and Bermondsey), the amazing atmosphere, and the sheer unique splendour of the gigantic wine barrels all make this venue a truly awe-inspiring choice for a wedding party.
---
Imagine a trendy London pub… and now imagine it supercharged, supersized, and packed full of amazing features that can really add a bang to a wedding party or reception!
If you're looking for a venue which packs in the latest, buzzing, fashion-conscious trends, and yet has the space and amenities you need to throw a truly memorable wedding party, then look no further than The Bat and Ball.
It takes the classic East London pub vibe and absolutely runs with it, resulting in a pub wedding venue London quite unlike any other in the city.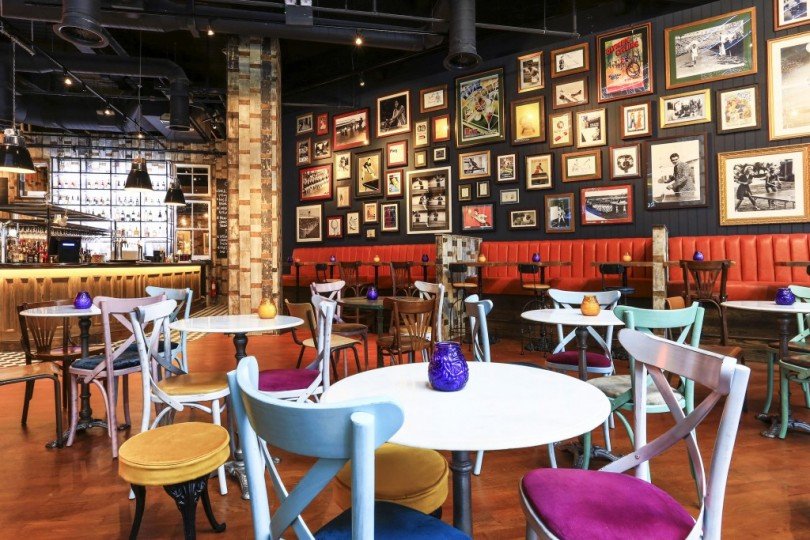 Capacity: up to 600 guests
Best for: Larger wedding parties which need plenty of space and cool features.
What makes it special? Hip, fun, chilled out and fully stocked and ready to become the venue of your wildest dreams, The Bat and Ball is a stunning new addition to London's party and events venue scene. DJs, ping pong tables, a games hall, photo booths… this is a space which really does have everything!
---
Lights of Soho
Is it a pub? Is it an art gallery? Is it a private club, members bar, secret cinema or music venue? The truth is, Lights of Soho is all of these things, and much, much more besides.
With its underground vibe and sense of true uniqueness, Lights of Soho isn't everyone's cup of tea when it comes to choosing a wedding venue… but if you're looking for something truly out of the ordinary, and absolutely jam-packed with amazing features and things to see, then this is a venue you have to see to believe.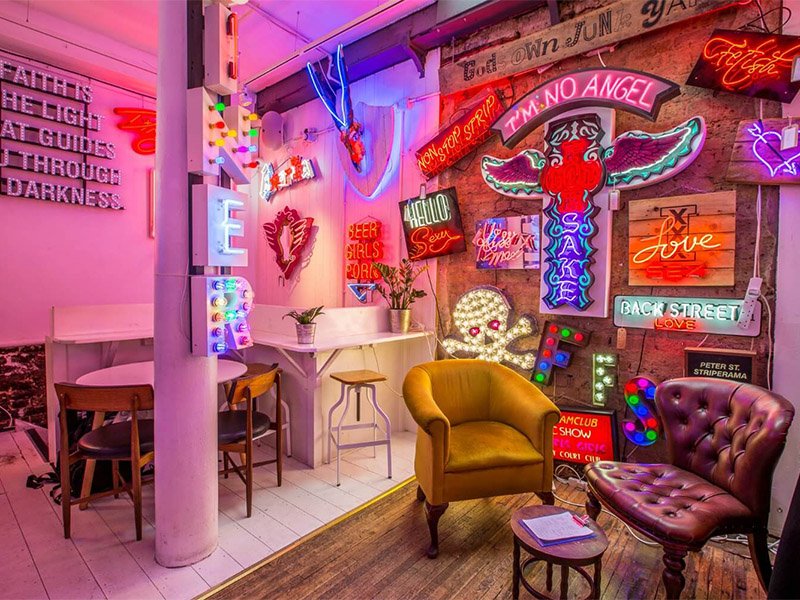 Capacity: up to 120 guests
Best for: funky, leftfield, artsy weddings which want to stand out from the crowd.
What makes it special? This incredible venue has a legendary status on London's underground and alternative scene, and holding a private function or wedding party here is something that will make your event go down as one of the must-visit nights of the year. Colourful, vibrant, and utterly unique, visiting Lights of Soho is an experience in itself.
---
Noir W1
Want to host your wedding reception in one of the capitals sleekest and chicest cocktail bars?
Noir W1 fits the bill very nicely indeed, and with its mood lighting, amazing furnishings, and fully stocked bar (with highly talented cocktail mixers and bar staff included), can prove to be the ideal pub wedding venue for you and your guests.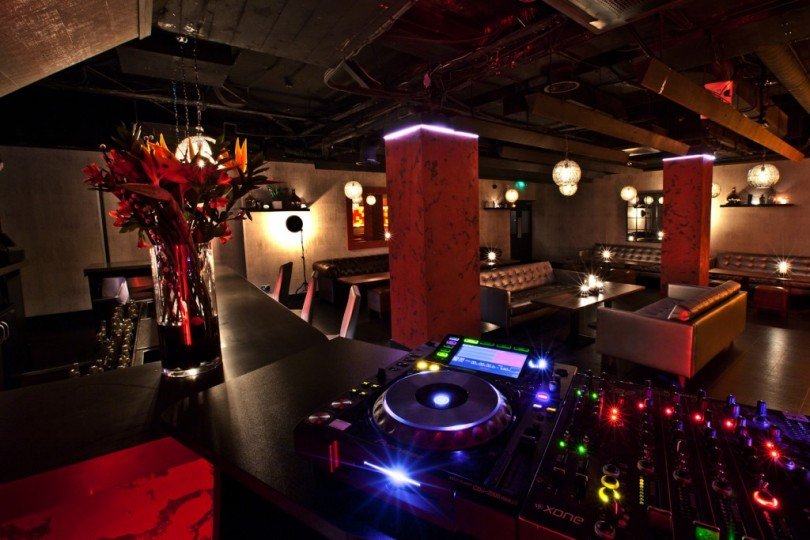 Capacity: up to 300 guests
Best for: Stylish and modern wedding parties
What makes it special? Set over two floors (one of which features the designated 'frolic room'), this is a spacious and truly elegant venue which constantly throws up surprises. Bespoke cocktails, quality Champagne, and much, much more await your guests, as does gourmet European food. Perfection!
---
Why choose a London pub for your wedding, when you can choose an entire brewery? This venue might not be in the beer-making business any more, but everywhere you look inside the cavernous space of The Brewery, you'll find reminders of the venue's impressive and historic heritage.
From huge halls to intimate chambers, the sheer range of events spaces in this venue is incredible – there's no doubt you'll find something perfect and characterful for a wedding to truly remember.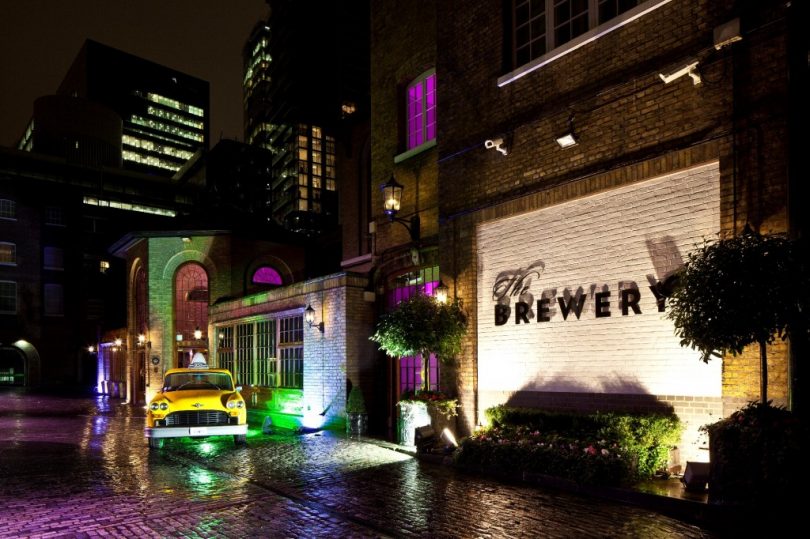 Capacity: up to 1000 guests
Best for: huge, fun-filled weddings in need of fantastic catering options
What makes it special? Beautiful rooms (including the stunning 'sugar room', bathed in natural light) and amazing amenities make The Brewery a truly impressive wedding venue. Here, 18th century opulence meets 21st century style, and a level of versatility that few other venues could match in London.
---
Pub Wedding Venues That'll Never Be Forgotten
There's no doubt that London's pub wedding venues – whether they're historic drinking houses or chic, modern affairs – are ideal for weddings both big and small.
There's something joyful about a pub wedding, and we're more than happy to see these amazing spaces being used for such incredible and happy moments.
Here at Venueseeker, we love matching our clients with the venues that are really making a difference in the capital. If you'd like to find out more about what we do, don't hesitate to get in touch. We're considered a top-notch service provider for good reason, and we'd be delighted to show you what we're made of.