Designed by architects Populous, the giant orb will be inspired by the science fiction book 'The Veldt', and will be similar in size and shape to another music venue set to open in Las Vegas. Populous was also responsible for designing the London Olympic Stadium.
An immersive experience
This futuristic venue will include a spectacular vaulted roof with a huge screen that will make visitors feel like they're in a forest or underwater.
If approved, the giant orb would become a recognisable symbol of the London skyline, rising to a height of 130 metres – higher than St Paul's Cathedral – and creating up to 3,200 jobs. In fact, this venue would have enough space to accommodate up to 18,000 seated guests and 5,000 standing.
Planned by one of the world's biggest holding companies
The project has been launched by the Madison Square Garden Company (MSG), which is headquartered in New York and owns some of America's most prestigious event venues, from the Madison Square Garden Complex to the Chicago Theatre.
The company already owns the five-acre east London site that has been earmarked for the giant orb development. It would be built next to Westfield Stratford City, which is one of Europe's biggest shopping centres, welcoming nearly 50 million visitors during the Olympic year in 2012.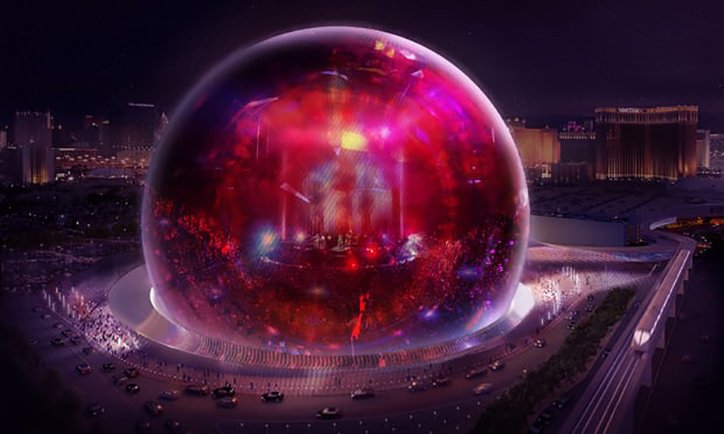 A spectacular new music venue to reinvigorate London's music scene?
Although a planning application has yet to be submitted for the giant orb, the project has already won support from the Mayor of London, Sadiq Khan. He said the new world-class venue would help boost London's night-time economy and confirm the city's status as a music powerhouse.
This comes at a time when record numbers of music venues in the city have either closed or face the threat of closure.
Interested in booking your own event soon?
Then please get in touch with Venueseeker and tell us which event venue in London you'd like to hire (or elsewhere). Call or e-mail us, or feel free to fill in our online enquiry form and we'll respond as soon as possible.