If you are looking for some movie magic to enhance your event, you can always look to your local cinema to set the scene. Here is our selection of top spots to hire.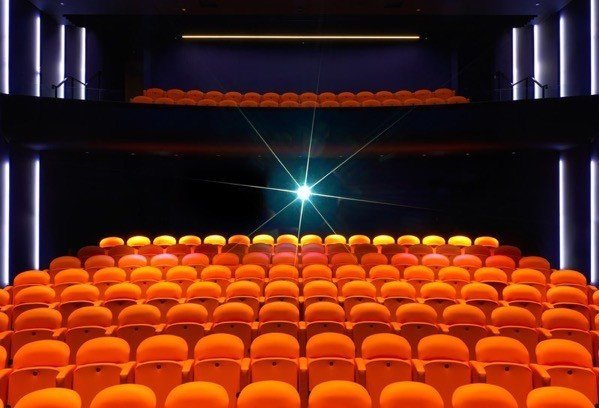 The 190 seat state-of-the-art theatre has been designed and equipped to the highest professional standards. The walls are lined with electric blue wool, with striking tangerine orange leather seats and bright fuchsia pink silk curtains framing the stage. As well as an exclusive dress circle balcony, there are two beautifully appointed green rooms complete with mini bar, shower, sofa and desk.
The Ritzy Picturehouse, Brixton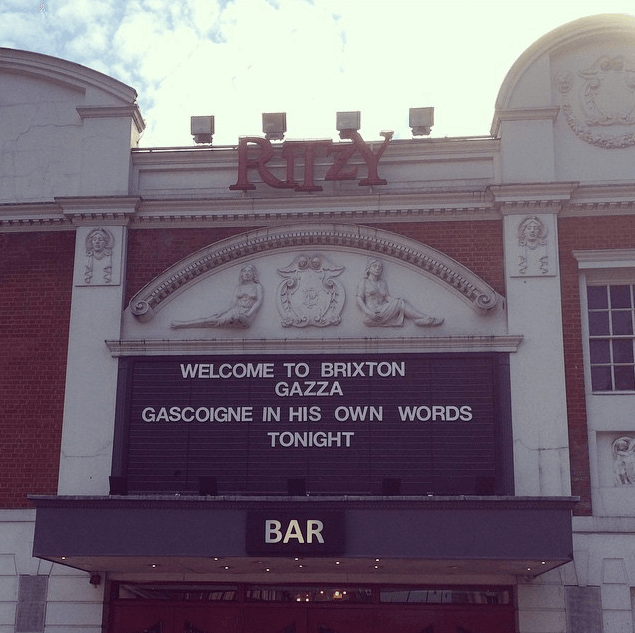 The Ritzy has been at the heart of the city's film scene for decades and is a cornerstone of Brixton's vibrant community. There are 5 screens available to hire with a professional projectionist at hand for your private screening. Screen 1 is the largest of the spaces and can accommodate up to 352 guests, with Screen 5 being ideal for a more intimate group of up to 52 guests.
Above the cinema is Upstairs at the Ritzy, a great bar and exciting venue for around 154 people. It is open 7 nights a week and is a well-known & well-loved cultural hub for Brixton. The venue regularly show-cases a consistently high standard of live music, from Reggae, Afro-beat & vintage-swing, to World-Jazz, Folk, Blues, Balkan & beyond! There is also a monthly comedy feast, open mic, performance, dance workshops (Swing Patrol!), and exclusive screenings.
Curzon Bloomsbury, Russell Square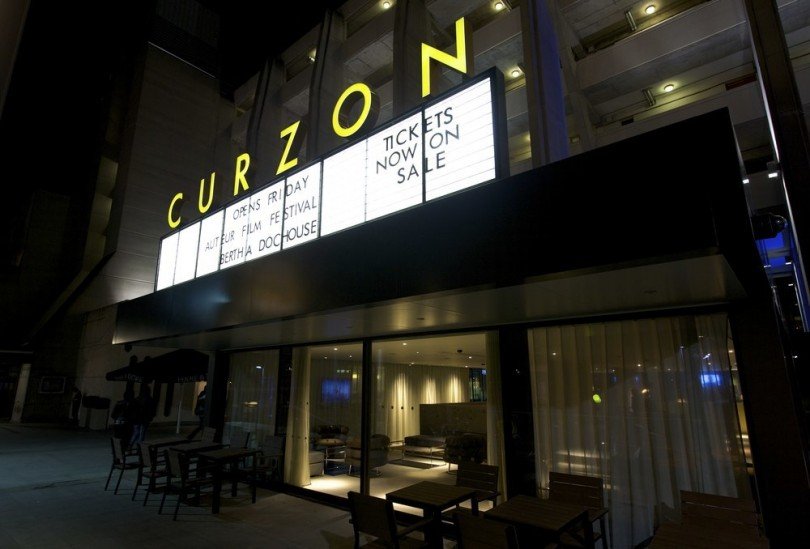 Located in the Brunswick just off Russell Square, this historic arthouse cinema was recently refurbished to the highest technology and design specs. All screening rooms have Sony 4K projectors, and the main screen is only the second venue in central London to adopt Dolby Atmos sound system for a multidimensional cinema experience, making it the ideal location for film premieres and galas. Influenced by the materials and style of post-war Modernism, as well as films by Tarkovsky and Greenaway, the redesign of Curzon Bloomsbury by architect Takero Shimazaki is intended to showcase great films in a minimalist setting. The five screens are named after historic venues operated by Curzon since 1934, including the Renoir. The largest theatre-style auditorium (Renoir) seats up to 150 and includes a separate VIP balcony. The more intimate screening rooms seat between 50 and 28. Fully licensed bars are on three levels including a ground floor foyer with outdoor seating.
The Hackney Picturehouse, Hackney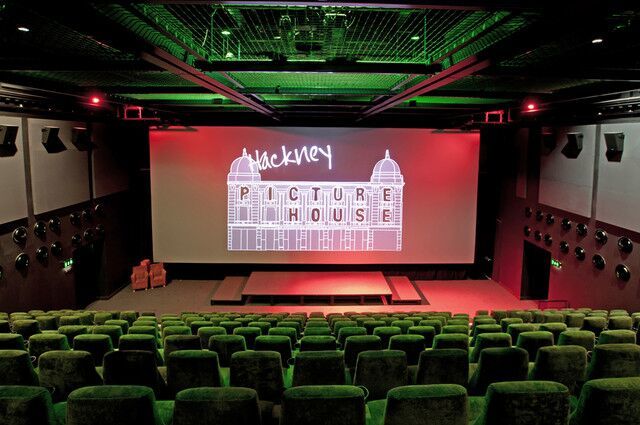 This cinema offers a great number of spaces, including 4 screening rooms [57-302 guests] plus 2 separate events areas. The Gallery Bar can act as a breakout space alongside use of a screen or as a stand-alone events space, ideal for a networking events and receptions. The clue is in the title as it also features a gallery that showcases ever-changing exhibitions of local art. The Hackney Attic is a flexible space ideal for parties and meetings for up to 150 guests. Top of the range projection and sound facilities ensure an impressive delivery for any event and are also included in the room hire fee.
The Electric Cinema, Notting Hill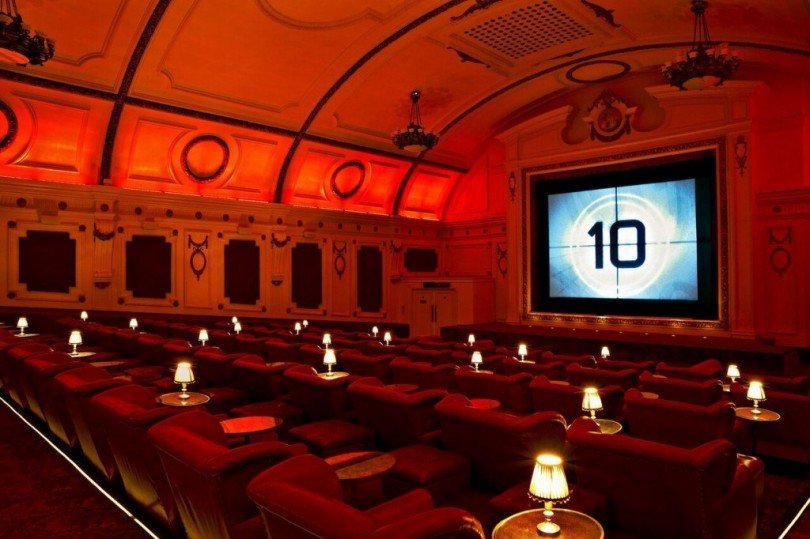 In the heart of Notting Hill, The Electric Cinema offers a unique cinema experience. The cinema has a grade listed interior, and can accommodate a large variety of events from corporate screenings and presentations, to fashion launches and bloggers events. The fully refurbished Edwardian cinema is the oldest of its kind in London with interior that reflects the cinema's long history and technology that keeps it cutting edge. Leather armchairs provide unparalleled comfort for up to 83 guests. The Electric cinema offers a unique experience for hosting press launches, screenings, presentations and conferences. They also have a branch in Shoreditch available for private hire for up to 50 guests.
Screen on the Green, Islington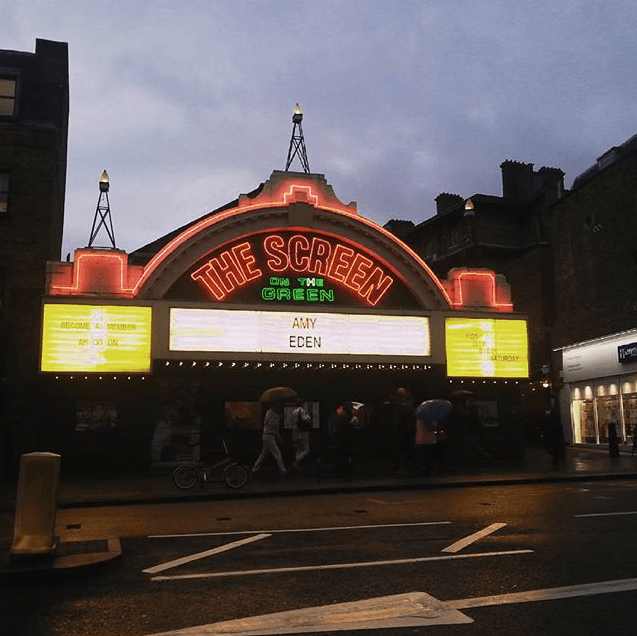 It's one of the oldest cinemas in the country, first opening way back in 1910 and has on eof the most iconic façades in the country. This fashionable single screen cinema features a striking interior. With an integrated bar and stage, this versatile space can be used for both live events and presentation screenings. The screening room has a capacity of 125, consisting of 48 premium double sofas with foot rests and 71 standard seats with standing room for 20 around the bar at the back of the auditorium.
The Rio, Hackney
While many have come and gone, for over 100 years Rio Cinema has remained an ever-present picture house appealing to its East London community. Families, young creatives and older generations come here to take advantage of the fantastic program hosted within its art-deco walls. The building is Grade II listed by English Heritage and is run as a charity [you can support the cinema by naming a seat with a little gold plaque]. The 1930's auditorium captures the traditional cinema experience with plush red velvet seats, atmospheric music before the show, and long red curtains that swish back before the film starts. Both the auditorium and basement level are available for hire.
Whirled Cinema, Brixton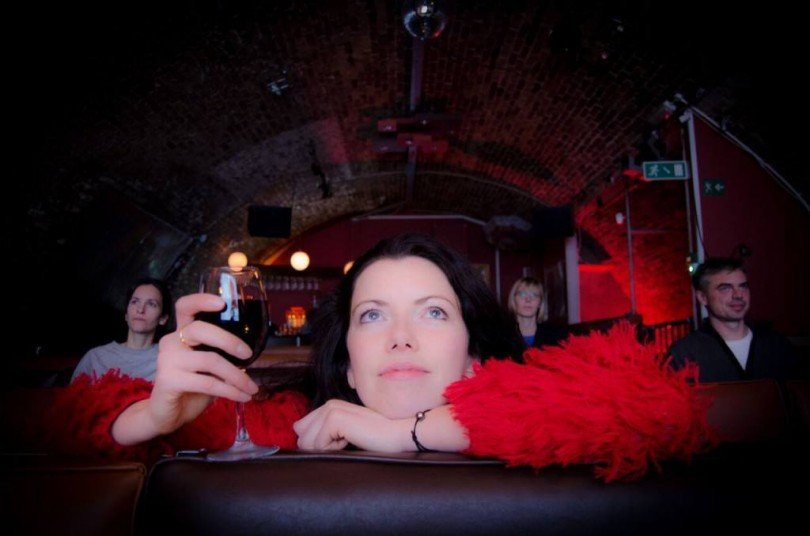 Whirled Cinema is an Independent Members Cinema situated in an exclusive venue close to Brixton and Herne Hill, tucked away under the railway arches of Loughborough Junction. The arched ceilings, dating from the 1860s, provide beautiful surroundings with exposed red-brick walls. The cinema screens the best of current art house and independent films [Wednesday to Sunday] – things that have done well in film festivals and won awards but maybe received a short showing in British cinemas. They like to show them during the period between their theatrical and DVD release. Occasionally they select a range of films and allow members to vote for one by email. Available to hire for up to 130 guests, the venue is perfect for private screenings, cast and crew screenings and kid's parties as well as presentations and Q&A sessions. It is available for hire to members and non-members during the day and evening.
Nutkhut Cinema, mobile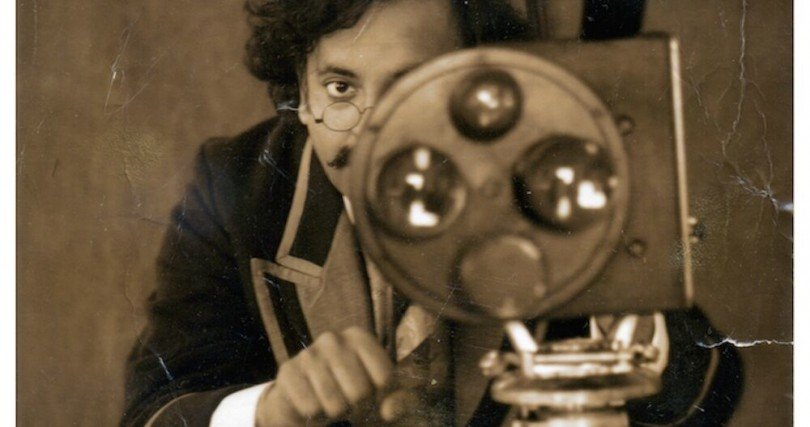 A truly unique twist, this is a mobile boutique art deco cinema for hire in the London area and is perfect for pop ups, festivals, launches and private parties. This novel concept is brought to you by the award-winning performance company Nutkhut, which specialises in mischievous outdoor performance. It is ideal for small screenings, small performances and unusual meetings. This boutique cinema transports you back to the 1930s with its Art Deco style and original seating. Combining the Golden Age of Cinema with state of the art surround sound and a wall-to-wall screen, this 18 seater is perfect for intimate film screenings of any kind. The cinema can hold up to 350 people a day and is wheelchair accessible. You can book the mobile cinema with one or two professional performers playing a 1930's projectionist and/or an usher.
The Lexi Cinema, Kensal Green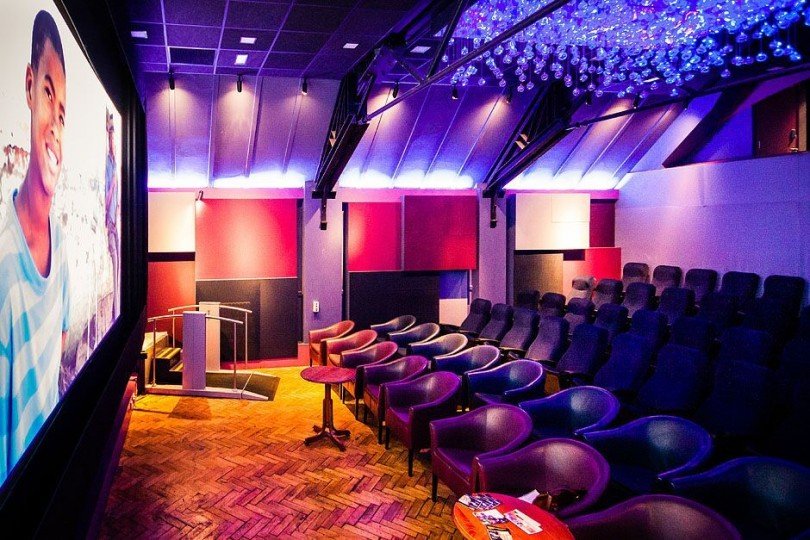 It's the UK's first social enterprise independent boutique digital cinema and they donate 100% of their profits to charity. Staffed predominantly by passionate local volunteers there is a distinctive community vibe about the Lexi.           The Gallery Bar is artfully stocked with individually selected wines, beers and spirits – local where possible. The space also hosts a great range of events, hosting Q&As with directors and producers to exhibitions of local artists. The 75-seat theatre allows for a wonderfully intimate cinema experience.
The Nomad, mobile
Since 2010, The Nomad has earned the reputation as 'London's best outdoor cinema' [Evening Standard], popping up at an inspiring range of beautiful, unique and intriguing screening locations across London. It is based on the same concept of community spirit as its sister cinema the Lexi; partly run by dedicated volunteers and establishing partnerships with local businesses.
Whether it's a back garden, bowling alley, village green or funfair, this roaming pop-up is for both indoor and outdoor events and can be scaled to suit your requirements. Nomad film events embrace and enhance each venue, offering new ways of experiencing an uplifting range of films, from classics, cult and indie to mainstream guilty pleasures. With its low impact set up, The Nomad wanders into town, unpacks cinema magic, then disappears into the night, leaving no trace. The Nomad captures the festival spirit for a truly immersive cinema experience. Current listings can be found here.