The world of events is a fast moving one, and event managers must always strive to stay on top of the latest trends, in order to have the edge over the competition, keep attendees on their toes, and consistently offer the hottest tickets in town. 
This often means being aware of everything from the up-and-coming stars of the music and entertainment scenes, to the latest interior design vibes flying around Instagram… as well as ensuring you're up to date on the newest technology and most sought-after gift items, and all manner of other things.
However, if you want your event to go off with a real bang, and have all of your guests cooing with excitement, tweeting wildly all the way, and leaving your venue more than satisfied with all they've experienced, there's one key ingredient you cannot possibly overlook: the catering.
Music may well be the food of love, and your event may be focused on something worlds away from the gastronomic scene or restaurant industry. However, food and drink is often the main criteria on which your attendees will judge your event.
Wow them with the latest corporate event food ideas, take their breath away with impressive spreads of exotic and beautifully presented dishes, offer Insta-friendly courses presenting new and exciting flavours, and your event will quickly become the talk of the town.
Why Catering Can Make or Break an Event
The fact is that while in the past – particularly in the UK – events could get away with relatively unimaginative food and standard buffet-style catering, featuring the usual array of sandwiches, cold meats, fruit and cake, the 21st century has really shaken things up.
Food and drink matter today more than ever before, and millennial audiences are well-travelled, discerning, and more aware of gastronomic trends than any other generation that came before.
Foodies are the new trendsetters, and Michelin-starred chefs today hold a similar status to the rock stars of yesteryear. People go on pilgrimages to inspirational restaurants, they seek out the hottest new movements to come out of international kitchens, and – perhaps most significantly – people are taking an enormous interest into the green credentials of their dinners, and are demanding that their vegetables are local, their fruit seasonal, their fish sustainable and their meat free range.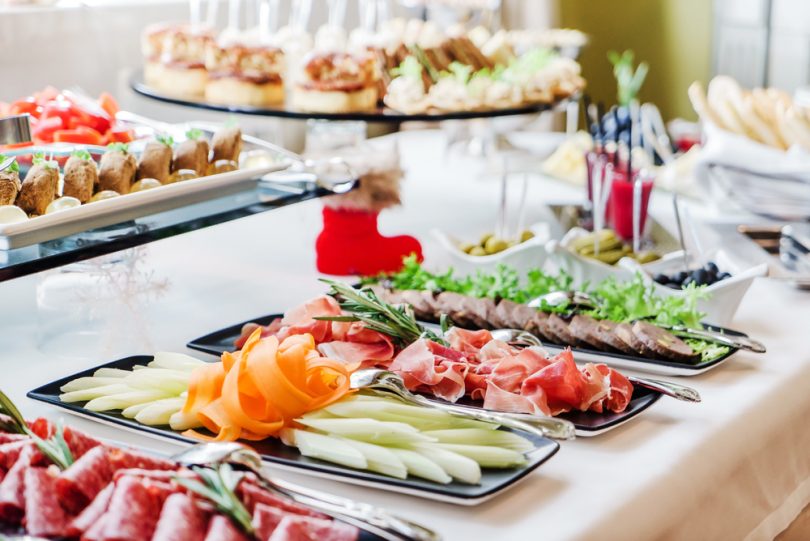 Anything less than this will be picked up upon, and the amateur food critics of today can pour scorn on badly thought-out event food ideas via social media in ways which can be genuinely detrimental, and which can spread like wildfire.
On the other hand, put in the effort and tick all the right boxes, and you'll be benefiting from an array of positive reviews and feedback forms that could make a hugely positive difference to your brand, and any future events that you hold.
How to Ensure Your Catering is on Trend
Believe us, we know it can be difficult to stay abreast of food trends. They move quickly, fast become yesterday's news, and often appear bewildering to those not particularly well versed in gastronomy.
However, there are some simple steps you can take to ensure that you don't find yourself under pressure searching for how best to source your event food, when you have plenty of other issues on your mind.
After all, event management is a multi-faceted task, and there are never enough hours in the day! Take a look at our quick checklist to help you stay on top of the world of on-trend food and drink.
Take Full Advantage of the Blogosphere!
There are dozens of highly respected food bloggers in every major city on earth, and they're the ones who are on the hunt for the latest trends, the newest developments, and they're also the ones who know all the top and up-and-coming chefs. Their knowledge is indispensable.
Food and Travel Are Deeply Entwined Sectors
When a particular city or country is hot, it's likely that caterers and chefs will be scrabbling over each other to unearth that particular location's secret recipes. At the time of writing this, the hottest destination is Lisbon, and as a result, caterers are looking at how they can incorporate the Portuguese capital's iconic pasteis de nata into their menus.
It's Not Just Chefs Who Dictate Event Food Trends
Influences can come from anywhere – movies, music, celebrity fad diets… it's worth looking to the latest nutritional advice and findings if you want to stay ahead of the game, too. The recent trend for pickles (Korean kimchi is still all the rage) was partly due to the fact that nutritional scientists were raving about its probiotic and antioxidant properties, which helped it rocket in sales and popularity.
If you've got an event coming up and you're struggling to find inspiration for your event food, never fear: we've done some of the hard work for you, and have looked up all the hottest event catering trends right now for you to pick through.
Use some of these at your next event, and your attendees will be delighted at your savvy approach to food, and there's no doubt they'll be raving about it to their friends for weeks afterwards.
Keeping It Local
This is a big one, and is one of those trends which simply isn't going to change any time soon. The world has gotten smaller, and as people travel more, they become more interested in whatever makes particular locations unique.
Many of your attendees might be in your city or country for the first time, and while in the past, tourist hotspots consisted primarily of local landmarks and museums, today they're just as likely to feature food markets, street food stalls and top restaurants.
By engaging local chefs and food experts, you can bring a truly exciting, fashionable food trend to your event, through the use of unique local delicacies, homegrown talent and ingredients plucked from within a stone's throw of your venue.
Is your city renowned for a particular dish? Get an event-friendly version made for your guests – it'll go down a treat! Also, don't forget about drinks: every country and region has its own beer, wine or spirit which is difficult to source elsewhere – make a feature of this, or get a local producer involved in the event to show off their wares.
Energy Boosts and Vegan Junk Food
Your attendees have a lot to do while at your event, and the last thing they'll want is to be feeling full and heavy after lunch, having eaten some unhealthy dishes or greasy event food. It'll weigh them down, make them feel sleepy and disengaged, and no matter how tasty it might be, it won't do your event any favours in the long run.
The best event food is healthy, fresh and full of energizing vitamins and minerals that will keep your guests bouncing from one seminar to the next, feeling great, alert and ready for more. Plenty of seasonal fruits and vegetables are always popular, as are things like fresh pressed juices, natural energy drinks, green smoothies and the suchlike.
One of the coolest event food trends actually manages to combine energizing, healthy dishes with the kind of fast food we all secretly love – and it's the latest trend for vegetable and vegan versions of popular takeaway classics, such as burgers, fried rice, kebabs and more.
They look delicious, taste fantastic, and won't leave your attendees feeling sluggish halfway through the afternoon!
Craft Cocktails With a Homemade Vibe
It's always great for your event to have a signature cocktail to serve your guests, named and based on something relating to the theme of the day. However, there are plenty of opportunities for keeping up with the latest trends when it comes to mixology and and your cocktail bar, and it would be a shame to not take advantage of this side of things when providing your guests with their liquid refreshments.
The current big thing on the cocktail scene is a sort of handmade, speakeasy vibe, featuring all sorts of weird and wonderful infusions which put a spin on your liquor cabinet favourites.
Gin is in, but even more on trend are gins which have been infused with weird and wonderful additional ingredients: recently we've seen gins made with kaffir lime leaves, Earl Grey tea, morello cherry, and many more! Essentially, anything botanical is hot right now when it comes to event drinks and cocktails, and the more homemade looking the better.
Hear Me Raw
Unless you've been hiding under a rock for the past few years, you can't have helped but notice the food trend for raw fruits and vegetables. Chefs and caterers alike have been achieving wonders with some outside-the-box thinking, inventive approaches and nifty knifework – we've seen raw gateaux, raw vegan burgers, the most amazingly complex and delicious looking salads, and all manner of other, highly impressive creations made without any cooking whatsoever.
If you can get a caterer who is capable of constructing beautiful, colourful, exciting dishes using high quality, local and seasonal raw ingredients, you're going to make a fantastic impact that's going to make serious waves on Instagram.
Street Cred
One of the most vibrant and fun event food trends we keep coming across is one which involves the adventurous spirit of travel. It's reminiscent of backpacking holidays to far-flung tropical locations, and trips around souks and medinas, bustling markets and noisy port towns, and celebrates the location-specific, the artisan and the unique.
It is of course the trend for street food – quick, easy, colourful and flavourful dishes which develop something of a cult following among those who have traversed the globe on the hunt for new sensations.
Each year seems to bring with it a new street food trend; we've seen great event catering stands offering authentic Mexican street food (which is a revelation for those who have only ever encountered the ubiquitous Tex-Mex fusion), Moroccan market dishes, Indian chaat, and Chinese steamed bao buns.
At the moment, street food obsessions have a decidedly South-East Asian feel about them, and involve beautiful combinations of simple ingredients, spiced and seasoned to perfection, and bursting with freshness and flavour.
Many event caterers are injecting a bit of colour and fun into their street food offerings by designing authentic looking stalls and shacks, which heighten that sense of adventure and exploration.
We love this – if you can get hold of a Thai tuk-tuk to serve pad thai and red curry from, or a real Indian chai waller's stove set up, you're going to seriously impressive with your global food savvy!
Do it yourself
If there's one thing we've learned again and again from catering for events, it's that people are happiest when they have plenty of choice.
As such, we love the trend that involve providing your hungry attendees with some sort of canvas on which to pile a range of delicious ingredients and toppings, giving them the freedom to curate a dish which is ideal for their personal tastes.
The hot food trend for this year which involves this approach is the crostini – toasted Italian bread bases, onto which fresh toppings can be stacked. However, we've had great experiences on a similar line with tacos, tortillas, chapatis and more, and it opens the doors for thousands of combinations and possibilities.
Plancha Passion
The Spanish Basque region is well known for being home to some of the finest restaurants in the world, and if the new foodie revolution which has mobilised millennials has a spiritual home, it might just be the coastal city of San Sebastian.
With this enthusiasm for rustic-yet-refined cuisine, it's no surprise that we're seeing more and more event food making use of the iconic cooking device of San Sebastian's most famous eateries: the plancha.
A plancha is essentially a thick slab of cast iron, which is heated by flames and used as a grill for anything from steaks to sardines, sliced halloumi or skewered vegetables. It lends a smoky intensity to ingredients, and it's perhaps the ultimate hipster catering device for this year.
They look great, offer a sense of authenticity (this generation's buzzword, if there ever was one) and rusticity, and are sure to be a hit at your event.
Are you a gastronomic explorer?
The world of food never stops turning, and there's always new sources of inspiration to explore. If you've come across any of the above listed event food trends, or have encountered anything else you feel is on the cutting edge of catering cuisine, we'd love to hear from you in the comments below!
Create Food is always ahead of the curve when it comes to exciting, dynamic catering, using the finest ingredients and the finest talent available for a range of events. If you'd like to find out more, don't hesitate to get in touch and see what they can do to excite the senses of your attendees!