The menu is one of the most important factors to consider when planning your event. Many of our London venues come complete with their own in-house catering, but if your venue doesn't have an exclusive caterer you'll be able to choose your own London event caterer. Here are our tips on how to create your perfect party menu with bespoke catering.
The first thing to consider when planning your bespoke catering menu is the style of your event. Are you planning a relaxed event where guests will be free to wander around and eat when they wish, or is your event something more formal which might require a seated meal. If it's a party you're planning think about whether you'd like the food to feature as part of your event entertainment, by adding theatrical elements at food stalls throughout your venue or outside in your venue's gardens.
Choose the perfect caterer and transform your London event
We recommend the award-winning Create Food & Party Design, a top London event caterer with a great reputation for outstanding event catering. The London event caterer is an approved supplier to many top London venues.
Canapes or Bowl Food
For networking events, or informal events, canapés work well. If you think guests will require more substantial catering than canapés alone, you could opt for bowl food. Both options enable you to serve guests a wide range of different dishes, and make a great start to your event.
A Seated Lunch or Dinner
If you are planning a lunch event or even a formal seated dinner at one of our most prestigious London venues, speak to your caterer about a formal seated meal. You can serve as many courses as you'd like. You can even theme each course around a particular aspect of your event, or tell a story about each dish and where its ingredients have been sourced from. Take a look at our London event catering page for some inspiration.
Theatrical Event Food Stalls
A great idea is to make your event catering part of the entertainment. You can do this by setting up street food stalls throughout your venue to create your own street food market, or by adding theatrical elements to your food by serving dishes like liquid nitrogen ice cream, which can be made in front of your guests and is always hugely popular. Live cooking is also a great addition to events, giving your guests a chance to interact with chefs and learn more about the dishes being served.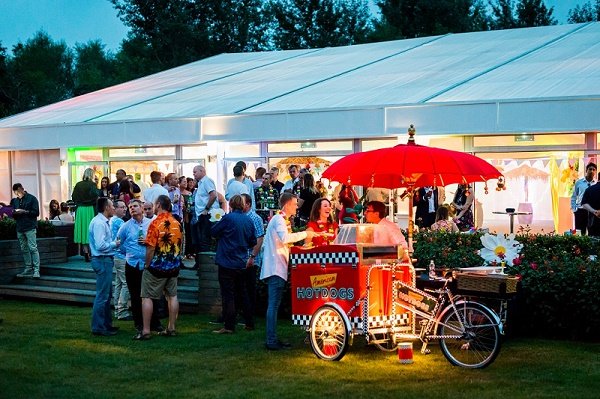 Themed Menus
For bespoke themed events, attention to detail is key. This includes the food being served at the event. We recommend tailoring your bespoke menu to your event theme, either by using creative names for your dishes or focusing on ingredients and dishes which fit well with your theme. Examples of this are serving honey-inspired dishes at a Winnie the Pooh themed event or creating themed canapes to go with an Alice in Wonderland theme. Be creative – or speak to your bespoke event manager for some suggestions.
For more information on how to create the perfect party menu with bespoke catering get in touch with our team.