Just because you want your event to be packed out, it doesn't mean your guests should leave feeling as if they've just exited a tin of sardines. At Venueseeker, we understand that finding conference venues London has for thousands of people is not too easy. But there's no need to settle for an ungainly warehouse. We can help you create bigger and better with some of the conference spaces on our books.
London's largest: Conference spaces for thousands at Venueseeker
If you have anywhere up to 7,500 guests, we would consider the Copper Box Arena one of the best options for conference space London has available. It was during the Olympics in 2012 that this conference space London aptly named 'the Box that Rocks'. It is London's third largest venue and the most flexible conference venue London has in the Queen Elizabeth Olympic Park.
The flexible auditorium design means that you can clear the main seating to create an open floor area.
The venue has all of the necessary technology to make any large-scale event a success. There is staging, mother grid and full blackout facilities. Backstage you will find a range of production areas, a state-of-the-art sound system, plenty of office space and free Wi-Fi.
Explore London's biggest and best conference venues at Venueseeker
Not big enough for you? If you're thinking even bigger, check out Alexandra Palace. This extravagant venue can hold up to 10,000 people at a drinks reception. This historic building is one of the best conference venues London has when you're looking to invite thousands of guests. And with 196 acres of parkland surrounding Alexandra Palace, there is no chance of your invitees feeling cramped. There are nine interlinking spaces and 10,000 SQM of pillar free space making the conference space very flexible.
Not only is it bigger, but it's also better than other conferences space London offers, as guests can enter through the stunning Palm Court, get to know each other on one of the many terrace areas and admire unrivalled views of London's skyline. Logistics is also important to consider when planning an event for such large numbers. Thankfully great transport links will allow your guests to arrive in style. It is walking distance from London underground and mainline stations. There are 1,500 complimentary car parking spaces on site meaning taxis to limousines and carriages can also be considered.
Bigger can be better for London conference venues with Venueseeker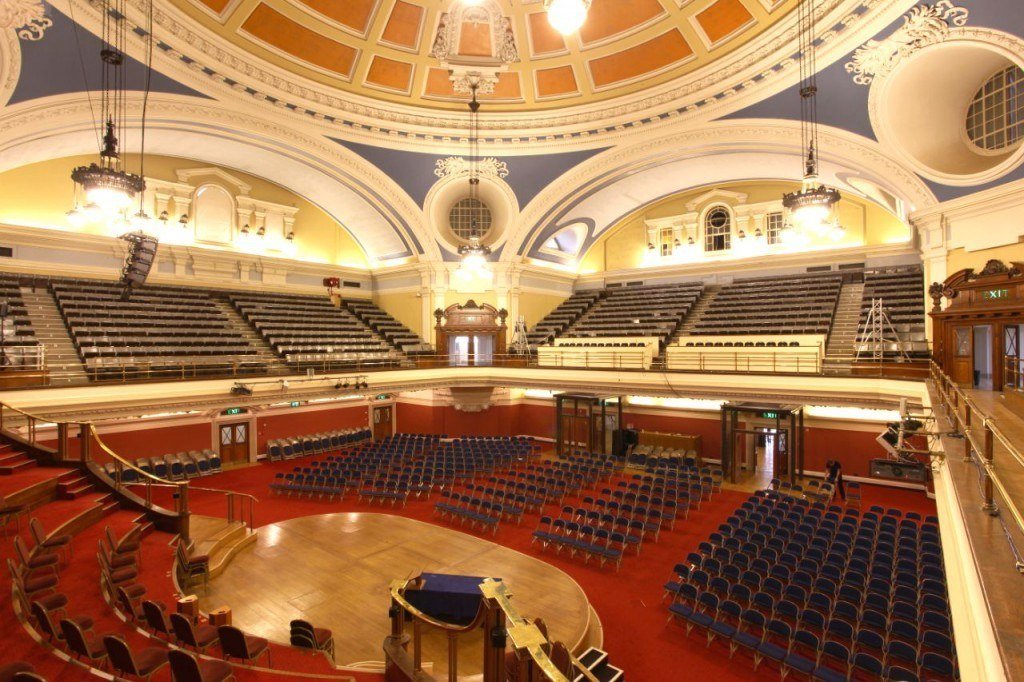 Central Hall Westminster is another venue that is used to dealing with raucous crowds. This venue is somewhat smaller than Alexandra Palace, hosting up to 2,160 people standing. However, it makes up for it in class. Pleasantly situated between Westminster Abbey and adjacent to the Houses of Parliament and Big Ben, it makes for one of the most significant conference venues London has.
Catering for such a large number of people may feel like a big challenge too. Our events team can ensure you don't fret. We're old hands at hosting hundreds of people so can get an army of expert chefs on site to feed to five thousand.