Get a front row seat at some of the best chef's tables in London and see exactly what goes into creating an outstanding plate of food. Here's our selection of some of the top spots for your next event.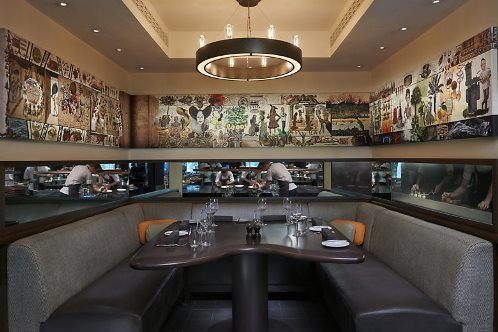 Dinner by Heston Blumenthal, SW1X
The chef's table at Dinner by Heston Blumenthal provides the ultimate culinary front–row seat. Situated directly opposite the custom-built show kitchen and accommodating up to 6 guests, the Chefs Table provides a fantastic opportunity to discover Dinner's inner sanctum and observe the chefs creating their award winning dishes. The menu comprises of 8 tasting courses created by Executive Chef Ashley Palmer-Watts and changes according to season and market availability. The chef is on hand throughout to discuss and explain the various preparation methods and cooking techniques as well as the historical origins of the dishes, and a tour of the kitchen can also be arranged.
City Social, EC2N
The Gherkin and other city landmarks loom large beyond the wraparound windows of this 24th‑floor Modern British in the iconic Tower 42. Jason Atherton's one starred Michelin modern European restaurant has an intimate chef's table for 10 guests set in a beautiful art deco interior. A concise menu showcases seasonal, local ingredients, while the bar focuses on Prohibition-inspired cocktails.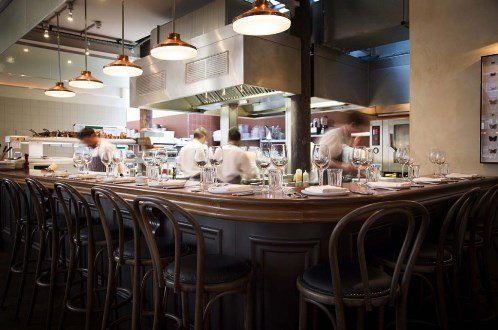 Merchants Tavern, EC2A
Located in a Victorian warehouse and former apothecary in the centre of Shoreditch, the 'Kitchen Counter' is like a chef's table only better. The counter directly overlooks the "cook line" offering a unique perspective on a working kitchen and it's the chefs that serve you.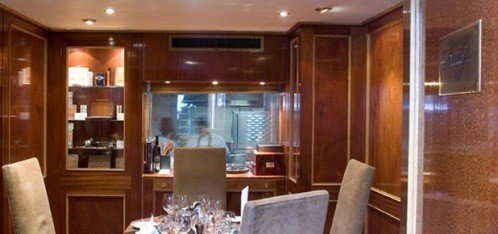 Mosimann's Club, SW1X
For something really exclusive, try the Davidoff Room at private dining club Mosimann's. A one-way viewing window allows for private dining while guests watch the hustle and bustle activity in the kitchen. The Davidoff Room has a suitable club-like feel, with mahogany panelled walls, and leather-topped tables. Mosimann's specialises in seasonal dishes such as risotto ai funghi or marinated salmon and crabmeat.
Cinnamon Kitchen, EC2M
Moving much further east in the world of cuisine, Vivek Singh's Cinnamon Kitchen in the City of London brings a refreshing twist to modern Indian food. This menu features fusion fancies like wild African prawn 'kadhai lababdar', and boti kebab – chargrilled fillet of Kentish lamb. At the Tandoor bar grill, a 16-person table offers an interactive dining experience where guests can enjoy watching bespoke menu items cooked to order.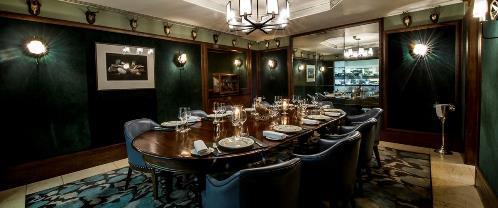 The Corrigan's at Mayfair, W1K
The Chef's Table seats up to 12 and is screened from the kitchen by a glass wall allowing you and your guests to sit back and watch the culinary magic unfold in the privacy of your own room. If you're looking for your occasion to start with something extra special, cookery demonstrations, wine tastings and an invite into the kitchen to meet the Chefs can be arranged.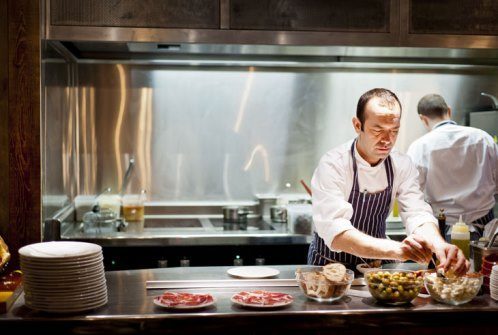 Pizarro, SE1
Sticking with tempting European flavours for the time being, Pizarro caters very well to the current tapas appetite. Situated between London Bridge and newly fashionable Bermondsey, Pizarro does rather upmarket and always delicious interpretations of classic tapas dishes. The "chef's counter" experience here is a less formal version of the chef's table, where you can watch Jose Pizarro and his team artistically prepare little Spanish delicacies. You could also opt for the private dining space for 8-10 guests.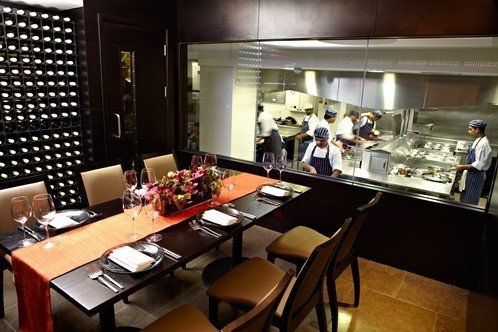 Benares, W1J
Another favourite with fans of contemporary Indian cuisine, Benares in Mayfair boasts an intimate 6-seater chef's table. Diners watch the team at work, and have the chance to meet and chat with them as they introduce each course. A glass wall separates the table from the kitchen, allowing for private conversation while dining. Chef Atul Kochhar is known for the outstanding quality of his ingredient choices, and was the first Indian chef to receive a Michelin star.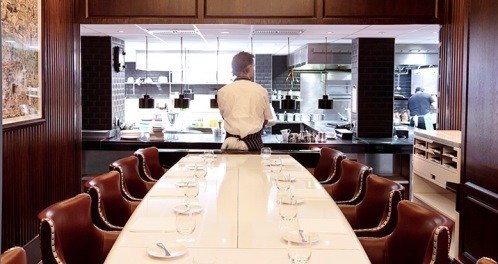 Marcus, SW1X
Marcus Wareing has taken the chef's table out of his kitchen and given it pride of place when you enter the restaurant, so you're linked to the buzz of the main dining room and you get an elevated view over the restaurant. It's a suitably impressive space for 8-10 guests.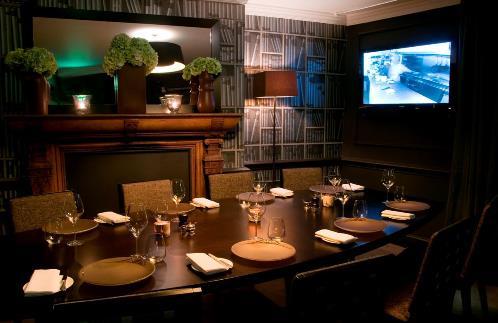 Launceston Place, W8
Don't fancy the kitchen table? Well then, how about the Chef's Office? Launceston Place offers something totally unique with its Chef's Office concept for 10 guests, where you watch the kitchen action via a plasma-screen TV. The dining room is decked out like a traditional, Sherlock Holmes-style office, and bespoke European menus are created according to the day's market produce.
Venueseeker is the ultimate online resource for the best unique event spaces around town. We have a diverse selection of venues to fit any occasion – the more unusual the better! Contact us now to find out how we can help create the perfect event for you.