No matter what kind of event you're planning, it's impossible to overstate the importance of mood, atmosphere, and ambiance. Whether you're organizing a product launch, a corporate party, an exhibition, workshop, or meeting, hitting the right note when it comes to the vibe of your event is key.
We're lucky in London to have access to dozens of amazing underground venues; hidden subterranean spaces which ooze charm and exclusivity, and which allow you to explore a side of the city which many people simply don't realize exist.
Underground venues in London have become increasingly popular over the past few years, and it isn't difficult to see why. They offer event organizers an alternative reality in which to project their ideas, space which celebrates the urban history of the city. Innately creative, edgy and undeniably cool, these London underground venues are sure to add some serious street cred to your upcoming event.
At Venueseeker, we're always on the lookout for the hottest and most atmospheric underground venues to offer our extensive clientele. We've picked out seven of our favorites for you today – take a look, and start imagining what you might be able to do with them!
With its low ceilings, impressive brickwork and atmospheric arches and tunnels, Old Billingsgate Vaults have earned an envious reputation as one of London's coolest and most sought-after underground venues.
Moody and dynamic, it's the ultimate subterranean canvas onto which you can project your wildest ideas and most awe-inspiring plans.
Old Billingsgate Vaults is fully kitted out with some seriously impressive sound, lighting and projection technology; too, meaning you can really ramp up the ambiance with this amazing and unique events space!
Capacity: up to 800 guests
Best for: wowing large numbers of guests, parties, and gatherings
What makes it unique: a stunning urban subterranean space showcasing some of the most innovative architectural styles in the city, Old Billingsgate Vaults is an unforgettable venue sure to make a powerful impact!
There is no shortage of bars, restaurants and party spaces in London, but if you're looking for something bang on-trend, exclusive and more than a little secretive, Dirty Bones is the underground venue in London for you!
Access to this subterranean party space is via an unassuming hot dog stand, and once down the flights of stairs, revelers and guests will be wowed by the space that they uncover. Designed by award-winning interiors whizz Lee Broom, it's as eclectic as it is funky, and this venue is just as ideal for a casual corporate dinner as it is for a wild late night party!
Capacity: up to 200 guests
Best for: intimate events, meetings, dinners
What makes it unique: secretive and quirky, this is a venue which really captures the feel of an old-time speakeasy!
The Postal Museum is quickly gaining attention as one of London's most exciting and dynamic blank canvas venues. It's housed in an amazing urban space, featuring impressive underground vaulted arches, hidden tunnels, and plenty of moody exposed brickwork – perfect for setting the scene for your product launch, meeting or function.
Guests can explore this unique space; learn about the building's role in the history of the postal service, and even take a ride on a miniature train through the century-old tunnels!
Capacity: up to 200 guests
Best for: private parties and awards ceremonies
What makes it unique: a fascinating underground London venue packed full of amazing architectural features, informative displays, and secret urban history!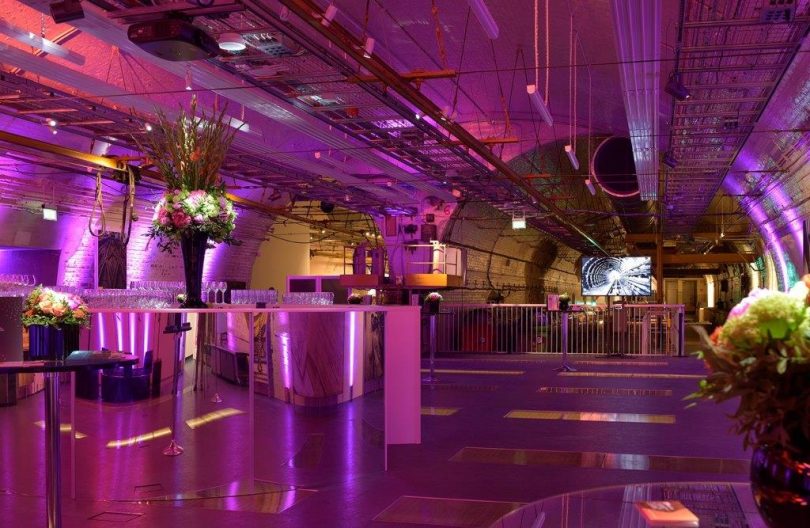 The Barrel Project
While not strictly speaking an underground venue, the Barrel Project is located in a railway arch, which is the next best thing here in the capital. Once your guests have entered the space, they'll be dazzled by the sight of Burgundy and Bordeaux barrels, stacked eight feet high along the walls.
The effect is one which blends the urbane with the rustic, the vintage with the contemporary… and it's highly atmospheric, and perfect for more casual affairs with more than a touch of sophistication. The Barrel Project also boasts a food prep area and fully stocked bar, meaning your attendees are sure to find plenty to enjoy!
Capacity: up to 150 guests
Best for: parties, receptions, conference workshops
What makes it unique: the warm lighting and backdrop of wine barrels create a fascinating atmosphere, perfect for quirky events looking to make a positive impression.
With its fantastic central riverside location next to Blackfriars station, Bankside Vaults has become a hub for those looking for underground venues in London that pack in some serious character and ambiance.
Gritty, urban and effortlessly cool, this massive subterranean space built into four interlinking arches is the ultimate blank canvas – it has the versatility and full tech setup required to become pretty much anything you desire.
Capacity: up to 2000 guests
Best for: large-scale parties, fashion shows, corporate networking events
What makes it unique: this vast underground space boasts several distinct rooms and zones, meaning you can truly flex your creative muscles when it comes to events organizing!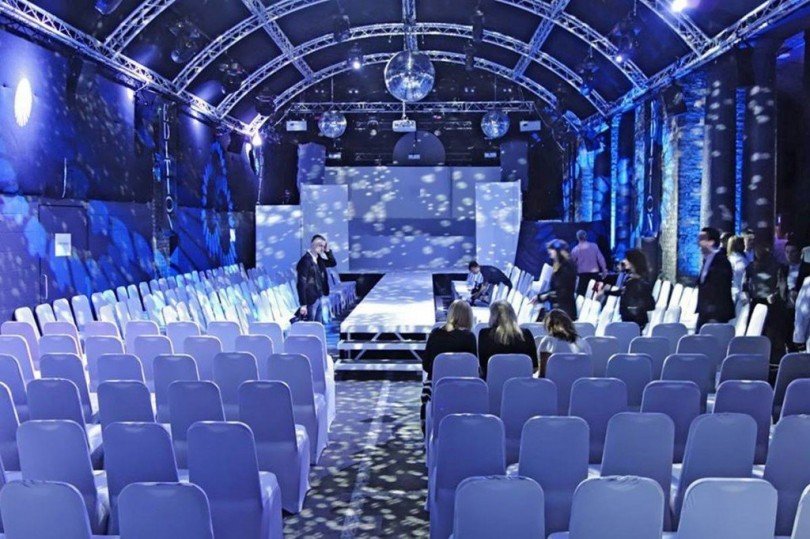 London's Tobacco Dock is a huge multifunctional venue, housed in a former tobacco storage facility that once received shipments from all across the empire.
Today, its massive underground vault is one of the hippest venues in the city, perfect for a range of different functions and offering ambiance and atmosphere by the ship-full. With stunning brick and timber interiors throughout, Tobacco Dock has the versatility to handle all manner of events, and even features enormous outdoor areas to add contrast to the vaults below.
Capacity: up to 3000 guests
Best for: launches, conferences, and exhibitions
What makes it unique: with its huge underground vault, this is a truly atmospheric and historic venue sure to blow your guests away.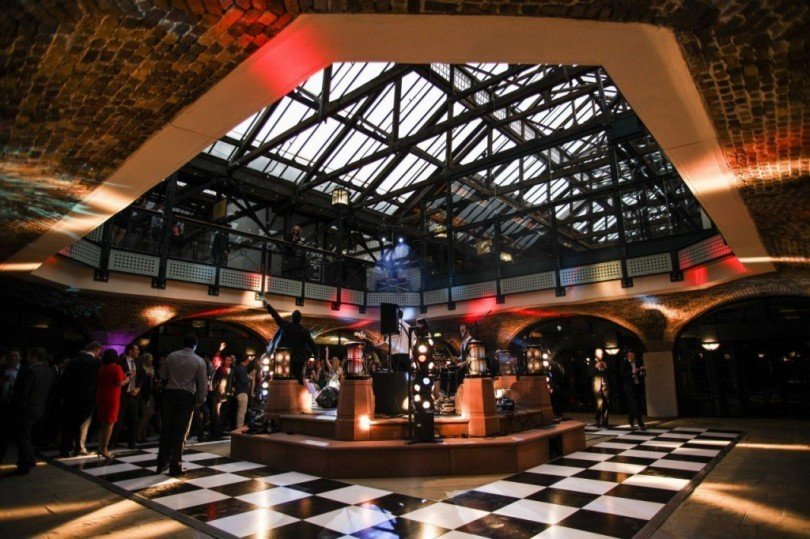 With its vaulted brick arches, cavernous indoor spaces and stunning Victorian atrium, Village Underground fully deserves its reputation as one of London's hippest underground venues. Many of the original features of this Victoria warehouse are still intact, meaning your guests can get a real sense of the history of this astounding building.
However, this is no dusty museum venue – a dramatic refurb a few years ago means it is fully kitted out to handle all manner of contemporary events, giving you an amazingly characterful blank canvas to play with.
Capacity: up to 400 guests
Best for: edgy, quirky events with an urban vibe
What makes it unique: a vast Victorian warehouse with truly impressive interior spaces, this venue has bags of character and unusual features, making it ideal for a wide array of events.
We're going deeper underground
Underground London venues allow you to turn up the atmosphere of your events, offering your attendees a genuinely urban vibe they simply couldn't find anywhere else. Historic yet modern, mysterious yet versatile, they've got everything you could possibly need for truly unforgettable functions of all types.
We love exploring the hidden corners of London and uncovering atmospheric underground venues that are perfect for our clients' needs and requirements. All of these venues and more besides can be found and hired via Venueseeker, London's leading events management site. Venueseeker is your one-stop shop for everything your event could possibly need!