The best awards ceremonies all have one thing in common: a great awards ceremony venue. London is home to a number of exclusive awards ceremony venues, providing luxurious settings to celebrate the stars of your industry.
If you're planning awards ceremonies this year and are looking for advice on how to make the most of your awards event, our venue finding experts are here to help. Get in touch with us to find out all about our London awards ceremony venues. Our team will be able to suggest the best venues for your UK awards ceremonies.
When it comes to organising an awards ceremony, the setting is of the utmost importance.
The ideal awards ceremony space must consider location, set-up time, space, lighting, projection and value for money. The best awards ceremonies are always visually impressive, but they also utilise state-of-the-art production, sound and lighting to create show-stopping awards ceremonies.
The perfect awards ceremony venue will come complete with all the facilities you'll need to impress your guests and celebrate your award winners. However, if you're planning an awards ceremony at a venue which doesn't include production, you can always bring in your own London production agency.
How to throw a memorable awards ceremony in London
To ensure your awards ceremony is memorable, you'll need to exceed your guests' expectations from the very beginning. Creating a distinct first impression is key, so think about how your guests will enter the venue and the theming and décor you'll use to decorate your chosen awards ceremony venue.
Many of our top UK awards ceremony venues come complete with brilliant audio-visual equipment and the facilities to make the space your own using your chosen event production.
A few of our top awards ceremony venues in London
Regal London awards ceremony venue Banqueting House is a venue fit for a King. The vaulted Undercroft offers an atmospheric drinks space while the Main Hall upstairs promises surroundings like no other for the ultimate awards celebration.
Available for private hire for awards ceremonies, this highly acclaimed museum of art and design has a fantastic range of stunning spaces. The central Dome area offers an incredible setting for events for up to 700 people and boasts high ceilings, marble flooring and classical architecture.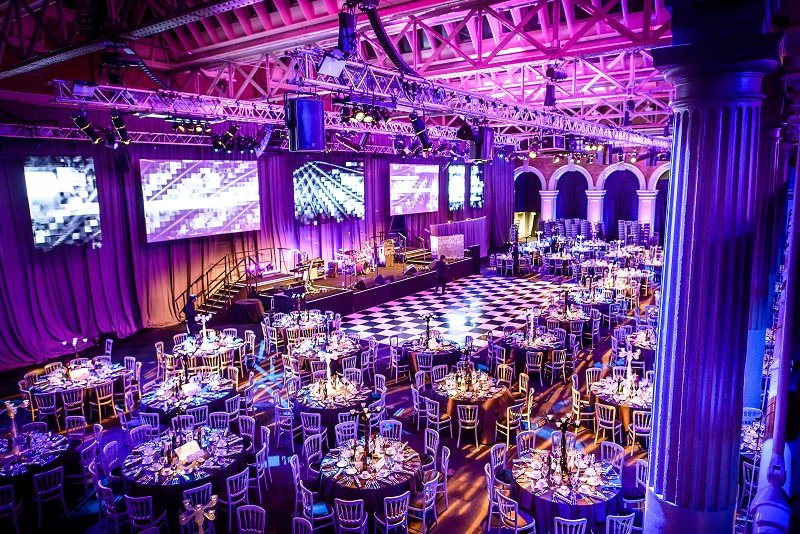 For an awards ceremony on an epic scale, you can't beat historic City venue Old Billingsgate. This venue overlooks the Thames and South Bank and offers fantastic space which can be completely transformed with event production, for awards ceremonies. Old Billingsgate is a versatile 7,800 sq m space fitted with state-of-the-art equipment for enhancing events. The venue's size and massive flexible space have made it one of the most popular event spaces for UK awards ceremonies.
Contact us to find your awards ceremony venue
To find out more about awards ceremony venues available to hire in London fill in our quick enquiry form with the details of your next event.