There are many things we look forward to when we attend various events. We all love the entertainment on offer, we can't get enough of exploring interesting and unique venues, not to mention hearing interesting speakers and attending well-organised workshops.
However, if pushed, we'd argue that there is always one feature which immediately shows that the event organiser means business, and is out to give their guests a real moment to remember. That's right; we're talking about dessert canapés.
In many ways, beautiful, sweet, delicately made dessert canapés encapsulate everything that is great about 21st century events.
Simple yet complex, small yet packed full of flavour, they make the complicated appear effortless, and instantly bring a smile to the faces of all who come across them. If that isn't a summary of a top-quality event, captured in delicate pastry, cream and fruit, we don't know what is.
A sweet world of opportunity
As with many things, however, the world of dessert canapés is one dictated by the whims of fashion. It isn't enough anymore to simply hand around a tray of fairy cakes or supermarket standard eclairs – to do so would very much send out the wrong message.
A great canapé is one which shows that you're on top of the latest trends in catering, and are willing to put in the effort, time, and funds to present your guests with something truly special.
There's a huge amount of flexibility when it comes to the types of dessert canapés you wish to serve. There's also plenty of scope to blend them into your event's branding, too – if you have a colour scheme set up for your event, it's easy to incorporate that into your sweet treats.
If your event has a national or seasonal theme, that too can be kept in mind when you're swapping ideas with your pastry chef for the big day.
We've been to more than our fair share of events, and we've probably eaten more than our fair share of canapés over the years as well. As such, we thought it would be a good idea to share with you some of the most successful, on-trend and delicious canapés we've come across – all of which you could think about bringing to your next event.
Strawberry Bites with Mascarpone
Best for: outdoor summer events
Who doesn't love strawberries? They're the quintessential taste of an English summer, and they quite simply never, ever go out of fashion.
These delicious bitesize treats revel in the freshness and juiciness of English strawberries, and while these tasty red fruits are nowadays available all year round, you simply can't beat them when they're British, fresh, and in season.
This dessert canapé involves topping a small square of buttery puff pastry with a hearty dollop of fresh mascarpone, and placing half a fresh strawberry on top.
For a modern, gastro edge, and to heighten the natural flavours of the berries and cream even further, they are drizzled with a touch of balsamic vinegar, and scattered with zingy garden mint. Utterly delicious, simple and effective, and sure to delight with every bite.
Mini Key Lime Pies
Best for: fashion-based events, meetings
The key lime pie is a real retro favourite, and the type of dessert we all look forward to at the end of a hard day. Whoever came up with the idea of creating a key lime pie dessert canapé was nothing short of a genius, as the fresh and zesty flavours of this sweet treat work perfectly as a mouthful of summery, exotic, fresh flavours.
Not too sweet, light as a feather, and decidedly moreish, serving these canapés at your next event is sure to raise plenty of appreciative smiles.
What's more, there's something wonderfully photogenic about these canapés. The crushed biscuit base, cream cheese centre, and topping of piped cream and a lime wedge is perfect for snap-happy guests, who'll no doubt love posting photos of their new favourite treat all over social media – #yum!
Mini Nutella Cheesecakes
Best for: autumn and winter mid-morning breaks, conferences
When the flavours are right, you don't need to do anything truly complex in order to make a massive impact. This dessert canapé is deceptively simple to make, but ticks every single box when it comes to sheer deliciousness and sophistication. Chocolate-hazelnut spread, cream, and a handful of crushed nuts… what's not to like?
Because of the flavours of these delightful bitesize desserts, they'd be absolutely perfect served alongside some quality espresso coffee. As a result, we'd love to see them passed around during a coffee break between keynote speeches at a conference… although, we couldn't possibly say no to such a treat at any time of day!
Macarons
Best for: launches, branded events
Make no mistake, macarons – those delicious, French, bitesize treats made from almonds and filled with cream – are very much en vogue at the moment.
Hitting just the right balance between sugary sweetness and a that delightfully subtle nutty bitterness, they're perfect for nibbling at alongside a wide variety of drinks. What's more, macarons can be filled with your choice of filling – jams, creams, ganaches… the list is endless.
The great thing about macarons for event organisers, though, is that they're very easy to create in branded colours. Using food dyes or other natural colourants, chefs can make these dessert canapés fit in with an event's branded colour scheme, meaning they'll make an even bigger impact on a platter.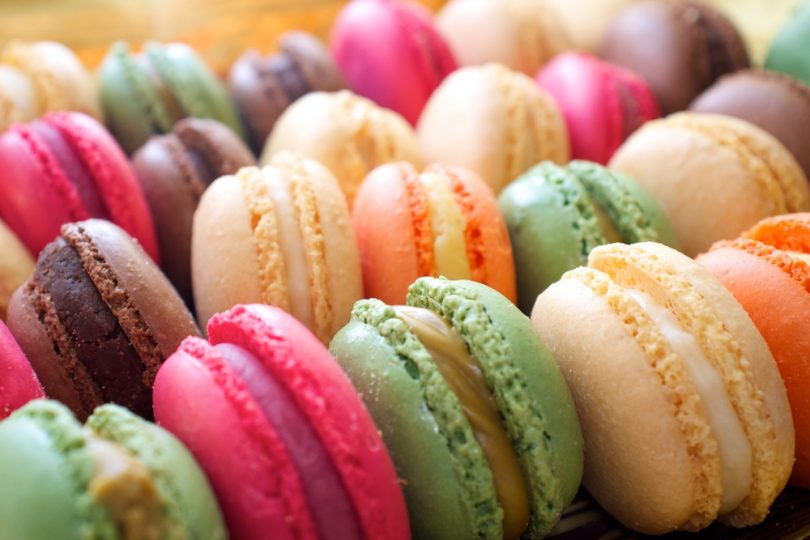 Lemon Meringue Tartlets
The secret to wowing your guests with a dessert canapé is often a simple one: take a classic, family favourite dessert which everyone knows and loves, shrink it down into a bitesize treat, and add a few fancy, contemporary twists. Voila! You end up with a trendy canapé that's capable of really hitting the high notes.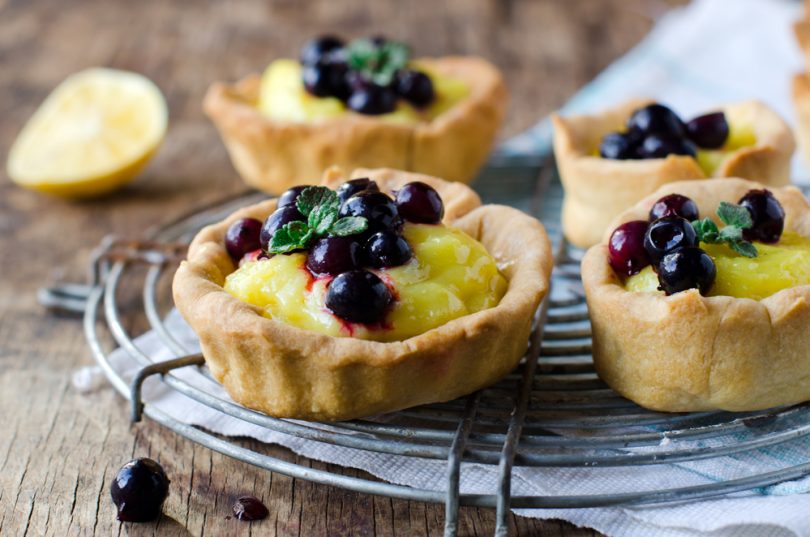 That's surely the thinking behind these delicious lemon meringue tartlets; they take the essential flavours and components of the timeless lemon meringue pie, and transform it into something delicate, elegant, and utterly irresistible.
Baklava
Best for: international events, coffee mornings
Long before dessert canapés were in fashion in the UK, the Turks and Persians had perfected the art of the syrupy, sweet, delicate treat to nibble at while enjoy a dark and intense cup of coffee.
Baklava has been a middle eastern favourite for centuries, and to bring this type of canapé out at an event is to make a bold statement: you're internationalists, you're modern and savvy, and have no problem blending tradition with contemporary trends… so long as it all tastes fantastic.
Floral Petit Fours
Best for: trendy, modern events with a vintage twist
Petit Fours are surely everybody's favourite dessert canapés. They have a suaveness and sophistication about them that puts you in mind of French patisseries and soirees, and there are a vast number of different petit fours to choose from, each as delicious as the last.
We think that floral petit fours really capture the scene at the moment; edible flowers not only look great, they taste great, too. What's more, they really epitomise the whole retro vibe that so many events are going for right now – cool, beautiful, and undeniably delicious!
Dessert Canapés: Taking Event Catering to the Next Level
There are many different ways to wow your attendees at your next event, but it must be said, we're especially fond of the impact a great platter of dessert canapés can make.
They truly add value and sophistication to everything from launches and conferences, parties, receptions and everything in between, and heighten the atmosphere with appreciative sighs of bliss from your gathered guests.
If you'd like to find out more about events services, Venueseeker are at the top of their game when it comes to organising everything from intimate dinners to vast conferences. Working with Create – our catering partners – we've no doubt we can put together something truly spectacular for your next event.