Every great event organiser needs an arsenal of effective tools to do their job properly. Luckily, the 21st century has brought with it a wealth of fantastic event management software, which is helping to transform once-complicated tasks into a breeze with the touch of a button.
By selecting the best event management tools, registration and various administrations tasks can go from being a headache to an enjoyable, efficient and simple process.
However, with so many options on the market, it can be difficult for even seasoned tech-savvy event organisers to know which ones to opt for.
As always, we've done the hard work for you, and we're more than happy to share our findings with you all.
If you're interested in discovering the best events management software for yourself, check out our recommendations and top tips below!
If you're looking for a one-stop shop for your events management needs, then Azavista is one of the best places to start.
This events management software has been designed to take care of all your business meeting, conference and other event needs, and it packs in plenty of fantastic features.
The user friendly platform that Azavista provides can handle registration, email marketing, budgeting, supplier procurement and a whole lot more, and has been specifically designed to ease the stresses of events managers worldwide!
Pros: The Azavista team has a great reputation for helping events managers out of tricky situations, and the user-friendliness of this software is second to none. Once up and running, it works fantastically and covers a huge amount of ground.
Cons: Azavista does take some real time and concentration to set up, but once that's done, it's extremely easy to use. Some users find some of the formatting commands a little on the complicated side, too.
Out of all the best events management software on the market, our clients and contacts claim that Cvent comes out near the top of the list every single time.
The reasons for this are many; its integrated platform allows users to quickly and efficiently find superb venues, and complete complex tasks such as online event registration and setting up mobile app technology.
Cvent is an excellent tool for measuring the impact an event had on social media as well.
Pros: Event managers find this software highly flexible and efficient, and it has plenty of scope for customisation, too. On top of this, their support team receives highly positive reviews from many of its 183,000 active users!
Cons: The main issue many users have with Cvent are to do with the way the program has been structured. In order to use the site effectively, it seems you often have to take the 'long way round' and defy logic to get to where you need to go.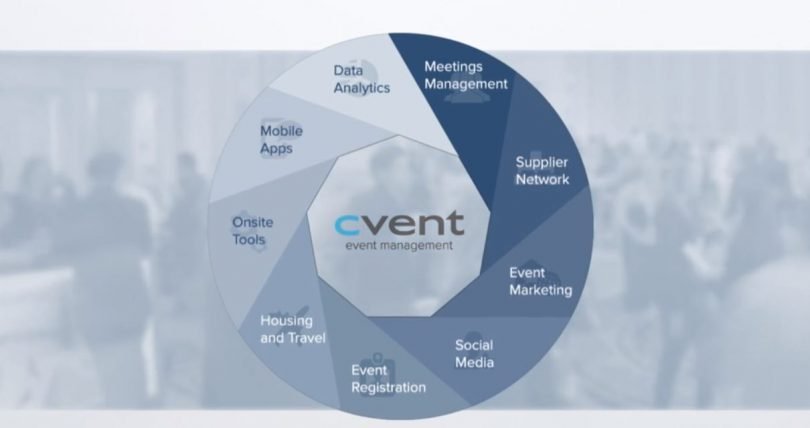 If you need help with ticketing (and what event manager doesn't?) then Weemss is one of the best event management software tools out there.
Unlike many platforms, Weemss is deeply specialised in ticketing and providing everything you need to run an efficient ticket system.
Whether you're selling tickets, arranging priority seating or handling check-ins, this software is about as good as it gets.
Pros: Fans of Weemss love the fact it is a very straightforward and user friendly platform. It's also praised for its affordability and its unique awards management features.
Cons: The main issues event managers seem to have with Weemss are the fact that it does not yet have a mobile app, and the notifications from the site come through on a daily basis, instead of as and when they arise.
Eventleaf is another piece of event management software which is highly popular among the event organising community.
It presents itself as a platform which combines practicality with beauty in design, and allows users to create smart, attractive events websites and deal with all of their event management tasks.
Eventleaf can register attendees online, design and print event badges (and more complex RFID badges), promote your event via social media, and compile, send and track invitations.
Pros: The main selling point of Eventleaf is that it takes several different pieces of software and brings them all together in one simple, manageable set of programs. It's designed to relieve the stress of tracking all those different threads of an event, and allow you to take full control of every aspect.
Cons: The only common criticism of Eventleaf is that the interface at first appears complicated and overwhelming. However, most users find that once they've navigated the platform, everything becomes crystal clear.
Managing and tracking online registration is one of the biggest annoyances for event organisers everywhere. Bookeo is a specialised piece of software designed to handle all of your online registration needs.
Whether you're organising classes, clubs, or large-scale events, Bookeo enables you to take real-time bookings and payments with ease. It's also ideal for dealing with staff rotas, booking changes and cancellations.
Pros: There's great praise out there for Bookeo's customer management section, and the customer support which comes with this software has helped countless customers in their hour of need!
Cons: While the customer support is roundly praised when it comes to Bookeo, the fees involved for their set-up service are not. The lack of a calendar view on the platform also causes a few grumbles among users, too.
As open-source event management software goes, Eventbrite is a clear leader in its field.
For organising all manner of events, and creating simple, straightforward registration systems, it has gathered thousands of fans across the country.
Customizable, mobile-optimized and user-friendly, Eventbrite is a highly flexible open-source tool which has helped many events get off the ground.
Pros: If your event is free, then Eventbrite is free to use. It's also very adaptable, and has great accessibility from mobile devices.
Cons: The processing fees associated with Eventbrite can quickly add up. If your event is not free, you'll have to pay 2.5% of the ticket price, plus a £0.99 processing fee for every ticket sold.
Event Espresso Lite is a WordPress-based event management tool, which allows you to list events and manage attendees, as well as organise a payments page and send confirmation emails to your attendees.
Simple, straightforward and easy to use, it's unsurprising that this open-source option has quickly gained fans – especially among those just setting out in the events industry.
Pros: This online platform is very straightforward and does what it does very well. So long as you're experienced with WordPress, you should have no problem with this site.
Cons: If you don't know your way around a WordPress platform, then the chances are you're in for a fairly steep learning curve. On top of this, Event Espresso Lite is, well, a bit 'lite' on features and functions.
Stress-Free Organising For Efficient Events
We could all benefit from the best event management software when it comes to organising everything from launches to conferences, and from parties to club nights.
It's always worth looking at the different options out there, as you never know what you might have been missing until now.
Maybe that task you've always struggled with can be handled in seconds by a well-made piece of computer software after all!
At Venueseeker, we're always keen to help event organisers make their job even easier. With so many years in the industry, we have the skills that can help any event go off without a hitch.
We hope you've enjoyed reading our recommendations.
Now it's your turn: have you used any other pieces of event management software you'd like to give the thumbs-up to? Let us know in the comments!