Venueseeker is a FREE venue finding service. Our team of venue experts are on hand to help you source the perfect space for your event. Take a look through our venues to choose your space or submit an enquiry and let us do the hard work for you.
Venue capacity:
Min: 10

/

Max: 400
The extraordinary and unique Old Billingsgate makes a show-stopping backdrop for special events.
Venue capacity:
Min: 10

/

Max: 200
Billingsgate Vaults is to host a festival of colour in Christmas 2014, as it plays host to The Colour Lab.
Venue capacity:
Min: 100

/

Max: 400
OXO2 is a chic, contemporary space offering spectacular panoramic views across the River Thames.
– London SE1 9DT, United Kingdom
Venue capacity:
Min: 10

/

Max: 450
From the informal and intimate to the spectacular and glamourous, Swan, Shakespeare's Globe has a range of truly unique spaces, whether you're planning a private party, wedding or corporate event.
– Portsmouth Road, Cobham, Surrey, KT11 1JE
Venue capacity:
Min: 8

/

Max: 320
The Conservatory at Painshill is a stunning venue suitable for conferences, team building days and Christmas parties.
– 10 Lower Richmond Road Putney London SW15 1JN
Venue capacity:
Min: 100

/

Max: 150
Winchester House is a spacious private members club on the banks of the Thames, a stone's throw from Putney Bridge.
– Chiswell St, London EC1Y 4TW, UK
Venue capacity:
Min: 150

/

Max: 2400
This fantastic City space is set to wow guests as they discover the ultimate winter and summer space.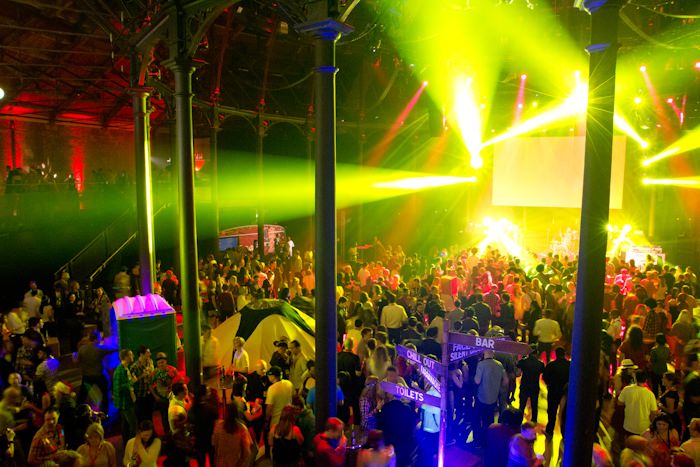 Venue capacity:
Min: 50

/

Max: 1800
The Roundhouse has a large space, ideal for parties, concerts and conferences and also a small space perfect for meetings, presentations or balcony barbecues.
Venue capacity:
Min: 300

/

Max: 1200
The magnificent Pavilion at the Tower of London is ideal for lavish awards ceremonies, balls, charity events, corporate occasions and summer parties.
Venue capacity:
Min: 150

/

Max: 800
Old Billingsgate Vaults is a quirky underground den with an unbeatable atmosphere.
Other Spaces That May Pique Your Interest...
Venue capacity
Min: 10
Max: 300
This East London basement is a regular feature in music videos, appearing in videos by Cheryl Cole, London Grammar and Mary J Blige. The ex-industrial space is raw, rustic and fully adaptable to any branding or theming you require.
Venue capacity
Min: 10
Max: 300
This is a 2600 sq ft photography and film location space in a converted former textile factory that oozes character and charm. Comprising an open plan main space with numerous alcoves, different shooting areas and textured backgrounds, the space has been stripped back to original aged brickwork, a peeling paint wooden ceiling and distressed with aged wooden flooring.
The space has an abundance of natural light with large windows running around two thirds of the perimeter. There's a large prop selection that is being constantly updated with items ranging from chesterfield sofas to vintage signage and old oil pumps to cinema chairs. Separate from the main studio there is a kitchen area, a green room, a makeup room, change room and three toilets.