It's that time of the year again; time to plan your company conference. But where to host it?
Here at Venueseeker we know that when you are looking at conference venues in London, there can be just too many to choose from and it can be difficult to choose a venue that has everything you are looking for, yet is also unique.
We know that choosing the right venue can make or break an event, so if you are looking for unique venues that are sure to be a hit with your attendees, take a look at our list of large conference venues and get inspired.
Activities: Presentations, conferences, partie
The Building 6 at the O2 is a highly flexible space located in one of London's most recognisable venues. This venue is an ideal choice for a conference because of its reputation as one of the best multi-functional venues that London has to offer.
With the opportunity to add additional spaces and the use of great technological equipment, we know that this venue will suit large conferences down to the ground.
Make use of the projection facilities to make the space truly your own and customise it as well, by adding additional rooms to make green rooms.
One of our favourite things about this venue is the possible use of the additional terrace space, where your guests can relax with a drink and network with breathtaking views of the London skyline in the background.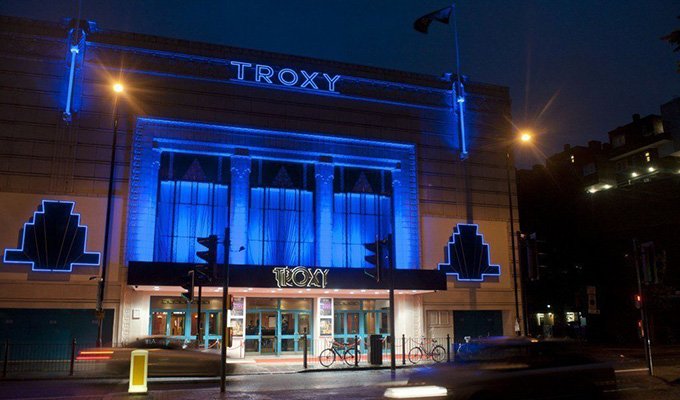 Activities: Fashion shows, Conferences, Screenings
This vast venue is a perfect choice for anyone looking for large conference venues in London. We love this venue because of the old Hollywood glamour that it has retained since its opening in 1933. The Troxy is ideally located between the City and Canary Wharf and is a truly unique venue.
With a great bright and open space, you can take advantage of the built in stage and split levels for talks or presentations. Whilst this cinema has been around for a long time, it has recently been restored and will make for the most unique of locations for conferences in London.
Activities: Dinner, Reception, Conference
A building that started its life a long time ago as a fish market, Old Billingsgate is a venue steeped in history. One of our favourite things about this venue is its fantastic riverbank location, which offers great views over some of London's most iconic landmarks and of course, scenic views of the River Thames.
This venue offers flexible spaces that can be transformed to fit your branding perfectly.
If you are looking for a great location for a summer conference, Old Billingsgate is one of the best large conference venues around for summer events.
Make use of the grand and spacious terrace for breakout sessions or even a post conference networking BBQ.
Activities: Conferences, Banquets, Receptions
As one of the best and most well-known London venues with a huge capacity, Alexandra Palace allows you to host the large conference that you've always wanted.
This Victorian style Grade II listed building has excellent transport links to central London as well as a wealth of parking spaces, which are ideal if you are welcoming guests from all over the country.
Our event planners love that this venue is a great way to get out of the hustle and bustle of central London whilst still having a well-connected venue.
We recommend making use of the stunning palm court as a reception area or networking space. With lots of natural daylight in a great location, this venue is a beautiful setting for conferences.
Activities: Dinner, Receptions, Conferences
This Grade 1 listed venue was once the storage and receipt site for enormous volumes of tobacco delivered from the new world. Tobacco Dock is a 200-year-old brick and timber built warehouse that now functions as a unique conference and event space that is perfect for anyone searching for large conference venues.
There are a variety of spaces available, both indoor and outdoor, with this venue boasting its own private quayside.
We would highly recommend this venue if you have guests that will drive to your conference as the Tobacco Dock has parking spaces for over 800 cars.
Activities: Dinner, Conferences, Receptions, Product Launches
This unique venue is the home of the famous Farnborough FIVE Air show and is built on the historic site of the first sustained UK flight in 1908. Since 2008 it has been operating as a function venue and is a great blank canvas space for large conferences.
With ample parking facilities and easy access by car, this venue is ideal for those welcoming guests from all over the UK and even internationally.
Not only this, but the venue is also fully equipped. With high-spec audio-visual equipment, a kitchen and office facilities, we know that this venue is ready to host your ideal conference.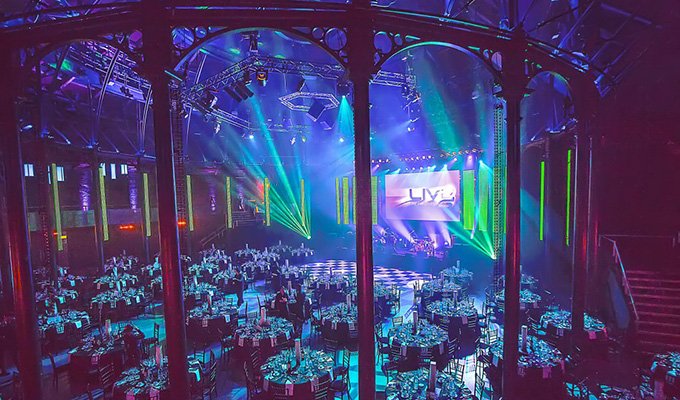 Activities: Conferences, Receptions, Parties
The Roundhouse is a truly Iconic London venue, a cultural landmark and a unique venue for your next conference. Located in Camden, this event space is adaptable and flexible, which is great if you are looking for a space that you can really make your own.

This venue also includes two bars, ideal for some post-conference networking.

If you are looking for a space for break-out meetings, there are lots of options, including one of our favourite parts of this venue, the fantastic roof terrace.


So there you have it, our favourite unique conference venues in London. We think that this great selection of venues is bound to have something for you if you are looking for a large conference venue to remember.

If you want some more information or you want to book one of these fantastic venues, don't hesitate to get in touch with us.