As the Christmas season is now upon us, what better way to celebrate this magnificent time than to ice skate in some of London's most iconic landmarks? Each ice rink has its own little twist to it and offers guests a unique experience – which one will you decide to go to?
Hampton Court Palace, KT8 9AU
November 20th 2015– January 3rd 2016
Well established for being one of Britain's most striking royal residences and a favourite of Henry VIII, Hampton Court Palace promises guests not only a brilliant time but also a lot of interesting historical knowledge. Located only 35 minutes away from London Waterloo, via train, it is a popular ice skating destination with thousands visiting each year. Hampton Court Palace is perfect for anyone, whatever their skating abilities – those who are not as nimble on the ice rink are promised help from an instructor. At the side of the ice rink there's an ice bar and café to finish the day off in.
Winter Wonderland Hyde Park, W2 2UH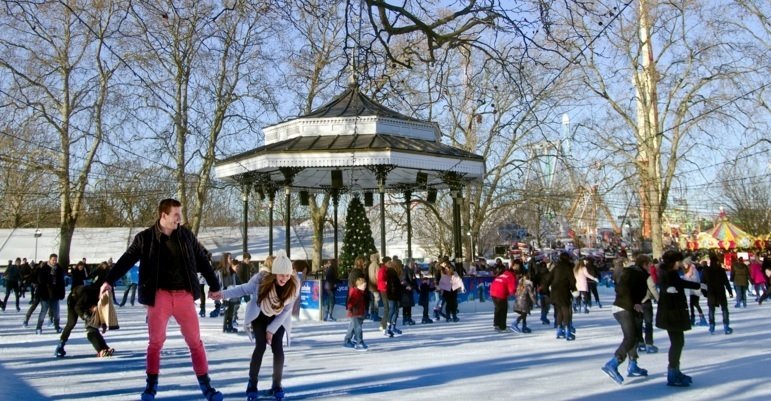 November 20th 2015– January 3rd 2016
Wonderland by name, wonderland by nature – this famous ice rink in Hyde Park is the perfect escape from everyday life; it encourages guests to become a part of the fairy tale that Winter Wonderland is. Brightened with 100,000 lights, with a Victorian bandstand located in the middle of the rink for live performances, it is also the perfect for family day out. Outside the ice rink there is a beautiful Christmas market, containing diverse food and drink from around the world, rides and even shopping opportunities.
Natural History Museum, SW7 5BD
October 29th 2015 – January 3rd  2016
You only need one look at the Natural History Museum to recognise its magnificence. This ice skating opportunity allows outsiders to become a part of its glory, against a mesmerising backdrop. Due to its high levels of popularity, the rink can become busy, however those with younger children should not feel wary of this, as a part of the rink is sectioned off for children only. Other attractions which should not be missed if guests are to attend the ice rink are the rink-side café and bar and the fairground carousel, also the Natural History Museum itself the V&A and the Science Museum are popular attractions.
Tower of London, EC3N 4AB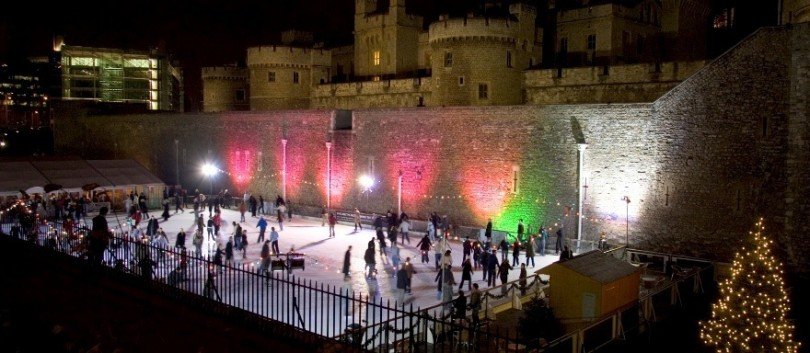 November 20th 2015 – January 3rd 2016
At 1,000 years old, The Tower of Londons is one of London's most famous and spectacular buildings, with incredible historic value attached to it. With last year's installation of red poppies to pay tribute to those who sadly died in the First World War, The Tower of London is one of the more moving locations to ice skate at and allows guests to be a part of its history. Christmas comes to life at The Tower of London with festive food and drink such as, hot chocolate, mulled wine and pies being offered out at the ice bar and café at the side of the rink.
The London Eye, SE1 7PB
December 1st 2015 – December 30th 2015
Underneath the beautiful iconic London Eye lays the 'Eyeskate' rink. It's the largest ever rink and definitely one to not miss. This family friendly rink let's kids go free and offers special tickets specifically for families. Skating sessions start every hour and last up to 45 minutes – giving guests a perfect amount of time to enjoy the rink. Once the skate is up, visitors are encouraged to visit the festivities taking place around the London Eye – from enjoying Christmassy cocktails to shopping at the German-style Christmas Market on the Southbank. Make your experience even better by combining ice skating with a trip around the London Eye itself.
Somerset House, WC2R 1LA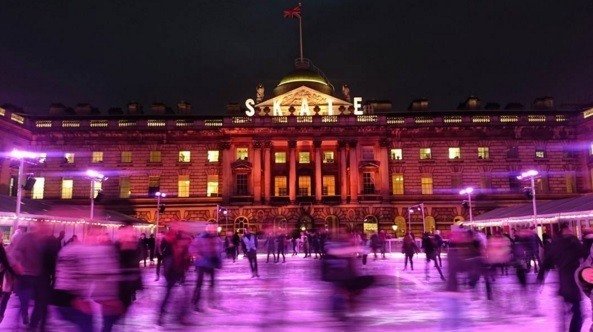 November 18th 2015– January 10th 2016
Somerset House's magnificent courtyard is right in the heart of London. In the summer time it displays a show of 55 fountains, but come winter it offers an ice skating experience to remember. Guests are invited to skate both in the day and at night, however skating at night time is a very different experience, with DJs from the best international festivals and record labels taking over and performing live to skaters.
Skating and live music isn't all that Somerset House offers, visitors are also encouraged to enhance their stay with 'skate extras', which include champagne and chocolate truffles, wine and fondue for two, or champagne and smoked salmon blinis – all which are served in the on-site Fortnum's Lodge.