Why settle for anything less than extraordinary when it comes to choosing a venue for your next event? Our themed venues London will leave your guests and attendees open-mouthed as they look around, explore, and enjoy themselves in these remarkable spaces.
Themed venues have been very much on the rise in recent years, as events attendees increasingly demand more spectacle from the spaces they visit.
Whether the theme is specific to one evening only (and there are dozens of amazing themed venues which offer a 'blank canvas' onto which you can project your wildest ambitions), or the entire venue is decorated up to the nines with thematic adornment, there's a massive range to choose from.
At Venueseeker, we absolutely love themed venues in London. There's something so special about going all-out with decorative features, menus, lighting, furnishing and much, much more, and providing guests with a truly immersive and memorable experience.
That's why we've compiled some of our absolute favourite themed venues here for you to browse through, and maybe consider for your next barnstorming happening right here in the capital.
---
Transport your attendees back in time to a period of Edwardian glamour and relaxed, outdoor pursuits. Skylight London is one of the capital's most beautiful and impressive new venues, and is themed a vintage lawn club – here, your guests will have the chance to relax under the summer sunshine with a cooling glass of gin and tonic, or get up and partake in a game of croquet or petanque.
It's a truly remarkable reimagining of an urban space, and one which is ideal for a wide range of events.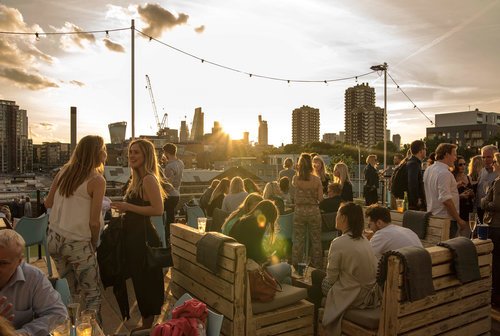 Capacity: n/a
Best for: relaxed social events, receptions.
What makes it unique: Who'd have thought such an amazing space could be created from a former city car park? The design team have done a remarkable job with Skylight London, transforming an eyesore into one of the city's most elegant events venues. The rooftop bar and games areas are fast becoming London institutions, and rightly so – this space is absolutely gorgeous at any time of year!
---
Funky, retro, and fun – those are the three words which immediately spring to mind when stepping into Pitch Stratford, a themed venue in London which slots perfectly into East London's current obsession with 80s and 90s stylings.
It's a daring and colourful outdoor space which offers plenty to keep your guests entertained, and it boasts everything from on-trend street food to an open air cinema, all packaged in vibrant tones and cool, retro fittings that never fail to crack a nostalgic smile.
Capacity: n/a
Best for: Youthful, funky events, product launches, outdoor receptions
What makes it unique: With its feel-good vibes and chilled out social areas, Pitch Stratford is pitch-perfect for a modern East London venue. The food on offer (which includes handmade Italian and Greek street food) is gaining a reputation for being among the best on this side of the city, too!
---
This legendary waxwork museum has long since been a must-visit part of the London tourist trail, and offers plenty of amazing chances to get up-close-and-personal with eerily authentic effigies of the rich and famous.
However, there's so much more to this unique museum than the models on display; it's also proving itself to be an amazing themed venue in London that's perfect for a wide range of functions. With 5 themed spaces on offer, this is a glamorous and exciting venue that your guests and attendees will simply adore!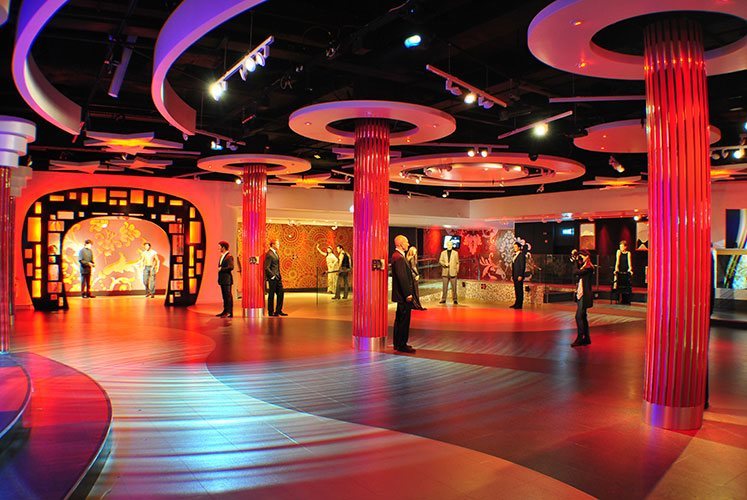 Capacity: up to 1,500
Best for: Large scale events, launches, conferences
What makes it unique: Madame Tussaud's is a venue with amazing versatility. Moveable walls and impressive interior spaces make large functions seamless and fun, and the Hollywood themed decor is perfect for glitzy affairs that will never be forgotten.
What's more, it's completely kitted out with the latest and greatest plasma screens and audiovisual gear, meaning this venue really has to be seen to be believed!
---
The Magic Circle
Do you want to offer your guests and attendees a truly remarkable experience, which is filled with mystery and child-like wonder? If so, then the headquarters of the secretive Magic Circle is the themed venue in London for you.
From the moment your guests enter, they'll be left open-mouthed in amazement at the curios on display (which include a miraculous 'floating' staircase), and they'll waste no time poking around the beautiful rooms which hold wonders of their own.
Unique, unforgettable, and imbued with a sense of the miraculous, this is one themed venue that will surely make a huge impact.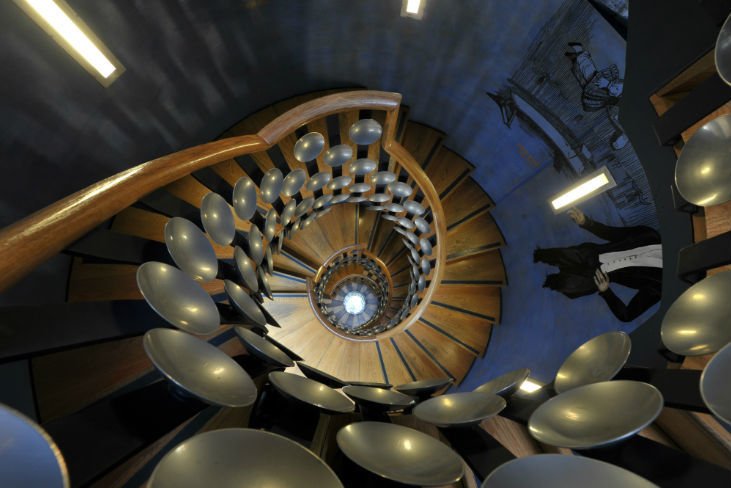 Capacity: up to 100 guests
Best for: stylish receptions, meetings, launches
What makes it unique: There aren't many venues in London which can claim to be quite as unique as The Magic Circle. Each room has its own character and style, and boasts plenty of artefacts from the history of showmanship and magic.
What's more, the central location makes this most secretive of venues (ironically) quite easy for your attendees to find!
---
Who could fail to go wild for this jungle-themed London venue, which is as charming as it is beguiling, as childlike as it is immersive?
Situated in the beating heart of London that is Piccadilly Circus, the Rainforest Cafe has been styled as an interior tropical landscape, complete with life-size animal replicas, dense foliage, tropical fish tanks, and even indoor waterfalls!
It's an incredible place to hold an event, and the perfect setting in which to completely forget the fact that you're actually in one of the world's busiest metropolises.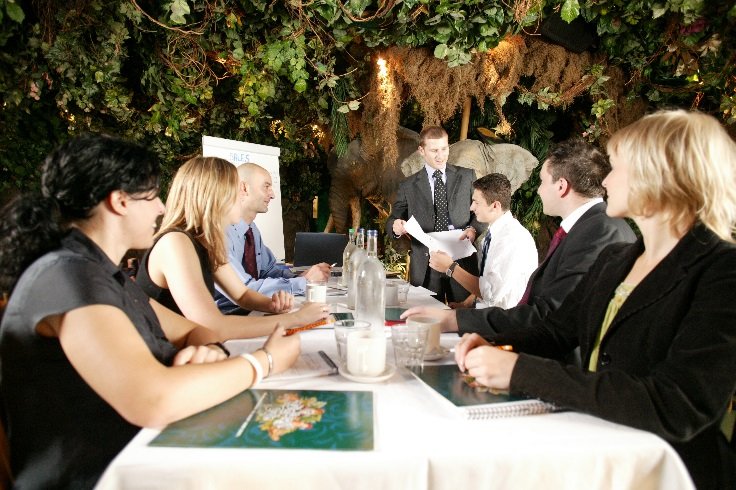 Capacity: up to 650 guests
Best for: Awards ceremonies, AGMs, receptions
What makes it unique: This themed venue has 'unique' printed all over it. Where else in London could you enjoy a cocktail next to a crocodile, or pick at vol-au-vents while looking at models of gorillas and orangutans?
The sense of fun at this venue is underpinned by a serious message, though: it's partnered with the World Land Trust, whose charitable mission is to save the precious rainforests of the world for future generations.
---
The Cuckoo Club
With its decadent interiors, incredible lighting, and plush, relaxing, utterly luxurious vibe, The Cuckoo Club on London's iconic Regent's Street is a venue which is quickly gaining a reputation as one of the finest in the city. As a themed venue, The Cuckoo Club absolutely excels.
Every detail is bespoke, boutique, and undeniably glamorous, and makes for an impressive space which sits somewhere between vintage charm and state-of-the-art perfection.
Capacity: up to 450 guests
Best for: chic, elegant events, VIP receptions, launches
What makes it unique: the main unique point of the Cuckoo Club is the sense that not the tiniest detail has been overlooked. From the moody, sophisticated lighting to the high-end furnishings, spending an evening in this remarkable space is something to truly remember and cherish.
With a sound system said to be among the best in the world, this is a venue which really has the potential to make your event go off with a real bang!
---
Generator
London is famed around the world for the fact that there are so many event spaces which have beautifully repurposed old buildings, and have made them into something vibrant, happening, hip, and utterly irresistible. Generator is a great example of this concept, having been made from an old police training barracks into one of central London's most vibrant venues. Situated close to Kings Cross St Pancras and Russell Square stations, this events space is as accessible as it is on-trend, and there's no doubt your guests will fall in love with it at first sight.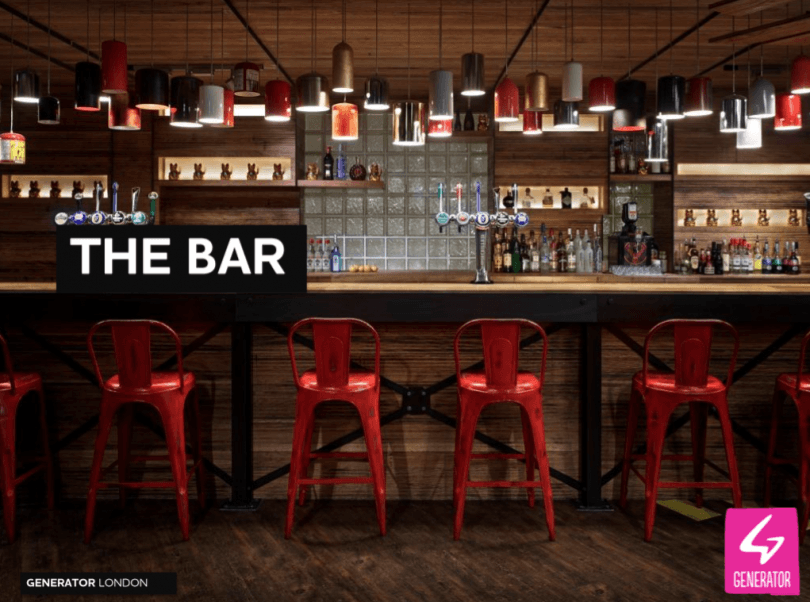 Capacity: up to 200 guests
Best for: launches, receptions, AGMs, parties
What makes it unique: The laid-back, urban vibe of Generator is a thrill to behold, and there's no doubt that your guests will have a fantastic time relaxing in this refurbished police barracks while enjoying some of London's finest craft beers. With amazing projection facilities and surround sound, it's a top-notch party space, and ideal for presentations, too.
---
Themed Venues London: Make Your Event Extraordinary
With the themed venues London on our books, you can really pump up the unique factors of your next event, and organise something which goes above and beyond the ordinary.
The interiors and thematic spaces on offer are purpose-built to add a wow-factor to conferences, parties, and so much more, and we're confident your attendees will find plenty to rave about on social media thanks to these incredible venues.
At Venueseeker, we just love it when a venue adds thematic features and decorations – it really adds a sense of celebration and fun to proceedings.
If you'd like to see more themed venues, or want to know a bit more about what we do as a first-class events company, don't hesitate to get in touch – we'd love to hear from you!