It can be pretty disheartening when you have a stack pile of unsold tickets just days prior to an event. However, no need to hang your head in defeat just yet. Even with only days left, you can still realistically sell all or most of your tickets. It all comes down to using the right selling strategies and convincing potential event goers why your conference is to die for.
The following methods outline the best way to sell tickets, thus ensuring that your event reaches its desired turnout. It will also give you a sense of pride and accomplishment knowing that your event has reached the ever so desired "sold out" status.
1. Avoid Having to Sell Last Minute Tickets
Having to sell tickets last minute is never a desirable situation, so prevention really is the main key. There are guidelines and takeaways for effectively selling tickets; if done right, you'll unlikely see yourself in such a dire situation. Follow these tricks-of-the-trades for ensuring generous ticket sales.
Early Bird Tickets
Whatever date you plan on putting the tickets for sale, establish an even earlier date – about one or two weeks prior – where consumers can get an early bird special. This can be a part of an exclusive-only offer for select members where they are guaranteed a ticket by buying early and well before the official ticket sale date. This can also include a discount off the regular retail price to make the special more enticing.
Know Who Your Customers Are
Selling conference tickets is no different than selling a product or service. You need to understand the people who make up your target demographic. You should have a clear understanding of their average age, where they live, their spending habits, social media tendencies, etc. By knowing the traits of your core audience, you can tailor the event and create sales ads that "click" with that particular demographic.
Use a "Deal of the Day" Approach
To sweeten the offer, you can incorporate a flash sales approach. This is a common marketing tactic used to increase sales. Basically, the way it works is that you offer a special deal for a 24-hour period. When the period passes, you can follow up with a new offer, which will again be available for the next 24-hours.
This approach is actually quite effective if used with the early bird method. At the first day of the early bird sale, for example, you can sell the ticket at 50% off. On day 2, reduce the discount to 40%, followed by 30% on the third day and so forth until the early bird promotion ends and you reach the beginning of the regular ticket sales day for the rest of the general public.
Some companies may be tempted to use the flash sales method for last minute ticket sales. Keep in mind, however, that this is not a good idea because if word gets out that you are giving discounts or other incentives to last minute purchasers, those who bought a ticket during the normal sales period at regular price are not going to be happy.
2. Google Adwords
If you need a strong last minute push and have a decent budget to spare, then consider advertising your ticket sales via Google Adwords. Hopefully, you have some pre-existing experience with ad and copywriting. You will need to come up with a simple yet appealing title with an equally persuasive ad text.
Here's a quick guideline for coming up with the keywords for the title:
Incorporate business niche; e.g. mobile marketing, real estate, malpractice insurance.
Incorporate the word "event," "conference," "expo," or other similar word
Incorporate event location
With these three points in mind, an effective, keyword-rich title example would be something like "London Mobile Marketing Expo."
You also need an effective meta description containing the same keywords and no more than 160 characters. Use strong command words and include the keywords as close to the beginning of the description as possible, such as in the example below:
Reserve your ticket for the London Mobile Marketing Expo. Tickets are going fast, so don't procrastinate and be left out.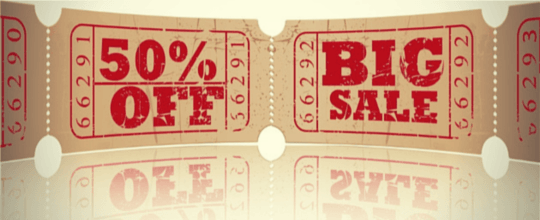 3. Spread the Word on Social Media
You should already be using social media to promote your conference, and if you haven't, then this may partly explain the dismal ticket sale numbers. Since sites like Facebook and Twitter are where you often converse with your followers, reach out to them for help.
Send posts encouraging followers to inform their own connections about your event. To make it worthwhile for them, offer an incentive for every referral that leads to a ticket sale. Perhaps you can offer a gift card or sweepstake entry, or if they have already purchased a ticket themselves, you can refund 10% to 20% of their money as a thank you for helping you out.
4. The Scarcity Tactic
People may be more inclined to buy a ticket if they were given the perception that tickets are going fast and could be sold out by the next day or two or even within a few hours. On your website or landing page, add a widget showing the number of tickets remaining and the countdown timer showing when sales will come to a close. The counter showing the number of tickets left can also drop as tickets are sold off in real time.
This method works because it gives customers the sense that they have to act now or else they will miss their opportunity. This could very will influence the decision of those who are still "on the fence" on whether to attend your conference or give it a pass.
Tickets Don't Sell Themselves
Learning how to sell conference tickets the right way will prevent a dilemma as the event nears and you still have a pile of tickets that need to be sold.
Of course, selling tickets is never a straightforward and predictable affair, and you may find yourself in this situation even if you did everything right. If so, not all is lost as it is still very possible to sell those last minute tickets that seemingly do not want to leave your side.