Whether you're looking for a cool and sophisticated party venue, somewhere to hold an exclusive underground launch event, or a bar in which to hold the kind of meetings that make a real impact, our secret bars in London are going to tick every single box.
Over the past decade or so, there's been an exciting new trend arising in the capital: the emergence (or re-emergence, perhaps) of the speakeasy bar. These secretive, shadowy venues conjure up images of hazy 1920's prohibition era drinking holes, and pack in more character and effortless cool than you can shake a stick at.
With their quirky decor, amazing array of drinks and snacks, and unique, underground vibe, these secret bars in London are so much more than just a fad – they're genuine treats that, once experienced, are never forgotten.
Here at Venueseeker, we try to stay on top of every new trend that comes along… and it's fair to say that the speakeasy secret bar has got to be one of our favourites.
As always, we've sought out some of the most outstanding venues for you to consider for your next event. With their amazing atmosphere and chic urbane layouts, we're sure that you're going to fall in love with these secret bars in London.
Read on to check out our selection!
---
When it comes to bars which really capture that mysterious atmosphere and prohibition-era vibe, this London venue really does hit the right spot. With its exposed brickwork, vintage-style drinks area, and mish-mash of vintage styles, it's the perfect place to spend an evening entertaining, or just soaking up the impeccable ambience.
In true speakeasy fashion, you won't find any signs above the door at this venue – it's tucked away between a chicken restaurant and a drycleaners, and to the casual observer, it's more or less completely unnoticeable.
Head down the staircase into the dimly lit underground area, however, and you'll find plenty of period features, black and white photographs, and candlelight. A real hidden gem, and one which definitely makes you feel like you're in the know.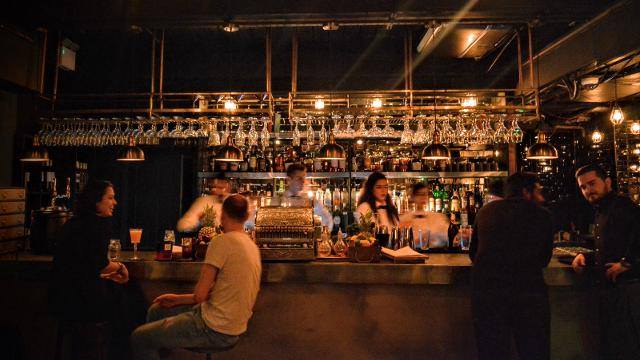 Capacity: Up to 80 guests
Best For:Sophisticated meetings, private parties, afterparties
What makes it unique:The hidden nature of this bar and its incredible vintage decor definitely ramp up the atmosphere. What's more, the cocktails served here are utterly to die for!
---
Situated in the heart of London's coolest district, this incredible venue transports you to bygone decades of Americana with its stunning period furnishings and retro vibe. The vintage US theme is ramped up with its striking cocktail bar and bowling lane, which is ideal for laid-back parties with colleagues or for an alternative twist on the classic reception venue.
Head up to the penthouse, however, and you're in for a real treat: here, you'll find private rooms, secret corners and exclusive areas, where you can sip on flawlessly mixed cocktails and listen to all your golden oldie favourites in absolute style.
Capacity: up to 130 guests
Best for: Quirky, alternative receptions, meetings, and parties
What makes it unique:It may be close to the centre of London, but stepping to All Star Lanes Brick Lane is like stepping into a different world entirely. No detail has been left out – the designers clearly put a huge amount of love and passion into this bar, and it really does show.
---
Want a bit of Victorian and Edwardian eccentric glamour for your next event or party? This top secret bar in London really ramps up the oddities and charming period features, from stuffed polar bears (yes, really) to luxurious chesterfield sofas, and pretty much everything in between.
A restaurant, a bar, a hidden nightclub, and even a whole floor of sumptuously decorated private rooms await those who step the hidden door, cleverly concealed behind the facade of a derelict East London pub. Truly spectacular!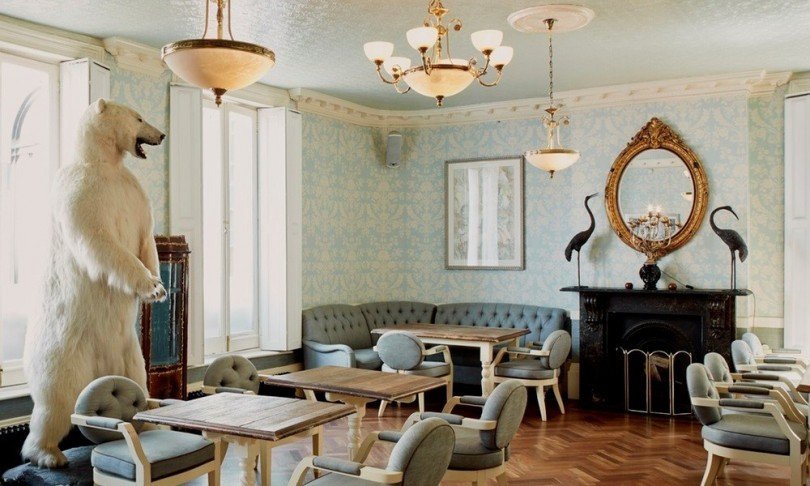 Capacity: n/a
Best for: Quirky and secretive events with a vintage feel
What makes it unique: What doesn't make this venue unique? It's almost like a museum to vintage curios, and a venue in which it is simply impossible to grow bored.
---
The Drury Club
If you're on the lookout for a secret bar in London which balances the hidden, underground speakeasy vibe that's so hot right now with a larger capacity, and the ability to host grander events, then The Drury Club is the one for you. Situated in the heart of Theatreland, The Drury Club manages to maintain its underground credentials thanks to its hidden entrance behind a medieval door.
Once you're inside, it's not unusual for guests to find themselves walking around open-mouthed – this place is seriously impressive in every sense of the word.
Everywhere you look inside this large underground venue, you'll find New York speakeasy motifs and designs, amazing ambient lighting, a fully equipped stage for live music, decadent seating… and much, much more.
Capacity: up to 300 guests
Best for: Larger-scale parties and events, product launches
What makes it unique:With its incredible location and utterly stunning decor, The Drury Club sits somewhere between being a cool Parisian hideaway and a classic New York speakeasy. With live music, a series of cocktail bars, an amazing wine list and some seriously beautiful rooms in which to relax, it's an unforgettable secret bar in London you'll doubtlessly fall in love with.
---
Want to enjoy your evening in one of London's most iconic underground secret venues? Beat walks the fine line between being a truly legendary bar, and an underground club known and loved only by those who seek it out.
Over the years, a veritable who's who of London alternative legends have drank and played in here (although back then it was called the Speakeasy Club) – the Sex Pistols, Deep Purple, Hawkwind, Jimi Hendrix, Pink Floyd, David Bowie… the list goes on and on.
Their spirit still can be felt in the unique vibe of this stunningly cool and hip venue, making it the perfect place for any music-oriented event you have in mind.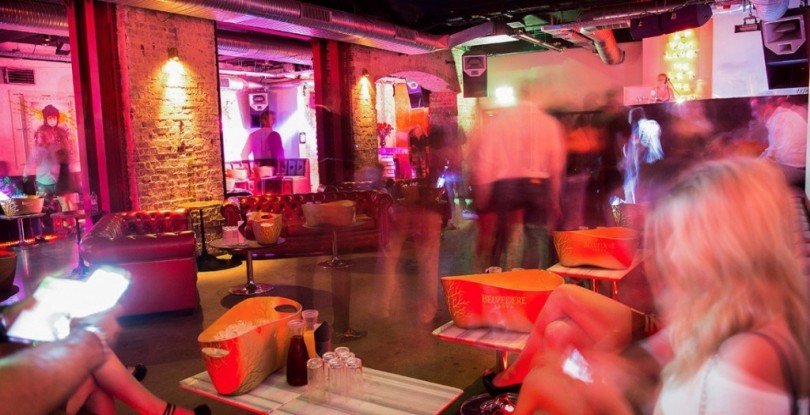 Capacity:up to 250 guests
Best for: Music and arts based events, parties
What makes it unique:Beat manages to keep the London punk flame alive, thanks to its rough 'n' ready decor and sense of urban cool. However, it's also the kind of place you can chill out, relax, and enjoy some well-made drinks and top music, too.
---
Step through the secret door (humorously disguised as a hot dog stand), and you'll be able to enter Kensington's coolest underground bar and eatery. Dirty Bones has gained a formidable reputation on the events scene as a result of its unique atmosphere and legendary catering, and it's a stylish, quirky underground den that's sure to put a smile on your guests' faces.
Capacity:up to 200 guests
Best for: Youthful, fun, and laid back dinners
What makes it unique: Whether you're looking for a venue for a dinner, somewhere to dance to retro tunes, or somewhere to hold a meeting or party, Dirty Bones is sure to impress. Versatile, fascinating, and buckets of fun, it's a secret bar in London you can't fail to adore.
---
A secret underground bar designed to resemble a Caribbean rum store? We'll have some of that, thank you very much! This hip and happening bar in one of London's coolest districts is creating some real buzz right now, although thankfully the masses haven't discovered it quite yet.
Accessible via a secret door in an art gallery, this venue transports you from the grey skies of London to the blue ones of Jamaica, and offers a whole lot of fun in the process.
Capacity: n/a
Best for: Laid back, artsy events, launches
What makes it unique:This venue has a shop upstairs which is often transformed into an events space, and there's no shortage of things to look at and fascinate once inside. A treasure trove of Caribbean treats, great lighting, a thumping sound system… it really has it all!
---
Secret London Bars To Take Your Breath Away
As mentioned, we're in love with this new trend for modern urban speakeasies. It really captures the independent spirit of London so very well, and ensures that an event in any of these venues really offers something quite unforgettable.
Venueseeker never stops seeking out the coolest and most interesting venues in London and elsewhere around the UK, and takes pride in organising the kind of events that put London on the map. As a top-notch venue manager and events company, we know how to make your next event go with a bang. Get in touch to find out more – we're waiting to hear from you!