Vegans, pizza lovers and hipsters across London have reason to celebrate as the UK's only fully vegan wood-fired pizzeria is coming to Camden. This jaunty brand has already taken Brighton by storm. Despite only opening in 2015, the owners are already branching out.
Its delectable pizza menu offers bases of sough dough, hemp flour or gluten-free. These are heaped with vegan 'mozzarella' – a unique blend of chickpeas, organic Italian brown rice and oil. This is finally a cheese you can gorge on guilt-free as it is half the calories and less fat than normal mozzarella, without compromising on taste. Just what's needed after Christmas!
This is served up with hearty doses of salads and raw delicacies. If you don't fancy a pizza, opt for pea-protein burgers, pasta or a bowl of courgetti. Finish off the meal with a sophisticated cashew-based cheese board or a vegan-friendly creme brulee.
This edgy new dining spot can seat up to 100 people across two floors and it is just a two-minute walk from Camden Town tube station, making it an ideal venue for dinners and drinks receptions. Veganism is becoming increasingly mainstream across the UK, and Purezza goes to great lengths to ensure their food is not just great because it's vegan, but delicious for meat eaters and omnivores alike.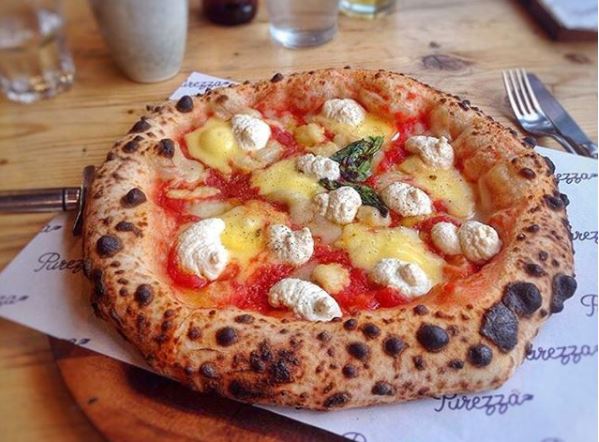 The bar boasts a decadent array of wine, cocktails and beers. For the more health conscious it also offers an array of soft drinks, with everything from green tea and diet coke to almond and oat cappuccinos. For those who can't decide between coffee and cocktails, Purezza makes life easy for you. There are Baileys lattes and pumpkin spiced rum lattes on offer in this plant-based paradise.
This vegan nirvana will be opening its doors in London in February 2018, giving meat-free foodies something to get them through the January blues.
Camden is fast becoming a hotspot for vegetarian cuisine, with V Burger, Young Vegans and Hash Green already established as firm favourites among Camden's restaurant goers.