Newport Street Gallery has announced the opening of Damien Hirst's new restaurant, Pharmacy 2, opened in collaboration with Mark Hix.
The new restaurant will serve British and European food, catering for visitors to exhibitions during the day and evening diners after the gallery has closed.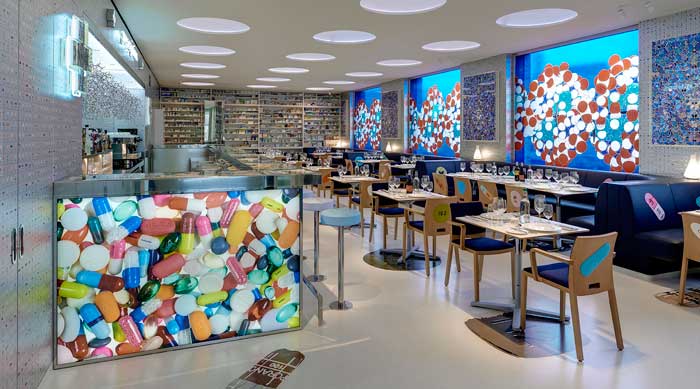 Pharmacy 2 gives visitors the opportunity to view some of Hirst's art, which here reflects his interest in science, through medicine and pharmaceuticals.
The restaurant exhibits site-specific work from a number of Hirst's most iconic series, including the Medicine Cabinets and butterfly Kaleidoscope paintings. It also features etched glass windows depicting DNA strands, marble inlayed flooring and a bar that incorporates a stainless steel and glass vitrine. Individually crafted pill designs are embedded into the marble floor as well as embroidered onto the leather banquettes.
It's the perfect space for if you're looking for an unusual venue for a drinks reception, dinner or party. Get in touch to find out more.