Plaisterers' Hall hosted the Venueseeker Periscope site visit this week with Catherine Knox giving us the exclusive tour.

An elegant City venue benefitting from a prime location in the heart of the action at One London Wall, Plaisterers' Hall is ideal for corporate and private events. The space boasts elegant and beautifully finished neoclassical décor throughout, creating a luxurious atmosphere for entertaining. The venue regularly plays host to celebratory dinners and parties, Asian weddings, civil ceremonies, and corporate events including conferences, roadshows and much more.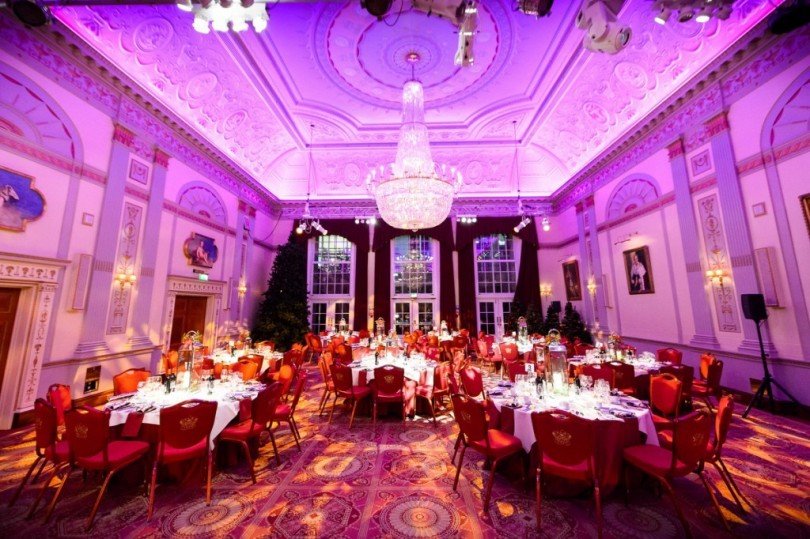 Opened in 1972 and situated in the heart of the City of London, Plaisterers' Hall reflects the grandeur of a bygone era in an ultra-modern setting.
The Company's first hall was bequeathed to the Company by William Elder, Citizen and Plaisterer in 1556. It was situated at the corner of Addle Street and Philip Lane and destroyed in the Great Fire of London in 1666. The second hall was built in 1669 from the design of Sir Christopher Wren, but this was also destroyed by fire in 1882.
The present hall, which opened in November 1972, has décor throughout of the neo-classical style created by Robert Adam in the 18th century. His various designs have been faithfully reproduced in great detail both on plaster and wood, some being taken from his original moulds.
Benefitting from a sought-after location where the City meets the West End, Plaisterers' Hall is the perfect venue for conferences and meetings in London. The venue offers a range of spaces, and is suitable for corporate events large and small. Plaisterers' Hall is suited to meetings of all sizes, from board meetings for 12 to a theatre-style presentation for 400.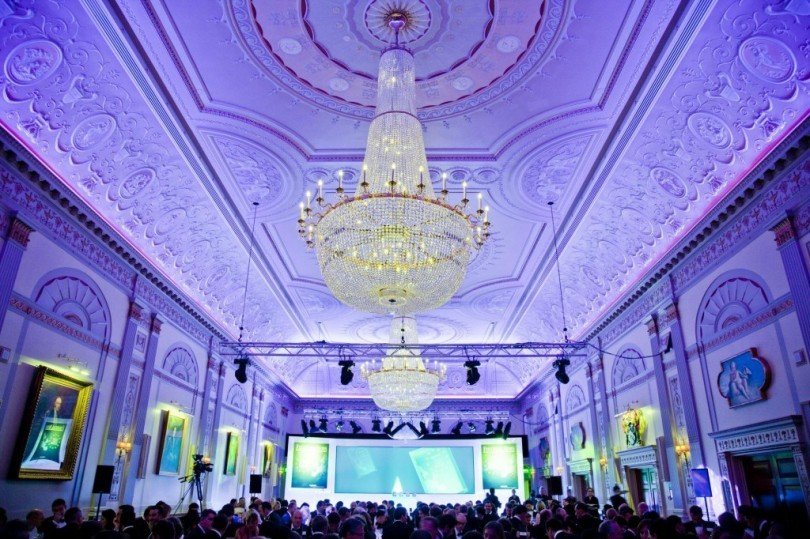 Those looking for a stunning neoclassical venue for wedding celebrations should look no further. Offering a wealth of versatility, Plaisterers' Hall boasts a number of different spaces that can combine to create your perfect day. The Great Hall is an opulent setting with corniced ceilings with three large chandeliers and floor length windows. The adjacent Livery Hall can accommodate 30 to 220 guests for welcome drinks or entertainment, and could even set the scene for the ceremony itself.
The venue has an astounding technical specification with integral LED lighting that can be customised to match branding and theming. There are concealed truss points and winches for more complex production sets. The venue can provide in-house staging, projection and PA systems as well as video conferencing facilities. A bespoke Bose speaker system is also installed in the Grand Hall for tailored sound control throughout the space. There is an impressive internet connection of up to 100mb for your guests and delegates.
To find out more please contact [email protected]
Every live site visit is broadcast via Periscope on the Venueseeker Twitter channel (@venueseeker). Follow Venueseeker (@venueseeker) on Twitter for full details on upcoming Periscope site visits at venues across the UK, including Landing 42 at the Leadenhall Building, Roundhouse and the Natural History Museum.