Coming soon, the Manhattan Loft Gardens near Stratford International will feature two luxury restaurants, three sky gardens, high-end living spaces and a design hotel.
About the Manhattan Loft Gardens
469 feet high and 42 storeys, the Manhattan Loft Gardens offers dazzling views of the City skyline and the Olympic Park that hosted the London 2012 Olympic Games.
Described by the Sunday Times Style Magazine as 'London sexiest new skyscraper', this innovative double-cantilevered tower was designed by the internationally acclaimed architect firm SOM, and includes 248 loft apartments and a 146-room hotel. The company behind the project is the Manhattan Loft Corporation, which also refurbished the world-famous St Pancras Renaissance Hotel, one of the most sought-after London events venues for corporate functions.
State of the art facilities
The Manhattan Loft Gardens has a luxury gym, cinema and spa, and a triple-height lobby which houses the restaurant, bar and an open piazza with direct access to Stratford International station. That makes it an ideal choice for busy commuters who want to stop off for a quick coffee or a bite to eat before they head off to work. The development has also been designed with high ceilings and tall windows to maximise the availability of natural light during the short winter days.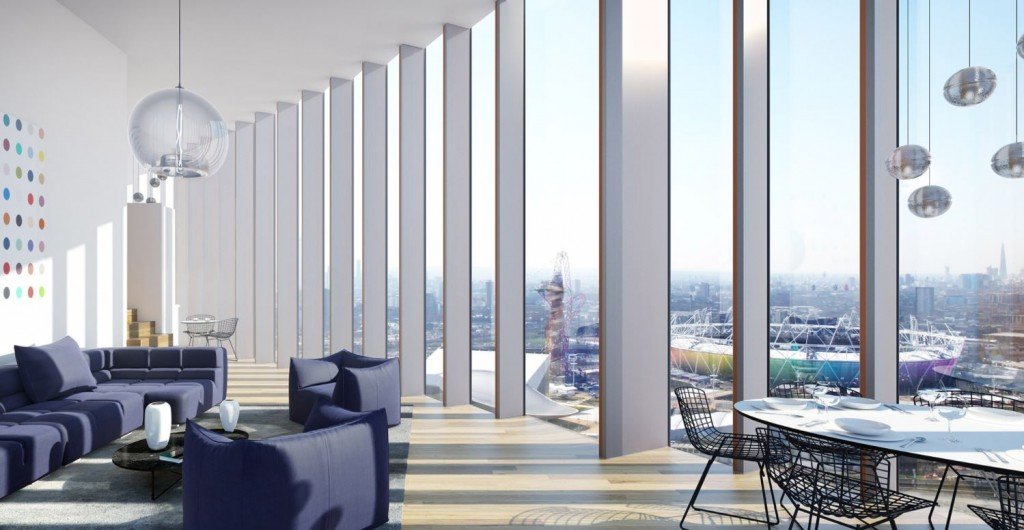 Integrated outdoor spaces
Every apartment in the Manhattan Loft Gardens is within nine stories of an outdoor space, with beautiful gardens on the 7th, 35th and 36th floor. In fact, the top of the tower has a spectacular roof garden, where residents will enjoy one of the finest panoramic views in London.
Where is the Manhattan Loft Gardens?
The Manhattan Loft Gardens site is conveniently located between Stratford International Station and the Queen Elizabeth Olympic Park. That means it's easily accessible from the City and the West End, as well as famous tourist attractions and London events venues like the Tower of London. In addition, the area is only a 6-minute journey to St Pancras and its Eurostar connections, 19 minutes to Oxford Circus, and 15 minutes from London City Airport, which provides daily flights to New York.
Meanwhile, if you're looking for a luxury venue for a special event near Stratford International or elsewhere in London, don't hesitate to get in touch with Venueseeker today.