The key to a successful large-scale London event lies in its event design production. Here at Venueseeker, we work in partnership with top London events agencies, providing event design and event production for a huge range of events.
London event organisers are increasingly looking to create an innovative and unique experience for their guests. Events are becoming more and more impressive, with ever growing levels of production creating dramatic backdrops for entertaining.
Every event planner is looking to impress their guests and design an event that they will want to talk about and remember. The answer to this lies in seamless event design production.
We recommend working with a London events agency to design your own bespoke production for your event. This will enable you to create something truly incredible, and of course take a lot of the hassle out of the organising your own event design production, leaving you free to relax and enjoy the event.
Why production value matters for large-scale London events

Production is especially important if the event you're planning is large-scale, and taking place at one of our large London venues. There are many things to consider when thinking about the style of event design production that best suits your upcoming event. Here are a few of our tips.
Event Sound Systems
One of the most important aspect of any event design production is sound. The quality of a sound system can make or break an event, whether it be a conference or a Christmas party. Think about whether all guests in a large London venue will be able to clearly hear any speakers. Make sure you're making the most of your entertainment by checking all guests will be able to hear what's going on. Of course, if it's a party you're planning you need to ensure the sound quality is good enough to get all your guests on the dance floor until the early hours.
Event Lighting
Lighting is a fantastic way to make a great first impression as your guests arrive. Clever lighting systems can be used to complement your entertainment, and even totally transform your event space. Our partner events agency Fullcircle owns its own technical, sound and lighting equipment, meaning production by Fullcircle will make the most of your budget – and enable you to create a truly sensational setting for your guests.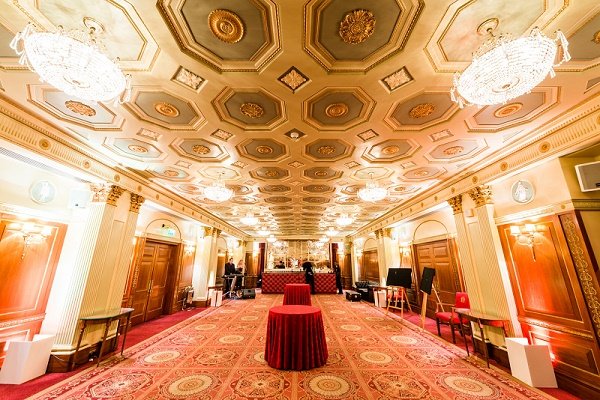 Event Branding and Theming
Event design production can be used to add your company's branding throughout your chosen venue. Some popular ideas include cloaking the entire venue in your company's colour scheme using lighting and projecting your company's logo onto the walls. This also works well when highlighting an event's sponsors.
For more advice on planning your event make sure you sign up to our newsletter. We'll send monthly tips and tricks to help you create the ultimate London event. And if you're on the hunt for a venue just fill in our enquiry form and we'll get back to you.