It's looking at bit Grimm at this time of year, so why not brighten up your nights at the German Gymnasium in Kings Cross? The Grimm Brothers were famous for folk law classics such as Snow White, Little Red Riding Hood, Rapunzel and Rumpelstiltskin.
This north London restaurant, owned by D&D London, has partnered with German airline Lufthansa and drinks companies Fever Tree and Monkey 47 to create a most enchanting event. Just like Rapunzel, you can let down your hair in this magical space that has been adorned with fairy lights and winter decor with nostalgic props from some of the Grimm Brothers most popular yarns.
Allow yourself to be bewitched with the German Gymnasium's own edition of the original 1812 storybook, in the form of a cocktail list. Little Red Riding Hoods are served up in wolf-decorated German Steins – all the better to drink with. Inside you'll find a concoction of Monkey 47 gin, blueberries, apple juice and Fever Tree tonic.
If you order a Cinderella, you will be swept off your feet with a Lillet Rouge, rinomato bitter infused coffee beans, ginger ale and ice as cold as the wicked stepmother's heart.Grimm's Potion is another alluring cocktail. Priced at £10.50, it features hot gin and tonic, apple juice and blueberries. Let's hope the Snow White isn't a poisoned apple.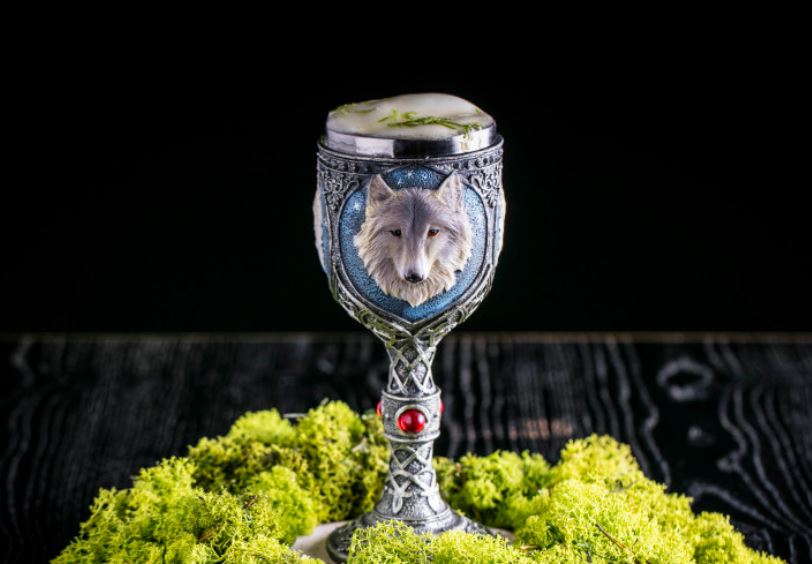 Any wolves in grandma's clothing will find their alarmingly big ears are all the better for listening to the stories being told on the mystical 'World of Tales' terrace. These myths will be accompanied by first-class dishes cooked by executive chef Bjoern Wassmuth.
Rather than serving up little girls in red cloaks, Wassmuth is providing "bold and flavoursome" wintery classics such as roasted chestnuts, oysters and caviar. There is also a selection of German sausages, with Currywurst and Bratwurst which can be turned into hot dogs – all the better for eating with.
Mirror, mirror, on the wall, who's the fairest of them all? When it comes to restaurants, we can safely say its the German Gymnasium this winter.
The 'World of Tales' event, hosted on the venue's roof terrace is open seven days now until 28th February 2018.