Searching for the perfect party venue in London can be a difficult task. There are so many venues to choose from. If you're thinking of hosting a London party and need to consider your party venue hire, here are some tips on how to begin your search for the best party venues in London.
When you start to search for your perfect party venue in London, you'll need to consider two important things first. The size of your guest list is crucial. You don't want a half empty venue where your guests will have too much space, yet equally, you couldn't host your party in a venue with insufficient capacity for everyone attending.
What to consider when picking a great party venue in London
Venue capacity is the best way to begin narrowing down your party venue search. Remember, we can start the search for you. Let us know your guest list size by filling in our quick enquiry form and we'll be in touch with a list of suitable spaces for you.
Location, location, location
Location is another hugely important factor in deciding your perfect party venue. The location of a party can make or break the event, so make sure you choose a venue which is easy for guests to get to and get home from. That way they'll be more likely to attend, and more likely to stay until the very end of the night, as they won't need to worry about how they'll get home afterwards. If your venue isn't the most easily accessible, though, you could think about arranging your own transport for guests, so don't discount party venues outside London.
The Look of Your Perfect Party Venue
Once you've narrowed down your search to a list of suitable party venues in London, you can consider the preferred style of your space. If you're planning to theme your party a blank canvas venue is a great choice, giving you maximum flexibility to create your own look. If you've got less budget to spend on lavish theming and décor, go for a space which needs less decoration such as a themed bar or a historic space with its own individual style.
Outside Space in London
Summer parties, of course, benefit hugely from having private outside space, giving you the opportunity to host part of your event outside and even include a BBQ or outdoor food stalls. Christmas parties can also be improved by the addition of outside space, for example, one of our exclusive Christmas party venues, The Artillery Garden at The HAC, has an additional fun fair and dodgems which you can use as part of your party entertainment.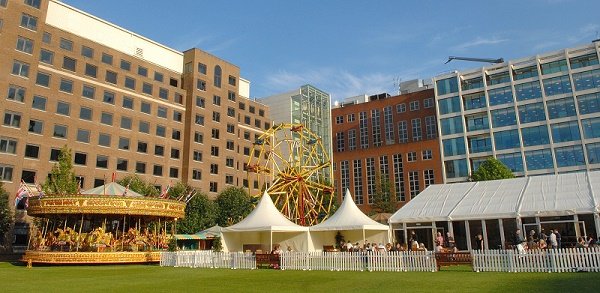 Our team can take the work out of searching for your perfect party venue in London. Simply fill in our quick enquiry form with a few key details about your event, such as your guest list size and preferred location and budget, and we'll be able to select a few venues which fit the bill.