Once Upon A Wigwam, The Queen of Hoxton
Our favourite winter pop-up is a tipi located in the heart of Shoreditch, better known as The Queen of Hoxton's, Once Upon A Wigwam. The tipi styled rooftop is now a celebrated and integral part of the Shoreditch skyline and is enjoyed by many during the winter periods, especially by those who love nothing more than to snuggle up next to the fire and share good times with their loved ones. Guests are invited to the "Once Upon A Wigwam" experience, until the end of March, giving the public plenty of time to come and visit and learn about the enchanted Wigwam in the middle of East London where the stories of Grimms' are brought to life.
After packing up its summer roof pop-up, Q-Grill is back and looking slightly different. They've packed away their BBQ hotspot and transformed the rooftop space into a traditional ski chalet, featuring a log cabin and an exclusive hot chocolate cocktail bar, perfect for this chilly winter season.
The menu for this winter pop up has been created by Q-Grill; carefully made, Q-Grill thought of dishes to be served to guests to reflect the season. Examples of the dishes are: Spit roasted suckling pig with apple and black pudding fritters and a festive eggnog snow egg as one of the desserts to choose from. There's something to suit anyone's mood at Le Chalet.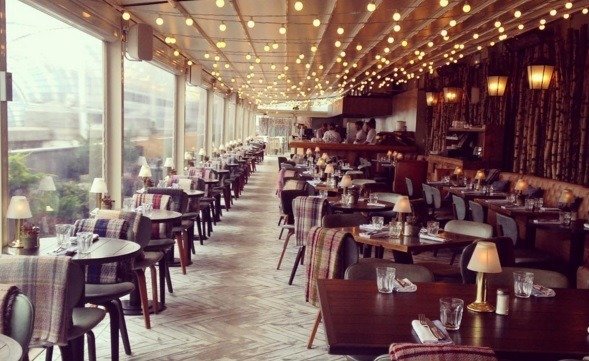 York and Albany's Winter Chalet
Located near the well-established Regent's Park is a make-believe snowy mountaintop, better known as York & Albany's Winter Chalet. For another year decorated in fairy lights, pinecones and with snowflakes, it has returned to London.
Guests are invited to experience the intimate York & Albany's chalet, with cosy blankets, a toasty open fire and spiced scents; it is the perfect winter setting to spend quality time with friends and family. A range of food and beverage is also offered to guests, providing them with the different options to suit their preferences – this includes the offering of sweet and savoury canapes, plus two cocktails for £30 per person.
Situated in the heart of Shoreditch lies the streets of Tokyo with this winter pop-up. For those who are eager to try out different cultural experiences, Tokyo Nights could be just for you this winter. Guests can expect to see neon lights and billboards, as seen in the capital of Japan, and be greeted with typical Japanese food, such as sushi, gyoza dumplings and even sake.
Tokyo Nights is the perfect winter pop-up for anyone who wants to try something different and enjoys experiencing other cultures. The lively atmosphere and brilliant surroundings will leave you wanting more.
For another year running, the Babylon Restaurant at the Roof Gardens in Kensington will be open for business. Guests who attend are promised a brilliant time, with the help of offering comfortable seating, great views of Hyde Park and delicious home-made hot chocolate.
The winter terrace at Babylon is not only a treat for the eyes, but also the stomach, particularly due to the brand new seasonal menu and assortment of winter cocktails. Be prepared to indulge into a range of cheeses, crackers and freshly baked breads whilst you lay back with a blanket wrapped around you.
Nestled within Shoreditch, The Golden Bee is a brilliant venue for a variety of occasions, whether it is relaxed post-work drinks, corporate events or just for social purposes. With its buzzing atmosphere, you're promised an evening full of fun and sophistication.
Throughout the year the rooftop is open due to popular demand, even during the winter periods. The popularity of the rooftop has led The Golden Bee to transform the rooftop from a cool sophisticated hideout to a magical place filled with lights, giving off a winter wonderland feeling. Evenings spent here during the winter period will be accompanied by festive spirits and warm flickering fire-pits.

This mystical winter pop-up brings magic to life – perfect for the upcoming Christmas season. Enjoy a relaxed experience in this special heated rooftop, with comforting winter meals like Mac & Cheese and not forgetting a tasty hot apple cider to wash it down with. It offers guests the chance to escape from their everyday lives and experience an enchanted woodland.